By

Suzanne Kelly.
I was never going to be able to write an objective article about BrewDog – it is simply the most innovative and honest craft beer to emerge in the UK (or probably anywhere); I can't think of any competition.
There is nothing out there in the beer sector that screams craftsmanship, individuality, creativity and…. well, love of beer, more than the BrewDog brand.
I am waiting for Bruce Gray from BrewDog HQ at the BrewDog pub in Aberdeen which opened in mid October.  The fashionably industrial/minimalistic bar sits across from Marischal College. People are queuing to be served and the three staff behind the bar are busy but enthusiastically offering tastes of the dozens of craft beers on offer to those customers unsure what to drink. The music is as eclectic as the clientele and the brews on offer. It ranges from Beck to Massive Attack then goes back a few decades to come forward again.
Behind the bar are dozens and dozens of bottles of BrewDog offerings as well as an international collection of beers that makes my eyes water. Beer is sold in bottles and draught – the draught offerings seem to change with some frequency and limited edition offerings come and go from the tap with speed. In addition, they sell some of my favourite cheeses from Mellis (an enlarged menu will follow soon, Bruce advises).  Bliss.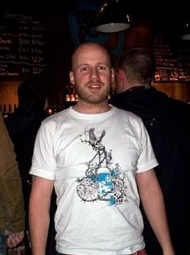 Bruce gets free from the bar and joins me; the first thing we discuss is the BrewDog philosophy. He extols the virtues of craftsmanship and explains that the company's willingness to take risks and experiment has been key to its current considerable success.  BrewDog opens in Edinburgh in March (Bruce had been down yesterday and reports it may open earlier than scheduled) and other pubs will soon emerge in Glasgow and London. I think they will be coining it in.
The company was started by Martin and James who sold their 'Punk IPA', 'Paradox' and 'Trashy Blonde' offerings initially at the Aberdeen Farmers' Market on Belmont Street. The next stop for the Dog was the export market where the following grew as the products' quality spoke for itself.
Collaborations with international breweries followed as did a mountain of awards. These two founders are currently employing some 50 people, and BrewDog has experienced a profit increase from last year to this of some 260%. Unprecedented.
Bruce puts this down to the quality of the beers and to the skills of the guys in marketing. I can't argue with that. Courting controversy has brought publicity – some negative – but it has not hurt the firm. You may recall scandalised newspaper stories on 'Sink the Bismarck' and 'Tactical Nuclear Penguin' extra strong beers.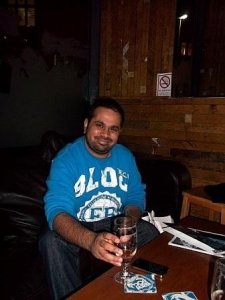 The press would have you believe that children would be buying bottles of these strong beers (some as powerful as 33% ABV) and getting paralytic in the streets.
Having tried the 'Sink the Bismarck' – these strong beers are only sold as 'nips' by the way – I can promise you that no one would sooner guzzle this down than down than they would a gallon of whisky. It's like nothing else – a concentrated rich, cordial of a beer, a nip of which took me about twenty minutes to finish.
It is the flavours which really excite. While I love beer and attend beer/real ale festivals, I don't have the vocabulary to fully describe just how unique these beers are. The 'Trashy Blonde' is described on the label as being a 'statuesque fruity ale' and I certainly can't do better than that.
I love the honey notes in 'Paradox', and the classic '5 a.m. Saint' is a strong ale which was the winner of the top overall award at the Hong Kong International Beer Awards in 2010.
Bruce and I discuss 'Bitch Please' which comes out at the end of 2011 – if you think you taste shortbread and toffee when you get your hands on this one, that will be because they've thrown some in. One of my favourite offerings so far was 'Eurotrash' – they took the 'Trashy Blonde' recipe and substituted the type of yeast used.  The result of making this one change was, well, delicious – and completely different in taste to the original Blonde. You are left in no doubt that the brewers are ruled by their imaginations, not profit margins. Don't look for 'Eurotrash' any more – it's all gone. I ask Bruce to please consider bringing it back; watch this space.
I feel I must ask Bruce some grown-up business questions so I ask what kind of demographic they are targeting; the answer is that they are not after any one group at all and they find women are very interested and want a taste of everything (a wooden pallet holding 4 x 1/3 pint beer tasters is a popular seller).  In fact, the place is devoid of the stereotypical real ale fan; I see no obligatory man with beard, beer gut and woolly jumper.
I've added a few things to my 'must do' list; namely, getting the soon-to-be released 'Beer School' booklet and the new collection of four single hop IPA – 'IPA is dead'.
I thank Bruce for his time, and come away (well, go to the bar to buy a half of Camden Town Brewery's wheat beer and a half of '5 a.m. Saint' ) impressed by the genuine enthusiasm that permeates every aspect of this operation. I should probably be trying to think of some clever pun or other for an article headline – no doubt something about 'bark', 'hop', 'every dog has its day' – but it is totally unnecessary. BrewDog is Beer for Punks and everyone else who honestly loves an honest beer.