Laurencekirk Amateur Musical Society will perform "FAME" the musical in the St Laurence Hall, Laurencekirk from Tuesday 11th – Saturday 15th September. With thanks to Susan Hughes.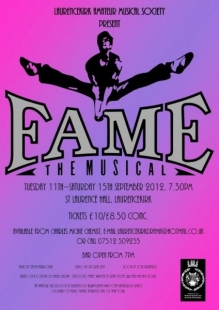 After the huge success of "Bad Girls" the musical last year, they are returning this year with their most ambitious show to date. "FAME" is an even bigger production with more dancing, a larger cast and an even bigger live band.
The company transformed the St Laurence Hall last year for "Bad Girls" to the amazement of the audience. They thrilled and delighted the local community, leaving them stunned by the high standard of production and the wealth of talent within the cast. This year will not disappoint, with the stage being extended and a platform being built 7 feet high for the cast to perform on.
This vibrant company have been rehearsing for the past 5 months and the effort and sweat has definitely paid off with a slick professional show that is usually only ever seen in the larger cities.
This promises to be an excellent night out for young and old with memorable songs and dances that you will undoubtedly go away singing. It is not very often that a small community like Laurencekirk has the opportunity to enjoy such shows right on their door step, so come along and support LAMS and enjoy a fantastic night out.
Tickets are priced £10 and £8.50 concession and are available from Charles Michie Chemists, Laurencekirk High Street, or through email to laurencekirkdrama@hotmail.co.uk or by calling 07512 309235. The show starts at 7.30pm and the doors will open from 7pm with a bar available before and during the interval.
We look forward to seeing you all there and hope you enjoy the show.