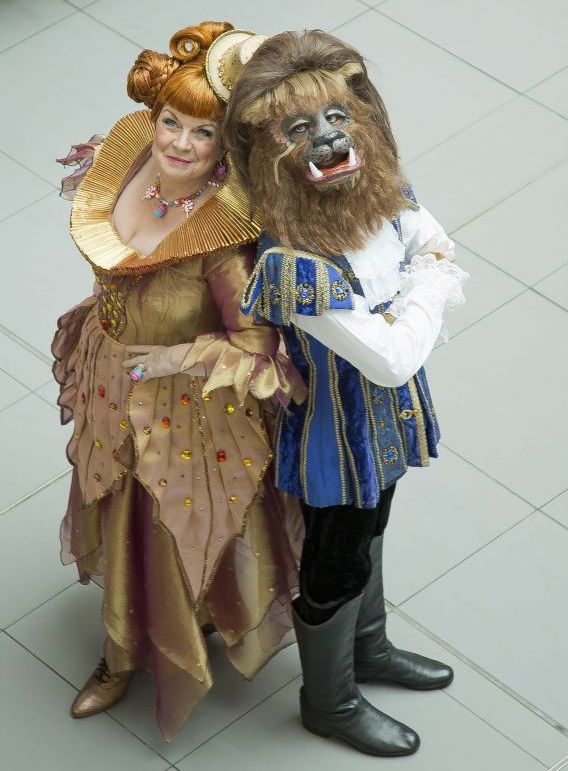 Duncan Harley reviews Beauty and the Beast at HMT.
Aberdeen's His Majesty's Theatre has been staging pantomime for almost a century and the 2014 festive production of Beauty and the Beast looks likely to break all previous records as regards eye watering gags and entertainment value for children of all ages.
From the very start, the production engages all sections of the audience with a blistering series of innuendo laden laughs guaranteed to keep the grown-ups happy and the youngsters wondering.
In one of the funniest slapstick performances ever witnessed on an Aberdeen stage, Mrs Potty – played by Elaine C. Smith – wields her truncheon while fellow cast members variously demonstrate their prowess with feather dusters and frying pans.
The result is hilarious and the deadpan delivery complete with split second timing literally brings the house down.
Of course in true panto tradition, there are goodies and baddies. Mrs Potty, Dame Kitty Brewster – played by the production's writer Alan McHugh – and of course the beautiful Belle, come into the first category. Anne Smith plays the evil witch Deadly Nightshade and Paul Leubke gives a versatile performance as the extremely unlovable alpha male Harris McTweed.
The Beast – Luke Newton – is of course a baddie destined to improve nicely as he slowly transforms into the handsome Prince Sebastian.
There are special effects galore including a quite extraordinary airborne Elaine C. Smith plus the unforgettable and incredibly scary Kraken of the Deep.
Highlights include a splendid rendering of the 1960's Beach Boy's hit "Surfing Cruden Bay" delivered by Dame Kitty and her wee son Boabby Brewster – played by Jordan Young. For my vote the deadpan mis-direction in the Wedding Scene and the moment when the orchestra commit the cardinal sin of opening their brolly's indoors come a very close joint second.
Sound, set design and lighting are faultless and the costumes are to die for. With a superb musical score and entertaining choreography this is a truly magical pantomime experience.
Produced by Michael Harrison and directed by Sam Kane, Beauty and the Beast at HM Theatre Aberdeen will run and run until Sunday January 4th 2015.
Is there a happy ending ever after?
You'll just have to go and see …
Tickets are available from Aberdeen Box Office on 01224 641122 and on line at www.boxofficeaberdeen.com
Words and pictures by Duncan Harley

Comments enabled – see comments box below. Note, all comments will be moderated.