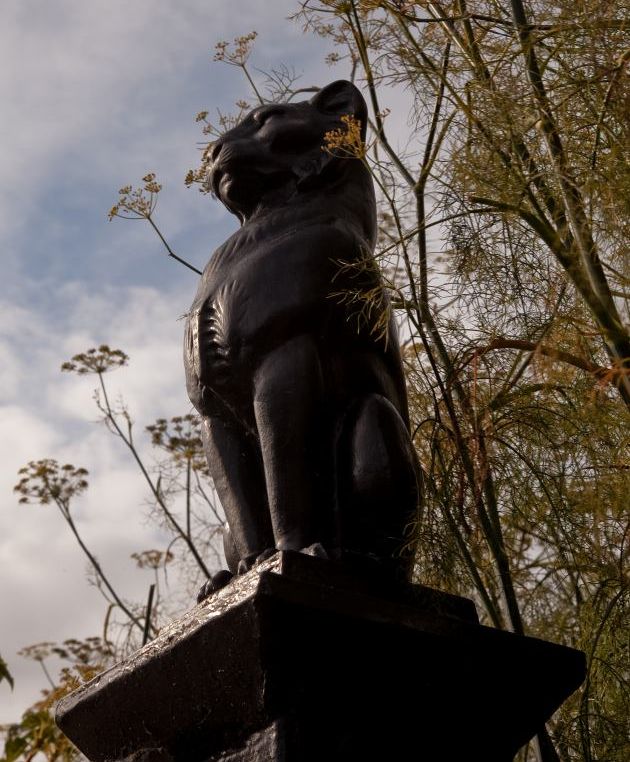 By April McNulty.
Aberdonians may be asked to vote in a Putin style referendum later this year as the city council deliberate whether to replace the outmoded Kelly's Cat sculptures with a 21st Century equivalent.
Subjects such as manhole covers, phone boxes and even red squirrels are under consideration.
However Aberdeen City Council says that all suggestions are welcome.
"Those anoraks among us relish street furniture" said a council spokesman. 
"It's all around us and much of it, especially the older pieces, has attained iconic status. The humble cast iron manhole cover and the quite majestic GPO red phone box are fine examples. But the Kelly's Cat sculptures are part of a much darker era" he told assembled press.
"We really want to seek out what the citizens of the Granite City want. Be it the retention of the present Leopard sculptures or replacement with something like a cute Collie dog or a nice cat, its all up for discussion" said council spokesman Bryan Cromlet.
"We have had many complaints over the years and it's probably time to move into the 21st century."
Aberdeen residents have been quick to point out that there has been a long standing debate as to whether Kelly actually created the cats, after all he was busy designing much larger structures such as the Harlaw Monument near Inverurie.
"I don't think Dr Kelly was much into cats" said one local resident. "He was more of a dog lover" said another.
Supporters of the council proposal point to the undisputed fact that the leopard is a member of the Felidae family which has a wide range throughout Africa, Siberia and tropical Asia. Not much chance of being confronted by a leopard in Aberdeen or the shire perhaps.
Which ever way the April 1st vote goes there will be winners and losers said one City Councillor who pointed out that:
"The Kelly's Cats on Union Terrace Bridge are of course nowadays on a nightly suicide watch alongside the Samaritan posters which urge would be jumpers to think again and seek kind words, advice and help before taking that last drastic step into the void."
Many Aberdonians may however decide to vote against the removal and smelting down of these somewhat black but iconic metallic cultural icons.
Kelly's great-niece, writing in Leopard Magazine several years ago related how during rag week, the students used to tie ribbons around the leopards' necks. Seemingly the ribbons have now been removed.
Since then there has been debate as to whether Kelly actually designed the leopards, or whether it was Sidney Boyes, the sculptor who designed the bronze panels on either side of Union Terrace Bridge.
Dr Kelly seemingly used a similar leopard design on the savings bank in Union Terrace and sketches of the actual finials are in the Kelly Archive in Aberdeen University.
The debate continues unabated and the jury is of course still out.
A spokesman for Aberdeen City Council said that he was unable to comment but whispered privately to 'Voice that:
"All is good in Kelly Land, despite the threat of smelting down … moves are afoot to quash the move to melt down the iconic symbols of Scotland's oil capital.
"There is no way this confounding sacrilege will be allowed to happen … heads will probably roll."
The good citizens of the Granite City will hopefully make their views known in the local referendum in early April.
Aberdeen City Council might welcome comments on the issue.
Words and image © April McNulty
Comments enabled – see comments box below. Note, all comments will be moderated.