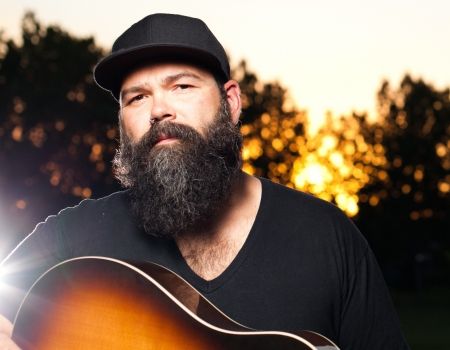 With thanks to Loudon Temple and Martin Raitt
Cam Penner is touring Scotland this month with his collaborator Jon Wood. This includes shows at Woodend Barn, Crathes on Friday 14 November and The Blue Lamp, Aberdeen the following evening.
This promises to be among the live events of the year.
Since the release of To Build A Fire, this tour has been keenly anticipated. Brookfield Knights, representing Cam and Jon in the UK, reveal all.
Cam Penner has carved his own path. He's done it the hard way. Now, those who know are saying his time has come.
He has that rare quality – a well-grounded human spirit. In another life he might have been a Shaman. The music he plays – and the energy he generates – has won him many friends, fans and admirers.
Cam's stunning 2013 album, To Build a Fire, is a rallying call that reaches out boldly and courageously into present-day existence. The symphony of sound and lyricism showcase the inevitable evolution of a growing artist; this album is a new start. It's folk. It's rock 'n' roll. It's Cam Penner…breathing fire into every note and lyric. It's full of everything we should be looking for, not only musically, but in life.
The mesmerising live show is bigger – and brighter – than before, spontaneously grand and fragile at the same time. Percussive elements and layered guitar techniques have added rich texture.
Cam hails from a Mennonite community in Southern Manitoba, where his parents, town rebels, ran an illegal roadhouse and his grandfather, a bootlegger, was a much-loved character in the rural community. Growing up against that background, he found an appreciation for common people's stories.
Since stepping out aged 18, he has experienced more raw humanity than most would encounter in a lifetime. He spent thirteen years dedicated to helping the homeless and destitute in Chicago's soup kitchens and shelters and when each shift was over, would spend endless hours writing and playing his guitar while exorcising his emotions through music.
His last album, Gypsy Summer debuted at number 16 on the Folk Billboard Charts and established him as a major force.
At Toronto's Folk Alliance International event early in 2013, he and his constant and spellbinding musical companion, Jon Wood, blew everyone away with the sheer power – and beauty – of the new material, delivering quite breathtaking performances.
We are very proud to be working with them. Those shamen also dance around sometimes.
Dates:

Friday Nov 14  – Woodend Barn
8:00pm — 8:30pm
£11.00, £10.00 conc. £5.50 U16 in advance £13.50, £11.00 conc. £6.50 U16 on the door
Saturday Nov 15 – Blue Lamp, 121 Gallowgate, Aberdeen
Doors open: 7:30pm (Starts 8.00pm)
£11.00 (£10.00)

Ticket details:
http://www.woodendbarn.com/whats-on/
http://www.seetickets.com/event/cam-penner-jon-wood/the-blue-lamp/812977/
http://www.aberdeenperformingarts.com/events/cam-penner-jon-wood
http://www.almostbluepromotions.com/#!buy-tickets/cq91 (without booking fee)