Patrick Duff brings his remarkable skills back to Aberdeen on 30th April, but this time with some exciting added extras. Esther Green writes.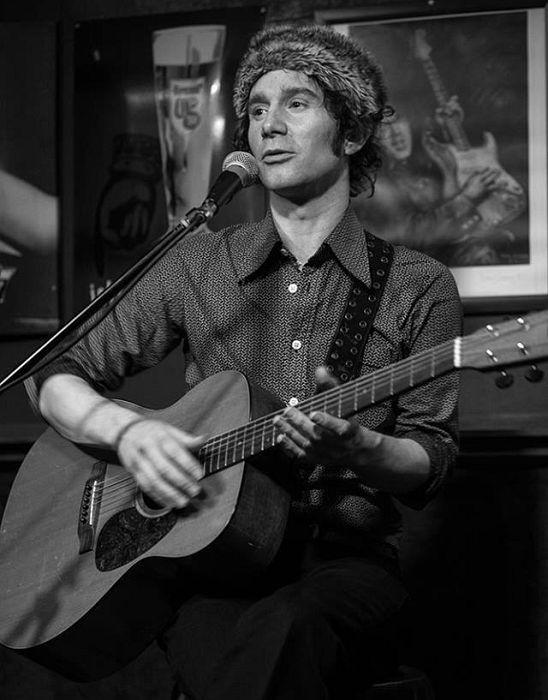 Patrick Duff returns once again with Craig John Davidson as Special Guest, but this time as a collaborator in an exciting new venture – a white vinyl 7" split release single.
Because of the special connection the Bristol-based singer now has with the Granite City, The Blue Lamp has been selected for the Launch Party for the record.
2013 saw Patrick release two albums; Visions of the Underworld, now available through Rough Trade and Seven Sermons to the Dead, a record originally commissioned by Bristol City Council.
With that in mind, here are seven reasons why you ought to come along to what promises to be a fantastic night…
1) The Songs.  Patrick has an incredible body of work behind him, whilst trying out new material all the time.  He may include the occasional cover in his shows, rarely – if ever – dipping into his extensive Strangelove back-catalogue, but mainly taps the rich vein of his solo career.
2) The Stories.  He's a man of many stories, all of them fascinating, many of them almost unbelievable and some hilarious. As well as the eloquence of Patrick's delivery of these tales, their intensity and personal nature is something to savour.
3) The Atmosphere.  If you have ever attended one of Patrick's concerts, you know what this is about.  The audience silence means something, an experience he often refers to "deep listening".
4) The Special Guest.  A Fat Hippy Records favourite, Craig John Davidson's talents are outstanding.  A great songwriter and musician in equal measure, he never fails to impress audiences with his finely-crafted guitar style.  He recently toured successfully with label-mates in Los Angeles and can be found playing various venues around Aberdeen.
5) The Single.  It's a celebration of the friendship and musical brotherhood of its collaborators and we're all invited. Patrick's "Thought Birds" and Craig's "Mr Manners" are popular live tracks among their respective fans and you will have the chance to grab a copy of this very limited edition collector's item.
6) The Voice.  Patrick has the most beautiful singing voice – often unexpectedly courageous and cavernous, it is a soulful, pure and expressive sound.
7) The Experience.  You will never forget it.
Links and Info.
New interview with Bristol's Artscare Records
Craig John Davidson on Facebook
Craig John Davidson on Soundcloud
Links to previous Aberdeen Voice articles about Patrick Duff
https://aberdeenvoice.com/2013/04/dandy-of-the-underworld/
https://aberdeenvoice.com/2013/09/man-downstairs-flies-high/
Comments enabled – see comments box below. Note, all comments will be moderated.