The welcome return of Patrick Duff to the Silver City is upon us. On the 8th of October, The Blue Lamp once again plays host to one of the remarkable singer/songwriters of our times. Furthermore, Craig John Davidson has proven a perfect support to Patrick's set on more than one occasion in 2013, notably in Bristol last month. Esther Green writes.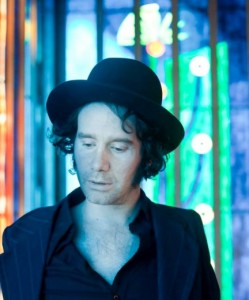 Last April in Aberdeen, the setting proved ideal for this solo show: candle-lit, cavernous, calm. Patrick delighted the Blue Lamp audience members with tales from his varied and fascinating life and travels, as well as stunning them into silence as they absorbed his beautifully-crafted, deeply personal songs.
It's a scene familiar to his ever-growing band of followers and friends: the poet singing boldly into the barely-lit gloom, into what Patrick himself has described as the "pin-drop atmosphere."
Nevertheless, each gig is a unique event. Patrick is an accomplished craftsman on the stage, gauging crowd reaction and always managing to find something new to excite, to make the night one to remember.
Patrick's links with Aberdeen have been consolidated through his friendship with local singer/songwriter Craig John Davidson, of Fat Hippy Records.  The two met at The Blue Lamp at the April gig and each instantly found a kindred spirit in the other. This friendship and their complementary musical virtuosity guarantee another incredible night on the 8th of October.
In July, his Visions of the Underworld LP was released via pledgemusic.com.  Patrick is currently personalising the orders for this vinyl and download release.
A short Scottish tour featuring both Patrick and Craig, based around the Aberdeen gig, is being confirmed at the time of writing.
Patrick has been touring the UK for most of 2013 and continues successfully to tour Belgium, the Netherlands and Germany. He is currently the subject of a documentary, charting his musical voyage.
Further reading/information.
Link to previous Aberdeen Voice article: https://aberdeenvoice.com/2013/04/dandy-of-the-underworld/
For recent video clips:
http://www.youtube.com/watch?v=ZsQVg6AHfXA
http://www.youtube.com/watch?v=-BM2KpZUsr4
http://www.youtube.com/watch?v=AKdj8kEATLI
Order Visions of the Underworld:
http://www.pledgemusic.com/projects/patrickduff66
Recent Bristol 24-7 interview:
http://www.bristol247.com/2013/05/27/musician-patrick-duff-on-growing-up-in-bristol-and-his-creative-journey-so-far-84037/
St Paul's Lifestyle interview clip and tour diary extracts:
http://www.youtube.com/watch?v=eLg2qcGZJ5w&feature=player_embedded
http://www.stpaulslifestyle.com/articles/2013/08/19/patrick-duff-tour-diary-oldenburg/
http://www.stpaulslifestyle.com/articles/2013/08/11/patrick-duff-tour-diary-osnabruk/
http://www.stpaulslifestyle.com/articles/2013/08/09/patrick-duff/
For information and news, go to:
http://www.facebook.com/PatrickDuffArtist
https://twitter.com/patrick_duff
Craig John Davidson music and 57 North interview:
https://soundcloud.com/craig-john-davidson
http://57north.org/news/craig-john-davidson-interview

Comments enabled – see comments box below. Note, all comments will be moderated.