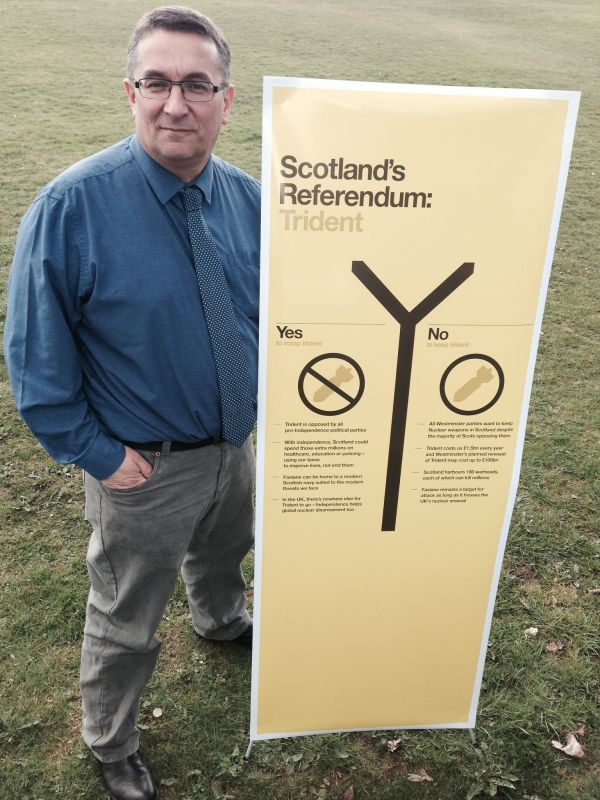 With thanks to Gavin Mowat, Constituency Assistant to Christian Allard MSP.
North East MSP Christian Allard has taken the opportunity to highlight the choice between two futures that the people of Scotland will be presented with on the 18th of September.
Mr Allard said that the obscene Trident nuclear weapons would be removed from Scottish waters following a Yes vote in the independence referendum. The SNP MSP added that voting Yes in September will send the signal to the world that Scotland would rather develop its healthcare and education than spend £100 billion on renewing weapons of mass destruction.
The North East MSP said that a No vote in the referendum would send the wrong signal to the world and waste £1.5 billion per year on weapons that will never be used.
Mr Allard's comments follow the recent SNP conference in Aberdeen where the party renewed its commitment to getting rid of Trident following a Yes vote in September.
Commenting, Christian Allard MSP said:
"The referendum is a choice between two futures.
"A Yes vote on September the 18th is a vote to remove nuclear weapons from Scotland once and for all.
"Westminster politicians want to renew a weapons system that can destroy the world. The Scottish Government would rather build a system of childcare that will be the envy of the world.
"Voters can guarantee their taxes will be spent on building a better society instead of building obscene weapons by voting Yes in September."   
Chair of Aberdeen and District Campaign for Nuclear Disarmament Jonathan Russell added:
"Scotland could set an example to the world by diversifying its skilled workforce away from Trident and other aggressive technology towards developing our own alternative energy industry. This in turn would build an economy which would bring in finance to allow our health service, child care and other welfare spending to flourish.
"We need to be getting away from the UK model of disastrous foreign interventions, cutting welfare to the bone, developing nuclear power and fracking and holding onto our imperial power by threatening others through keeping Trident."
 Comments enabled – see comments box below. Note, all comments will be moderated.