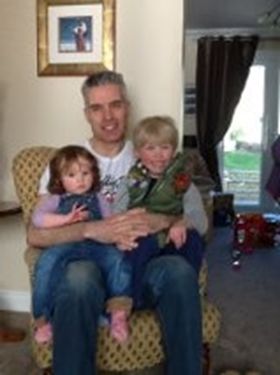 Scottish CND will be organising a walk from Scottish Parliament to Faslane and a demonstration and rally on Saturday 5th April in Glasgow. With thanks to Jonathan Russell, Chair Aberdeen and District CND
At present all of the UK 's Nuclear weapons are based in Scotland at the Faslane Nuclear base on the West coast of Scotland  near to Glasgow and surrounding areas with Scotland's highest density of population.
The Scottish Campaign for Nuclear Disarmament will be organising two major related events which the general public can get involved with to raise awareness of the horrific nature of Nuclear Weapons.
The first is a Spring Walk which will start on Tuesday April 1st at 12.15 pm outside the Scottish Parliament and takes in on its way Currie, Bathgate, Coatbridge, Glasgow, Dumbarton and eventually arriving at the Faslane Nuclear base on Monday 7th April.
One of our local members Alister Coutts ( pictured ) who is going on the walk gave the following reasons for doing so.
"Even though I've been involved in environmental activism for around 10 years, I've not been a member of Scottish CND for all that long and only went to Faslane for the first time in April 2013, but I've been opposed to nuclear weapons, and indeed nuclear power, for as long as I can remember. My first reason for joining the peace walk is therefore to do as much as I can to remind the public that the stunning countryside surrounding Gare Loch has been completely and utterly destroyed by the abhorrent presence of the Trident Nuclear Missile base for 50 years too long.  
 "The peace walk will also be a great opportunity to highlight the fact that the upcoming Independence Referendum presents the people of Scotland with the chance to start the process of ridding not only Scotland, but the UK as a whole, of these weapons of mass destruction forever. My hope is that this could also have a positive knock on effect and result in other countries around the world being pressurised into destroying the nuclear arsenals as well. 
"From a more personal viewpoint, having a daughter: Kate, a son: Robbie and three beautiful grandchildren: Alfie, Molly and Kenzie, my second reason for taking part in the march is to do as much as I can to ensure that their future is bright in a nuclear weapon free, and I would like to hope, an eventually neutral, Scotland."
Included in the events of the walk but for all the public to get involved in will be a March and Rally on Saturday April 5th starting at 11.30am and ending at 12.30pm with a Rally. Speakers at the rally will include Nicola Sturgeon MSP Deputy First Minister, Patrick Harvey MSP. Lord Provost Sadie Docherty, Lesley Riddoch, Dave Moxham (STUC) and Rev Sally Foster-Fulton. Music will be provided by the Gleeboom drummers.
Local MSP Christian Allard has put out the following statement:
"There is clear opposition to nuclear weapons being based in Scotland. Yet the Westminster Government, in this latest budget, have missed their last chance to commit to getting rid weapons of mass destruction before the referendum. An SNP Government in an independent Scotland would be committed to removing Trident from Scottish waters for good.''
 "In the meantime I would urge anyone who is concerned about the presence of nuclear weapons in Scotland to make sure their voice is heard at this series of events in April."
Jonathan Russell Chair of Aberdeen and District Campaign for Nuclear Disarmament added:
"the Independence referendum gives the opportunity for Scotland to get rid of its Nuclear Weapons. He also challenged the Labour Party to end its present stance on replacing Trident.' Nuclear weapons have the potential to kill us all and are a scourge on humanity. We need to see concerted efforts internationally to get rid of these weapons and here in Scotland we should be setting an example."

Comments enabled – see comments box below. Note, all comments will be moderated.