With thanks to Dave Black.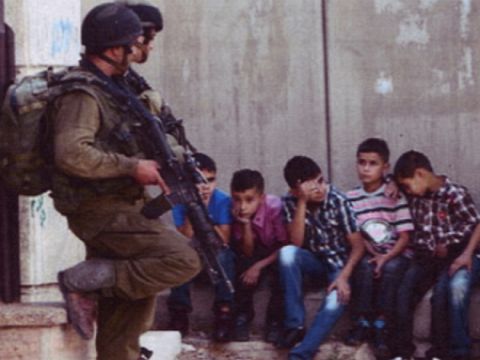 As part of Aberdeen's Festival of Politics, Scottish Palestine Solidarity Campaign Aberdeen are screening the film Children in Chains (40mins), followed by a Q&A with the director Jon Pullman, a political activist and film director from Edinburgh.
Children in Chains is his most recent project, and focuses on the abuse of Palestinian children in the Israeli Military Court System.
Many children stand up against the occupying soldiers of Israel combatting tanks and guns with mere stones but as the film explains, "for them the consequences of defiance can be kidnap, torture and imprisonment". 
SPSC asked him to explain a bit about the making of the film;
SPSC:Tell us something about your latest film project
JP: Children in Chains was inspired by a seminar which I attended and filmed back in 2011. Having been involved in the campaign for justice and human rights in Palestine for many years, I really thought I knew all there was to know about the suffering endured by ordinary people living under Israeli occupation. However, the main presentation at this event was given by a West Bank-based lawyer, Gerard Horton.
Gerard spoke powerfully and in some detail about the appalling treatment of young Palestinians at the hands of the Israeli military court system. It was a shocking revelation to most of us and I realised that I had to make the information more widely available through film.
SPSC: How did you make it?
JP: The core of the film is Gerard's presentation. However, in order to avoid just a talking head, with the limited appeal that would have, I built up a selection of commentary and often harrowing real-life footage that would help bring the issue alive and hopefully engage a much wider potential audience.
SPSC: What challenges did you face?
JP: The difficulties are always in the edit. And deciding on a target audience. I wanted to produce a documentary that was short enough to be usable at meetings, classes and public events, but long enough to make an impact with the subject matter. I also wanted to give a bit of background historical context for those not necessarily familiar. This is a challenge in itself because how do you summarize a conflict so misrepresented and so disputed in just a few minutes.
SPSC: What was the most striking/surprising/shocking thing when you made the film?
JP: The sheer volume of incriminating material on the internet. Much of the footage I used in Children in Chains was filmed by Palestinian activists on the ground. These days, we rarely have to rely on third party witnesses to tell us what's going on in the world; there is usually somebody there with some sort of lens. It is shocking to me that the cruelty and violence involved in the oppression of the Palestinian people is so visually documented and freely viewable and yet unacknowledged by the political powers that really matter.
SPSC: Why should people see this film?
JP: Israel-Palestine is a subject that most people glaze over at the mere mention of. This is largely due to how the conflict is portrayed – an intractable squabble over land. The reality is much darker and disturbing. The brutal and illegal abuse of Palestinian children is just another aspect of Israel's project to destroy Palestinian identity, but, by nature of the subject, has a particular power to move people, and through that, transform awareness. This film aims to do that.
SPSC: Do you have any other Palestinian projects in the pipeline?
JP: I visited the West Bank twice in 2011 and brought back many hours of vibrant, life-affirming footage of ordinary life among Palestinians and remain determined to produce a film that documents this experience. I think it's important to depict and celebrate the positive aspects.
'Children in Chains' and Q&A with Director Jon Pullman will be taking place on Thursday 27th March, 7.30pm, upstairs at the Blue Lamp. The event is free. All welcome.