The Lush shop in Aberdeen's Union Street is active this Saturday in campaigning against animal testing for cosmetics. With thanks to Lush Aberdeen.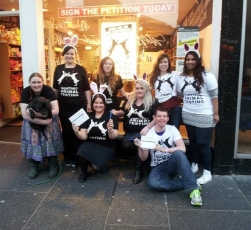 Humane Society International and Lush Cosmetics have joined forces to launch the largest-ever global campaign to end animal testing for cosmetics.
The campaign, launched to coincide with World Week for Animals in Laboratories, is being rolled out simultaneously in over 700 Lush Ltd shops across forty-seven countries including the United States, Canada, India, Australia, New Zealand, South Korea and Russia.
Troy Seidle, director of research & toxicology for Humane Society International, said:
"Animal testing is the ugly secret of the beauty industry, and it's time for it to stop. Thousands of animals such as rabbits and mice continue to endure chemical poisoning tests just to produce new lipsticks and shampoos, and that's simply unacceptable in a modern society. So we are thrilled to be joining forces with Lush to campaign for an end to the suffering, and we look forward to turning the whole world cruelty-free." 
Across the UK and European Union – where animal testing of cosmetics is already banned ­– Lush and Humane Society International are campaigning to ban the sale of cosmetics tested on animals abroad.
A sales ban is due to be implemented in March 2013, but EU policy makers are considering delaying or weakening it, so consumers are being urged to sign the Humane Society International's Cruelty Free 2013 petition in Lush stores and online at lush.co.uk
Outside the EU, animal testing for cosmetics continues, and is even a legal requirement in some countries. Humane Society International offices in Australia, Canada, India, and their headquarters in the United States are joining with Lush to end cosmetics cruelty, with nationwide consumer campaigns in each region. Humane Society International will also be working with politicians, regulators and scientists to press for change.
On Saturday April 28th Lush Aberdeen will be recognising Animals in Laboratories Week by welcoming Aberdeen Animal Rights representatives, who will be in-store to talk about animal testing.
They will also have information about Veganism for anyone interested in pursuing this animal friendly lifestyle.
Suzanne Kelly will also be in-store to talk about the Tullos Hill deer cull which is a local campaign that many in the community are against. She will be on hand to answer questions about the cull and the current situation on Tullos Hill, and there is a petition to sign for those willing to add their voice to the on-going campaign to stop the cull.
The 'Compounders on Tour' will also be in-store this Saturday, so people can make a free collector's item bath ballistic when they come in to sign the petition against animal testing in the cosmetics industry and the Tullos Hill deer cull. They can also sign their name on the shop window!'
Deborah Cowan, Store Manager for Lush Aberdeen said:
'This is a campaign that myself and my Team feel very passionately about. We want to collect as many signatures as possible from caring Aberdonians so that our local voice can be added to the hundreds of thousands of people who are signing this incredibly important petition across the globe. This is our chance to really make a difference to the ethics behind cruelty-free legislation in the cosmetics industry.'
Hilary Jones, Ethics Director at Lush Fresh Handmade Cosmetics, said:
"The animals have waited over 20 years for this legislation to be fully enacted. Whilst the laws were not strong enough, companies like Lush have adopted voluntary codes of practice to cut animal testing from their business. 
"But animals should not have to rely on voluntary codes of conduct, they should be protected by robust laws which force ALL companies to adopt humane methods to bring their products to market.  The public demanded this legislation in the 80s and 90s – it is time to honour the promise given to them to take animals out of cosmetics testing."
Lush and Humane Society International believe that testing on animals to produce new cosmetic products or ingredients is morally and scientifically unjustified.
  Since establishing 17 years ago, Lush Cosmetics has been driven by innovation and its ethics
Animals are subjected to considerable pain and distress during toxicity tests; even pregnant animals are used and their unborn babies chemically poisoned. Animal toxicity tests are also scientifically unreliable for assuring human safety, because animals and humans can respond very differently to the same chemicals.
Cosmetics can easily be produced without animal testing by using the thousands of existing ingredients for which safety data is already available, and advanced non-animal testing methods such as 3D human skin models, test-tube cell tests and computer models.
Humane Society International and its partner organisations together constitute one of the world's largest animal protection organisations — backed by 11 million people. For nearly 20 years, Humane Society International has been working for the protection of all animals through the use of science, advocacy, education and hands-on programmes. Celebrating animals and confronting cruelty worldwide — on the Web at hsi.org/becrueltyfree
Lush does not conduct or commission tests on animals and operates a fixed cut off date for individual ingredients, requiring that they have not been tested by or on behalf of a manufacturer since 1st June 2007 at the latest.
Since establishing 17 years ago, Lush Cosmetics has been driven by innovation and its ethics. Lush places emphasis on fresh ingredients like organic fruits and vegetables.  Lush supports Fair Trade and Community Trade initiatives and leads the cosmetics industry in combating over-packaging by running public awareness campaigns and developing products that can be sold 'naked' to the consumer without any packaging.
Lush has been awarded the RSPCA Good Business Award for 2006 and 2007, the 2006 PETA Trailblazer Award for Animal Welfare and the International Fund for Animal Welfare 'Business of the Year' award for 2010. Co-founders Mark and Mo Constantine were awarded OBEs for services to the beauty industry in the New Year's Honours list 2010.