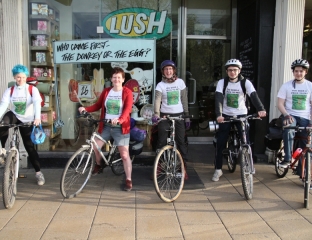 With thanks to Alan Brown

of Lush, Edinburgh
Four members of staff from Lush Cosmetics in Edinburgh embarked on Monday upon a three-day cycle from their Princes Street shop to the Lush shop in Aberdeen.
They will be wearing t-shirts bearing an image of one of the roe deer inhabiting Tullos Hill and emblazoned with the campaign's slogan, Too Deer A Price To Pay.
They will be travelling with letters opposing the slaughter, which they will hand deliver to Aberdeen City Council.
This cycle marks Lush Edinburgh's protest against the proposed slaughter of the roe deer that inhabit Tullos Hill in Aberdeen. Aberdeen City Council are proposing to plant trees on Tullos Hill as part of their Tree For Every Citizen scheme, but in order to protect the trees, they plan to slaughter the roe deer who have lived on the hill for generations. This is not only cruel and unnecessary, but would be ineffective as a method of tree protection.
Aberdeen City Council have responded to the numerous communications from the public opposing this cruel slaughter with an ultimatum – if the public cannot donate £225,000 to pay for tree sleeves and fencing to protect the saplings by 10th May 2011, then the slaughter will go ahead and the deer will die.
Lush Edinburgh refuse to play victim to this threat and simply wish to say to the council that they should put the Tree For Every Citizen scheme on hold until they have the means necessary to put tree protection implements into place. While they believe that planting trees is positive action, killing these animals in order to do so is completely senseless and the planting should not even be considered until humane tree protection can be put in place, so that both the trees and deer can exist.
Alan Brown, from Lush Edinburgh said:
"We applaud the council for wanting to plant trees in our community, but surely this can be done without slaughtering a herd of innocent animals. We feel that as the plans currently stand, it's too dear a price to pay".
From Monday 18th April until Wednesday 20th April, Lush Edinburgh and Lush Aberdeen will be donating all proceeds (minus VAT) from their popular hand and body lotion, Charity Pot, to the animal rights groups in Aberdeen.
These groups have been working incredibly hard to protest against this cull and using their own funds to pay for publicity materials for their campaign. This is applicable to both the full-size and sample-size version of the product.
Date: 20th April 2011, with cyclists arriving in Aberdeen at 1 pm.
Location: Lush Aberdeen, 81 Union St, Aberdeen
Please come along and welcome the cyclists on their arrival, and show your support for the campaign.
You can keep up to date with the cycle and the great work that they are doing to help this campaign here:
http://www.facebook.com/pages/Lush-Edinburgh/116815671689234
Lush Cosmetics, established 15 years ago, has been driven by innovation and its ethics. Creators of pioneering beauty products such as the fizzing bath ballistic, shower jellies and butter creams and solid shampoo bars, Lush places emphasis on fresh ingredients like organic fruits and vegetables.
Lush operates a strict policy against animal testing and supports Fair Trade and Community Trade initiatives. Lush leads the cosmetics industry in combating over-packaging by running public awareness campaigns and developing products that can be sold 'naked' to the consumer without any packaging. Lush has been awarded the RSPCA Good Business Award for 2006 and 2007 and the PETA Trailblazer Award for Animal Welfare.
More info –  www.lush.co.uk