Aberdeen Voice photographer Rob and I attended Willow's Animal Sanctuary Open Day on 25 February and had an absolutely wonderful time. Were it not for the snow which started when we were there, Rob would have had a hard time getting me to leave. Suzanne Kelly reviews a splendid day out.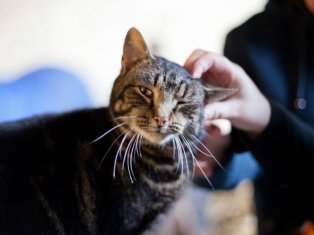 It was a nice drive to Willows from Aberdeen; the countryside is beautiful.
Willows was well signposted, and a helper was on the main road to ensure people found their way.
It is a spacious and friendly haven for animals and people. Getting to know some of each was a pleasure.
I met Sue during the event, and she told me that when she and her husband moved to Scotland six years ago, they soon discovered Willows, had visited and supported them during that time and wanted to do more.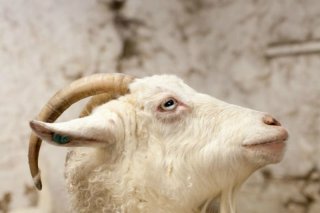 It was then that Kate found that there were like-minded people who really wanted to help, so they were introduced. Now they have a fundraising team who have thrown themselves into their task with a will.
Although they have only been together for about fifteen months, they have already raised over £9,000 through, to name but a few events, stalls at open days, coffee mornings and bingo evenings. The team now numbers eight, Sandy, Sue, Ann, David, Ashleigh, Leigh, Lorna and George.
There are many people who help with donations of prizes etc, and who help support the team in various ways. They have lots of new ideas for future events, so have confidence that the visitors will really enjoy themselves whilst supporting Willows
"Willows not only helps animals, but we're definitely helping people as well," Sue tells me, "We've seen people blossom."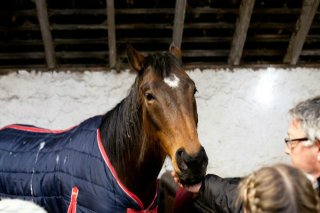 The office has a noticeboard divided into several sections. There are general news stories and items about animal sentience.
Yes, they do think, and feel, and know both pain and fear as well as love and happiness.
One section was about the fantastic work Willows does in bringing people with special abilities together with the animals. Both sides benefit from this interaction.
We now know that people with conditions such as autism improve hugely through interaction with animals. Horses and ponies can provide unique, valuable therapeutic benefits.
Sue and I talk a bit more, and she tells me of a fairly new arrival, McGill, a gigantic horse at 18.2 hands.
"His owners had rented him out, and then of course, you never know whether there were any problems, and consequently, when he came to Willows he was very nervous. And he had some behavioural issues", was how Sue described McGill.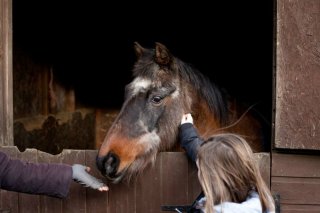 Having worked with horses in my distant past, I was ready for a highly-strung encounter with a giant. Well, McGill was indeed a giant, but he had an unbelievably sweet temperament.
Rob and I stayed and stroked him for quite some time; many others did too. If this horse had had any emotional issues, they were a thing of the past. Sandi Thom has since adopted him. She originally had adopted another animal, but it had sadly passed away.
Well, we and families patted goats, sheep, pigs, llamas, ponies, horses and the most amazingly friendly selection of cats you could ever find.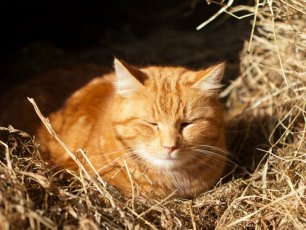 The majority of them sat on a large hay bale, which the sun was hitting. They were all soaking up the sun and loved being patted.
I particularly fell for a little feline called Gingersnap, and another gentleman called Arthur.
Arthur had been living in a tin can in a bit of scrub ground when they found him.
Sadly, he lost both his ears to skin cancer, not uncommon in white cats. I was completely won over.
We finally had a chance to talk to Sandi Thom. Her family are from the general area, and they seem to have a love of horses going back generations. Sandi seemed genuinely glad to be there, and signed several autographs as we spoke.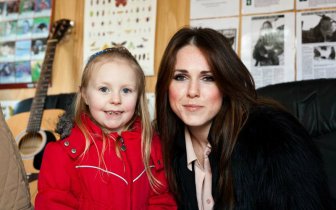 She'd also donated a very gorgeous autographed acoustic guitar as a raffle prize. We mentioned the generosity of Paul Rodgers and his wife, who adopted some thirteen animals.
Paul has donated several signed copies of his new DVD for Willows to sell (yes, I'd bought one). Ms Thom commented that people she'd met in the music industry often seemed to have a soft spot for animals. She clearly did.
Before we left, we spoke to Mr and Mrs Reid, who seemed to enjoy visiting the horses and have been coming for quite some time.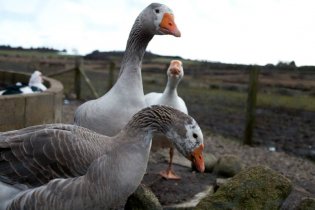 If the snows hadn't started and if we didn't have a fairly long drive back to Aberdeen, I might have stayed until they threw me out.
If I didn't already have two rescue cats which are just a touch on the needy side, I just might have adopted another.
Please visit the Willows website to learn more. Willows helps wild, domestic and farm animals – and people of all ages.
If you can help, please get in touch. http://www.willowsanimals.com/