All Things Must Pass, wrote George Harrison, and they do.
Sometimes, though, the death of someone who you don't really know, but who has affected you in some way, can hurt.  That's the case with Michael Marra, songwriter, performer, actor and artist who was defiantly and proudly Dundonian who died on Tuesday. Voice's David Innes writes.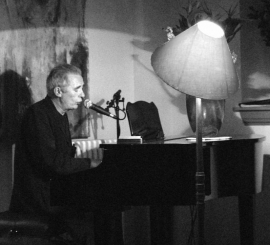 His refusal to drop the overt Caledonian influences and references in his writing when employed as a professional songwriter in London in the early 1980s saw him return home to Dundee and hone his talent to razor-sharpness without ever losing his desire to tell life stories, very often set in Dundee and seen through his own off-centre prism.
That was London's loss.
His songs were supremely-crafted vignettes whatever the subject matter.  Whether a view on the state of humanity like Here Come The Weak, an observation of women at the berries dissing each other's housing schemes in Baps and Paste, or a message to his great uncle who was disowned by his family as contained in The Lonesome Death of Francis Clarke.  
Equally as entertaining were his introductions to the songs where his clever, self-effacing humour would have audience members in convulsions of laughter.
When he playfully insulted Aberdeen in If Dundee Was Africa and got a laugh for it (even in the Lampie and the Lemon Tree) he would insist that he paid the city a tribute by having the Dons held up as heroes for redeeming the human race in the eyes of the fox in Reynard in Paradise.
His live shows were wondrous to behold.  Always nervous offstage, once he sat behind a piano he became a changed man.  Often, the instrument was his own electronic keyboard, or as he described it once when rippling arpeggios on the Jazz Club grand piano in the Blue Lamp:
 "a piece of plastic on an ironing board".
He was an inveterate collaborator too.
There have been, and are, musical geniuses in his home city and Michael worked with them all – The Woollen Mill, Skeets Boliver, the Clarks, his own brother the supremely-talented Christopher etc.  These people inspired and were inspired by him and throughout his repertoire there were references to Gus Foy (Hamish the Goalie), Peter McGlone (Peter), Dougie MacLean (Niel Gow's Apprentice) and Dougie Martin (Julius).
Michael was also an actor.
He appeared in Hamish Macbeth and The Big Man and delivered a well-received performance as Jim, the pyromaniac, in Chris Rattray's acclaimed The Mill Lavvies for which he also wrote the songs.
He was characteristically self-effacing about his painting and drawing skills but he had talent in this area too.
For a man who cliché demanded had to be termed 'Scotland's best kept secret', he was held in high respect and great affection by significant figures in Scottish artistic circles, yet he was a man who would rather discuss Dundee's League-winning team of 1962, or The Beach Boys, than talk about his own talent and finely-crafted songs.
Michael was a private man, happy to chat with fans, but never keen on the limelight.  Often keen to play piano at the side of a stage helping out others.
The many touching tributes which have been paid by household names in the arts world are proof that this little grey-haired Dundonian with an easy grin, twinkling eye and black beret was regarded as an outstanding talent and, more importantly, one of life's genuine and generous good guys.
Michael Marra 1952-2012.  Sleep easy, Michael.
 Comments enabled – see comments box below. Note, all comments will be moderated.