A fundraising event to support local activist Renee Slater in her forthcoming court case will be held on Thursday 29 November at Sopranos Bistro in Aberdeen's Guild Street. With thanks to Friends of Helena Torry.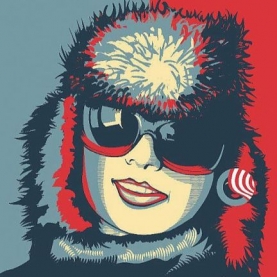 In the 2012 Aberdeen council elections, a candidate named Helena Torry was put forward by her agent, Renee Slater.
Nothing unusual in that, you might think, until you discover Helena is a dummy.
Not your usual political dummy, we hasten to add, but an actual shop mannequin!
Local activist Renee told Aberdeen Voice:
"Putting Helena forward for election was an act of political satire. I was trying to make a serious political point in a humorous way.
"During my campaign on Helena's behalf, I tried to bring to the fore the point of view of a silent majority of Aberdonians.
"It was a direct response to what I saw as an under-representation of certain issues in the manifestos of the main political parties, particularly the closure of social centres for disabled people and cutbacks in community and youth work budgets."
The council's somewhat cack-handed response to the appearance of Helena as a candidate was to report 63-year-old Renee to the police. She was subsequently arrested and charged under Section 65 part 2A of the 1983 Representation of the People Act, then released to appear in court later.
Denied legal aid, Renee faces a court battle to clear her name in January 2013, not only having to foot her own legal costs but also facing the possibility of a substantial fine.
Fundraiser organisers Friends of Helena Torry is a group of local residents alarmed and disappointed at the council's heavy-handed reaction to what is clearly a harmless act of political dissent, a type of political satire with a long and entertaining history.
Animals, inanimate objects and historical figures have been nominated for public office many times. Notable examples are American activist Michael Moore's nomination of a ficus plant for congress and even Caligula's horse (which apparently won) once featured in an electoral race. Even In the most recent U.S. presidential elections, the long-deceased Charles Darwin received around 4000 votes.
Friends of Helena Torry believe political dissent has an important role in a true democracy and should not be criminalised. Local authorities must respond to criticism in a morally acceptable way and should strive to act upon those criticisms in the interests of the public it serves.
One might think the police have more than enough to cope with as it is, that a court system under increasing strain must have more important matters to attend to than a piece of harmless satire, particularly one that actually brought a smile to a great many faces, not just in Aberdeen but around the globe.
Everyone is invited along to the evening. The fun kicks off at 7pm and will include live music from local bands and a raffle, so please come along and support Renee and join the campaign to free mannequin Helena (languishing in police custody to this day).
You can also donate or buy a T-Shirt or badge from the website:
http://www.friendsofhelenatorry.org/index.asp
All proceeds from the evening go towards Renee's legal costs. Any surplus will be donated to a charity of Renee's choice.
Comments enabled – see comments box below. Note, all comments will be moderated.