One of America's biggest stars, Rosie O'Donnell, has admitted to millions that she was "moved to tears" by the hit feature documentary You've Been Trumped when the film's director was the main guest on her show last week.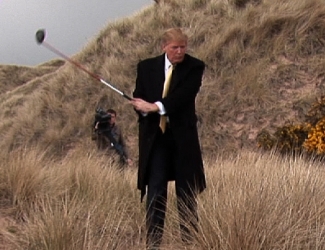 Footage of what the National Union of Journalists (NUJ) described as filmmaker Anthony Baxter's "violent arrest" was broadcast across  America for the first time.
The broadcast prompted scores of outraged viewers to hit Twitter and Facebook to voice their anger at the actions of Donald Trump, the Scottish Government and Grampian Police.
On The Rosie Show, Baxter revealed how Freedom of Information requests made by the Sunday Herald have only heightened concerns that Grampian Police "have been acting like Donald Trump's private security force".  He also accused the force of carrying out a "whitewash cover up enquiry' into his arrest.
The arrests of Baxter and his colleague Richard Phinney whilst making their film in 2010 prompted fierce criticism from the NUJ. The union described the police's actions as "a breach of human rights" with "important implications for press freedom".  
Meanwhile, O'Donnell is urging Americans to watch what she describes as "an amazing film". She admits to crying during the scene where hundreds of people walk across the bulldozed dunes of the Menie Estate, to show of support for local resident Michael Forbes, accused by Mr Trump of "living like a pig in a slum".
You've Been Trumped will be screened again in Chicago on 22 March, prior to its being rolled out for screenings in Europe as well as in Washington DC, Miami, New York, San Francisco, Arizona and other major American cities.
Clips from The Rosie Show…
http://www.oprah.com/rosie/The-Rosie-Show-Rosie-Takes-on-Trump
You've Been Trumped has won a total of eight international film festival awards
WINNER: Starz Denver Film Festival, USA
WINNER: Take One Action Film Festival, Scotland
WINNER: Michael Moore's Traverse City Film Festival, Michigan
WINNER: DaKINO International Film Festival, Bucharest
WINNER: Hamptons International Film Festival, New York
WINNER: Edindocs Film Festival, Edinburgh
WINNER: Wild & Scenic Environmental Film Festival, Nevada City
WINNER: Sheffield International Documentary Festival UK
Michael Moore hand-picked You've Been Trumped for his Traverse City Film Festival in Michigan where it won the Special Jury Prize. It is now well on course to be the most successful cinema feature documentary ever produced in Scotland.