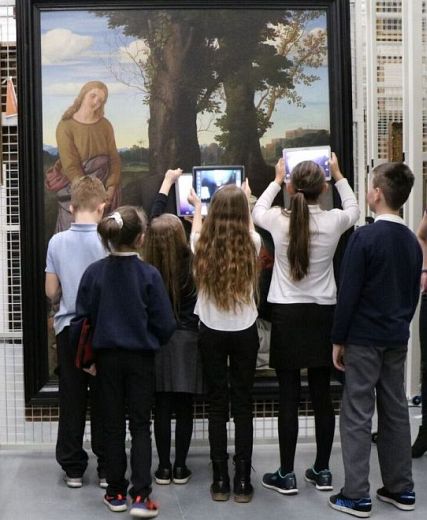 With thanks to Jessica Murphy, Senior Account Executive, Citrus:Mix.
Youngsters from Aberdeen schools have delved into the city's prestigious art collection to get inspiration for their special involvement in Nuart Aberdeen.
Pupils from Manor Park, Woodside, Riverbank, Seaton and Walker Road primary schools got the opportunity to explore a wide range of art at the Treasure Hub in Northfield, currently being kept in safe storage while the Aberdeen Art Gallery undergoes its multi-million pound redevelopment.
The sessions were held as part of The Outings Project, a participatory public art project founded by the globally renowned artist Julian de Casabianca.
The artist, who is participating in the inaugural Nuart Aberdeen festival, will work with the youngsters to paste their selected characters at specific sites in Aberdeen city centre.
Pupils had the opportunity to examine a number of paintings from the Aberdeen Art Gallery and Museums Collections, from Portrait of a Lady (The Artist's Wife) by William Dyce to La Perla de Triana by John Phillip, among others, choosing and photographing their favourite characters to share with the Aberdeen public.
They will then enlarge and paste them up in the city centre under the guidance of Julian, as well as in their own schools and neighbourhoods – getting the change to turn the streets into temporary art galleries during the festival, which is taking place from Friday April 14 to Sunday April 16.
The artworks that the children accessed for this project aren't currently on display, giving the public a wonderful opportunity to enjoy them in a new way.
It is hoped that the project will help children feel involved in the festival, especially as their efforts will also be displayed in their local areas, as well as encourage new audiences to engage with the Aberdeen Art Gallery and Museums collection.
There are a number of fun ways for youngsters and families to get involved in Nuart Aberdeen including street printing and chalk drawing workshops, walking tours and an Easter Sunday Street Art hunt.
Nuart Aberdeen will officially open on Saturday April 15, when Herakut's monumental mural on the façade of Aberdeen Market will be unveiled before the guided Street Art tours begin.
Local breakdance group Bring It Boys will perform a 'Street Art' inspired routine created especially for the event.
Also on Saturday, the street printing workshop with Berlin-based collective Raubdruckerin will teach participants how to transform old clothes with street inspired graphic designs from the area in and around Castlegate.
The Chalk Don't Chalk workshop, being held on St Nicholas Centre's Rooftop Garden on Sunday April 16, gives children of all ages the "freedom of the city" to create their own chalk street art pieces, with professional artists on hand to teach and guide children on their designs.
Belgian street artist Jaune has been busy hiding his mischievous bin men and women around Aberdeen city centre for the Easter Sunday Street Art hunt also on Sunday. Children can follow the hints provided to find six hidden artworks and win a special Easter Sunday prize.
Elaine Farquharson-Black, director at Aberdeen Inspired and partner at sponsor Burness Paull, said:
"It was wonderful to see the children enjoying the sessions at The Treasure Hub and getting so involved. Nuart Aberdeen is a legacy project for us and we are really looking forward to seeing their paste-ups in the city centre and their local communities.
"This particular project was the brainchild of Julian de Casabianca and it was intended for local children to feel ownership of these images. It is also hoped that they will bring their families to enjoy the Art Gallery when it re-opens in 2018/19 because it will feel, quite rightly, as if they are artists, in the same way as those displayed in our local art space are.
"We would like to extend our thanks to Aberdeen City Council for supporting school staff during these project, as well as community staff who will help with the next stage, and of course, the Aberdeen Art Gallery staff who facilitated the sessions at the Treasure Hub.
"There will be a range of fun events that youngsters and their families can take advantage of during Nuart Aberdeen and I would urge everyone to check out the programme and enjoy what is on offer."
An Aberdeen City Council spokesman said:
"We are absolutely delighted that our schools and pupils are participating so enthusiastically in the latest festival offering in Aberdeen's cultural calendar. We have placed a huge emphasis on culture and education and to bring the two together at the Treasure Hub and for the children to work with a globally renowned artist is absolutely fantastic."
For more information on Nuart Aberdeen please visit http://www.nuartaberdeen.co.uk/
Aberdeen Inspired is the banner under which the Aberdeen BID (Business Improvement District) operates. It is a business-led initiative within the city centre in which levy payers within the BID zone contribute. Proceeds are used to fund projects designed to improve the business district and driving footfall to the zone.
More information on the work of Aberdeen Inspired is available at www.aberdeeninspired.com
Comments enabled – see comments box below. Note, all comments will be moderated.