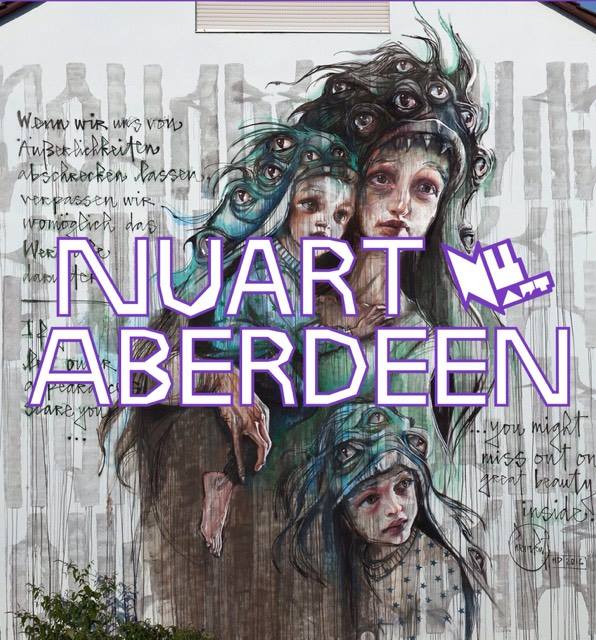 With thanks to Red Fin Hall.
Over Easter weekend of 14th-16th of April 11 world famous street artists, from far and wide, will be utilising various parts of the city to show their art. This brave and exciting venture is something to really look forward to.
James Finucane is the man behind NUART, the Stavanger based street art project. He hails from Stourbridge, and went to Cardiff university.
Now, at the behest of Aberdeen Council, he is bringing this exciting project to Aberdeen.
One of the visiting artists will be 45 year old movie making maker, Julian De Casabianca. His first feature length film was shot in 44 cities in 22 countries focusing on passers by. It was called Passing By and was used as an installation in Paris, shown on 40 Screens on the 4th district City Hall. He also has worked as a journalist, both in print and on television.
Joining him will be Jasmine Sidquii and Falk Lehmann going under the name of 'Herakut'.
Herakut is a German artistic pairing – a symbiosis of the aliases Hera the painter and Akut the graffiti artist whose collaborations formed a fruitful partnership. Having worked together on various successful global art projects, these artists have merged their individual approaches influenced by graffiti and street art.
Their artworks can be found in big cities around the world – from Toronto to Kathmandu, from San Francisco to Melbourne. Herakut's creative art process is sensuous, savage, dialogical and storytelling. This remarkable powerful dualism creates imaginary worlds and inspires their figures with individual characters. It will be an absolute pleasure to have them in Aberdeen.
Bergen based Nipper specialises in small scale pieces, recently exhibited on doors and wall etc in Stavanger and went under the name Mission Directives. He likes to focus on public led communication and our use of the urban environment, questioning who has the authority to decide on the rights of said communication.
Staying in Europe, Portugese artist Add Fuel ( Diago Machado) is gaining a reputation with his visual and graphic art work since he started exhibiting in shows 11years ago. His humorous, stencil based street art are not only full of detail, but are intent on reinterpreting the language of the Portuguese azulejo traditional tile.
Fontana McGee hails from Australia, although his roots are Scottish. He has exhibited all over the world from his home country to the west coast of America, via Moscow and Glasgow. Since he graduated in 2009 as a Bachelor of Fine arts, he has been artist in residence in Ambush Gallery, Sydney, Illawarra Regional Gallery, Woolongong and ISAD studios, Jakartah.
Scottish artist Robert Montgomery follows a tradition of conceptual art and stands out by bringing a poetic voice to the discourse of text art. Montgomery creates billboard poems, light pieces, fire poems, woodcuts and watercolors. He was the British artist selected for Kochi-Muziris Biennale 2012, the first biennale in India.
Montgomery has had solo exhibitions at venues in Europe and in Asia, including major outdoor light installations on the site of the old US Air Force base at Tempelhof. The first monograph of his work was published by Distanz, Berlin in 2015.
More artists are still to be added to this dazzling and creative cast.
Comments enabled – see comments box below. Note, all comments will be moderated.