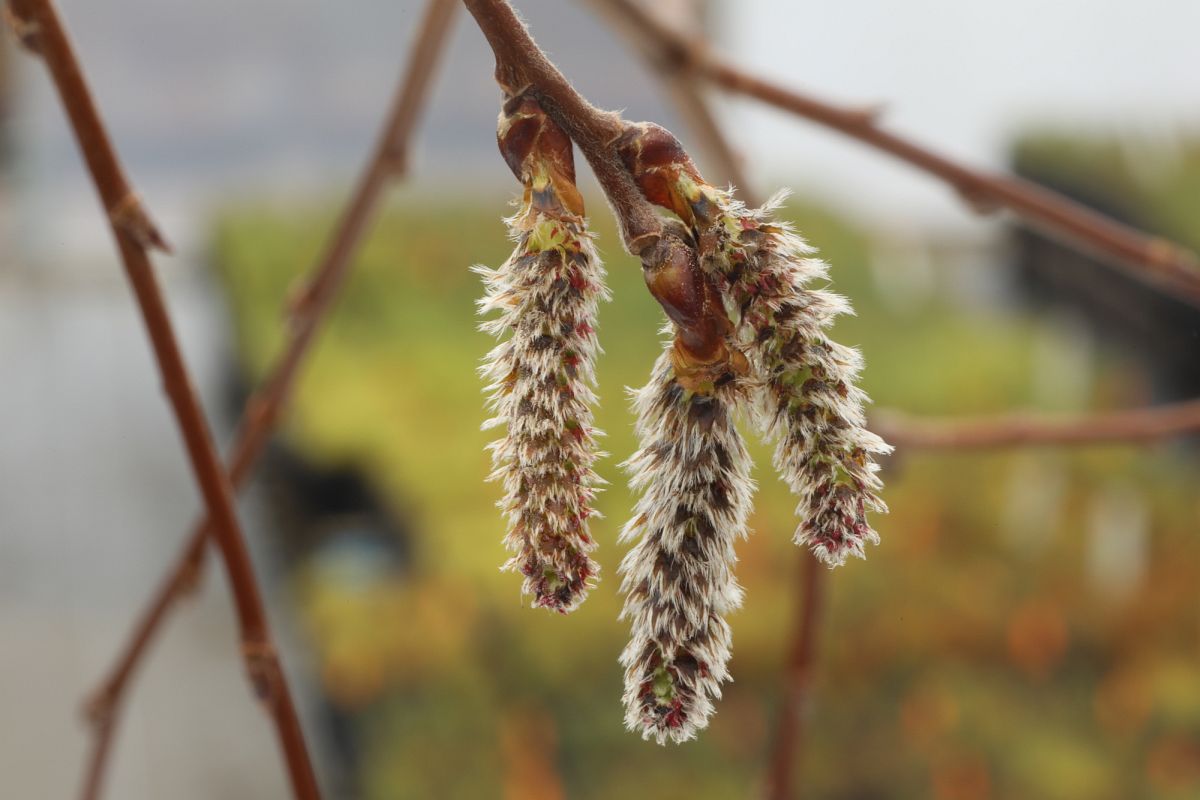 With thanks to Richard Bunting.
In an exciting step forward for the biodiversity of Scotland's forests, Trees for Life has successfully encouraged the rare but ecologically important aspen tree to flower under controlled conditions – enabling it to produce much-needed seeds that can be used for propagation.
Trials to stimulate aspen branches to flower at the charity's Dundreggan Conservation Estate in Glenmoriston, near Loch Ness, have progressed significantly this spring, following some initial success and experimentation over the past two years.
Trees for Life may now be able to secure its own source of aspen seed to dramatically increase the availability of aspens for planting in native woodlands and to strengthen the species' genetic diversity.
"This is a major breakthrough for us that offers hope for the beleaguered but hugely important aspen tree in the Highlands," said Doug Gilbert, Dundreggan Operations Manager at Trees for Life.
"Having a seed supply to grow a new generation of aspen will help us transform the fortunes of a beautiful tree that provides a habitat for a wide range of organisms including mosses, lichens and invertebrates – many of which are rare and endangered in Scotland."
Aspen is thought to have suffered more from deforestation than any other native tree in Scotland ­– largely because it rarely flowers or set seeds in the country, for reasons that are still unclear. This means that once it has been lost from an area, aspen is very unlikely to return on its own.
In Scotland, aspen reproduces mainly by new shoots growing from the roots of mature trees. As these shoots remain joined to the parent tree, the new trees are all the same organism – restricted to growing on the edge of existing aspen stands, and limiting the aspen's genetic diversity.
"Across the Highlands, aspen has been reduced to small fragmented stands – sometimes a handful of old trees growing off the same root system – that are geographically isolated and unable to provide the habitat for the many species that depend on them," said Doug Gilbert.
Growing new trees from seed is a key solution, but collecting seeds from aspen in the wild is almost impossible. The few aspen that flower in the Highlands are often in remote or inaccessible locations, and – as male and female flowers can appear at different times – pollination rarely takes place. Even when it does, the period for seed collection is extremely short and easily missed.
For the past 26 years, Trees for Life has instead had to rely on taking root cuttings to propagate new aspens for its forest restoration work. This is labour intensive and time consuming, making aspen saplings expensive and less available than other trees that are readily propagated from seed.
However, the charity is now successfully stimulating female and male aspen branches to flower at a scale that should produce a significant amount of seed.
Unlike most trees ­– where male and female flowers occur on the same tree – aspens are either male or female. Trees flower in March and April, before the leaves appear, with both male and female trees producing catkins. Pollinated female catkins ripen in early summer and release tiny seeds – each weighing about one ten-thousandth of a gram.
Under carefully controlled conditions, Trees for Life has now successfully hand pollinated female aspen catkins with pollen collected from male trees.
Those catkins will ripen in a few weeks time to produce seeds, which will be sown in the Dundreggan Tree Nursery to produce a new generation of young aspen trees.
Trees for Life has previously grown 3,000-4,000 aspen trees a year for planting in the Caledonian Forest. Being able to grow aspens from seed would allow the charity to significantly increase this number, as well as enhancing the aspen's genetic diversity.
This is major progress in a project to restore aspen to the Highlands, which Trees for Life launched in 1991. The project has also involved innovative aspen grafting experiments, carried out in partnership with John Parrott of the charity Coille Alba, who has also pioneered much of the work around stimulating aspen to flower under controlled conditions.
Volunteers grow more than 60,000 trees a year at Trees for Life's Dundreggan Tree Nursery, including during the charity's popular Conservation Weeks. To find out more about Trees for Life's award-winning work to restore the Caledonian Forest and how to help, see www.treesforlife.org.uk.
More info on Aspen:
Although aspen occurs throughout Britain, it is most common in north and west Scotland, and also occurs in Shetland and the Hebrides. The tree is characterised by its shimmering foliage in summer.
Aspen's fragmented and scattered distribution in Scotland is a factor in restricting flowering and pollination between male and female trees, as may be climatic conditions.
Aspen also suffers from being one of the most palatable of all trees for red deer – so any new shoots are eaten, unless growing out of the reach of deer, such as in rocky gullies or on cliff edges.
Comments enabled – see comments box below. Note, all comments will be moderated.