With thanks to Ross Anderson, Senior Account Manager, Citrus:Mix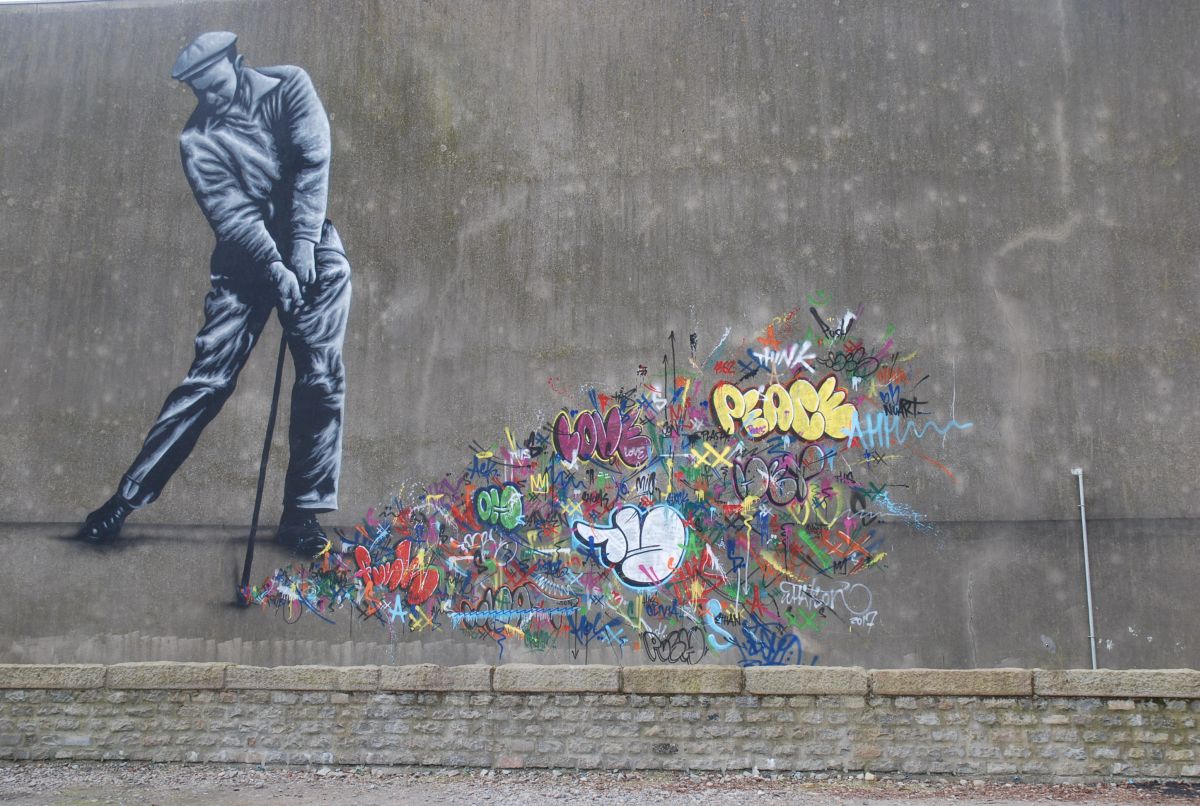 Colourful street art will begin to appear across Aberdeen city centre this week as a team of globally renowned artists start work for the inaugural Nuart Aberdeen Festival.
Walls at locations throughout the Granite City will be transformed as part of Aberdeen's first international street art festival which will run from Friday, April 14 to Sunday, April 16.
The first piece of festival street art in Aberdeen was completed by Norwegian stencil artist Martin Whatson on the Mackay's wall on Queen Street which was unveiled on Sunday morning (April 9).
Nuart Aberdeen has been brought to the city by business organisation Aberdeen Inspired and Aberdeen City Council, and is supported by main sponsor Burness Paull LLP.
Held in the Norwegian city since 2001 and widely regarded as the world's leading celebration of street art, this is the first overseas version of the festival.
Adrian Watson, chief executive of Aberdeen Inspired, said:
"We're very proud to have a very talented line-up of international street artists for the Nuart Aberdeen Festival, and are looking forward to seeing their work take shape around the city centre this week.
"The festival is held in Stavanger each year and the organisers were keen to work with us to bring it to the UK for the very first time so it's a huge coup for Aberdeen.
"It is also going to be a fantastic opportunity for local and international artists to work alongside each other on such an exciting project. We have a fantastic artist community in Aberdeen and we can't wait to see their work.
"Nuart Aberdeen is an ambitious project which will give residents in the north-east and beyond the opportunity to engage with all of the colourful artworks which will soon pop up on walls across the city centre."
The festival provides a platform for national and international artists to showcase their work through a series of murals, installations, interventions, and temporary exhibitions.
Street artists Fintan Magee, Nipper, Add Fuel, M-City, Alice Pasquini, Jaune, Isaac Cordal, Martin Whatson, Herakut, Julien de Casabianca and Robert Montgomery will showcase their latest work.
From Market Street and Queen Street to Belmont Street and Guestrow among others, the artists will use buildings and walls as their canvas to create their artworks.
The festival artists will also work alongside local artists to create a lasting impression in the city centre by brightening up neglected spaces with their work.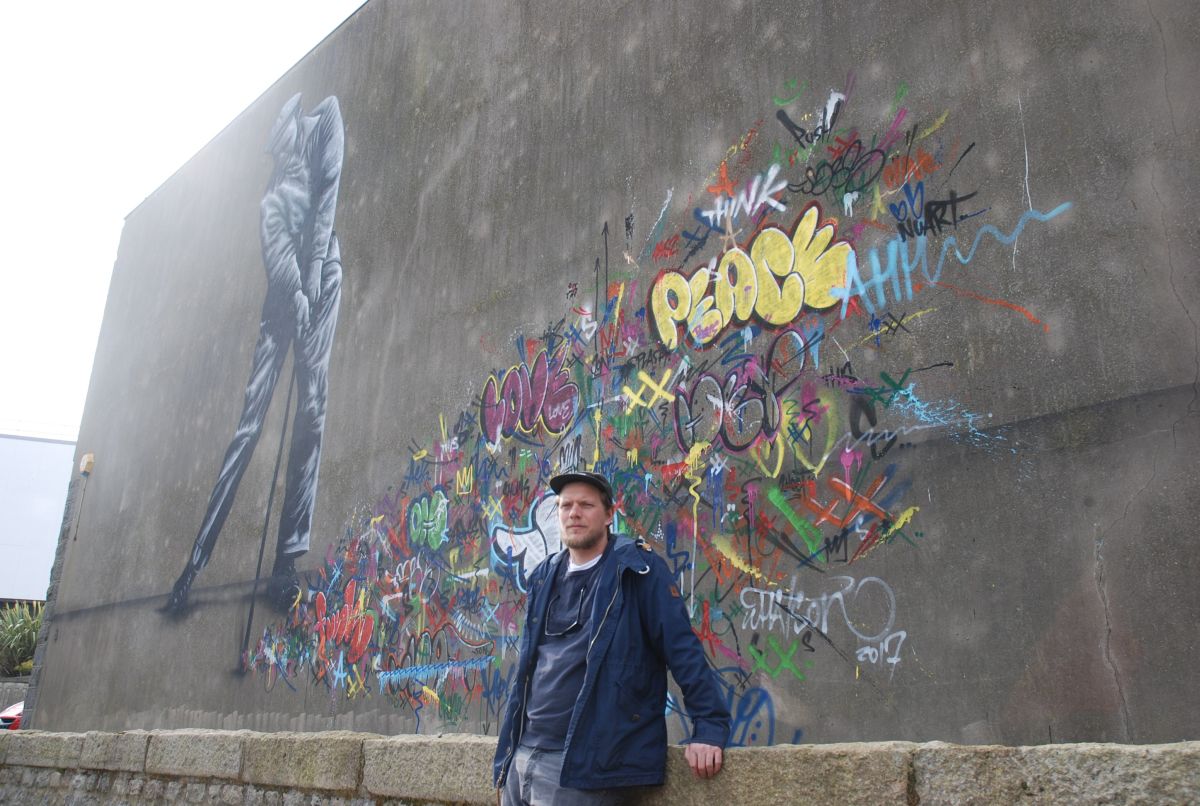 The first locations for Nuart include: Market Village (Market St), Centro Court (Loch Street) Mackay´s (29-31 Queen St), The Illicit Still (Guestrow, Aberdeen), The White Screen (visible from Union Bridge), and Robert Gordon's College Wall (Harriet Street).
As well as street art, there will also be an extensive programme of activity including talks, presentations, film screenings, workshops and a few surprises over the course of the Easter weekend.
Martyn Reed, director and curator of Nuart, said:
"One of the often overlooked and possibly most long reaching positive effects of street art is just how many people it inspires to have a go themselves, many, not having touched a paintbrush since their last art class at school.
"And whether you go on to become an internationally renowned street artist like Martin Whatson, or you simply cut a stencil at the kitchen table with your kids for a skateboard, is irrelevant, the fact is, street art puts art back into people's everyday lives like no other art form has even considered.
"Martin's work, like Banksy before him, is crying out to inspire the next generation of stencil artists. As well as impressive works on public walls across the globe, it will be those smaller DIY attempts at kitchen tables, inspired by Nuart Aberdeen, that form part of the cultures' lasting legacy."
An Aberdeen City Council spokesperson, said:
"We are delighted to support events like Nuart through the City Centre Masterplan. The Masterplan's Aberdeen 365 project aims to deliver a year-round programme of events, recognising that an enhanced cultural and sporting offer can add enormous vibrancy to a city.
"It's been great to see the first piece of art take shape and I'm sure Aberdonians and visitors will be delighted with the colour that artist Martin Whatson has brought to Queen Street."
Aberdeen Inspired is the banner under which the Aberdeen BID (Business Improvement District) operates. It is a business-led initiative within the city centre in which levy payers within the BID zone contribute.
Proceeds are used to fund projects designed to improve the business district. More information on the work of Aberdeen Inspired is available at: www.aberdeeninspired.com
For more information about the Nuart Aberdeen Festival, please visit: www.nuartaberdeen.co.uk
Comments enabled – see comments box below. Note, all comments will be moderated.