With thanks to Ross Anderson, Senior Account Manager, Citrus:Mix.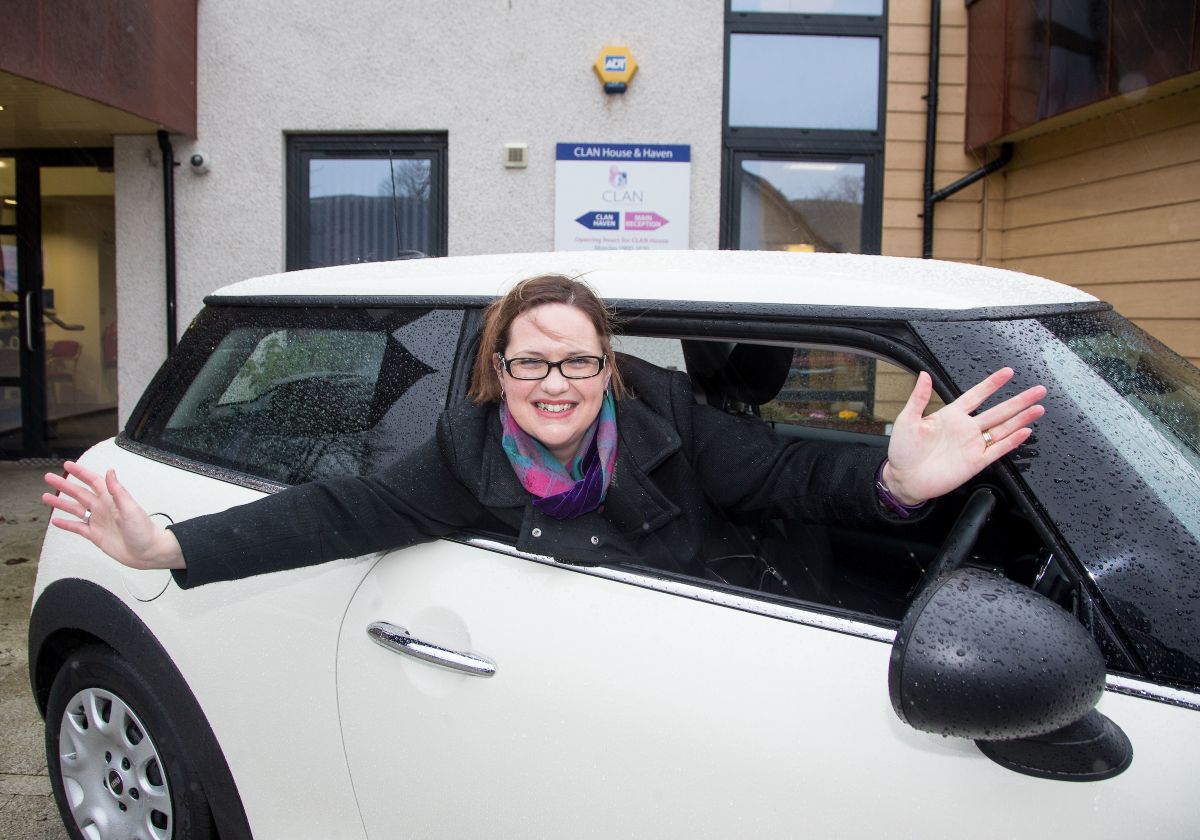 A north-east family has won a new Mini in a popular annual fundraiser which supports a leading cancer charity.
Susan Green, from Peterhead, bought several tickets in a raffle organised by CLAN Cancer Support and Rotary Clubs across the north-east of Scotland. Half were put in her name and half for her husband, Karl Green.
After buying the tickets Mrs Green didn't think much more about the raffle until she received a surprise visit from Angie Christie, CLAN's North Aberdeenshire area co-ordinator on Christmas Eve to let her know that her husband had won the car.
Mrs Green, who works part-time as an accountant with Ocean Installer in Aberdeen, raised more than £900 for CLAN earlier in the year by organising a craft fayre after the charity supported her father, John Reid, during his cancer treatment.
As Mr Green was working overseas when the car was available for collection, Mrs Green received the keys from Mr Alastair Brookes, CLAN's fundraising manager.
Mrs Green, 35, said:
"It was a lovely surprise when Angie came round on Christmas Eve to let us know we had the winning ticket. My husband Karl and I are delighted and our children James, Rachael and William all love it.
"We've been very lucky to win the car and it's been great using it to get around town. It's also very useful for dropping the kids off at school and visiting our friends and family. We're very proud of it."
More than £54,000 was raised for the raffle through ticket sales. The raffle is an integral part of CLAN's fundraising campaign and is run by Rotary Clubs in and around the North East with members of 22 Rotary Clubs being involved.
With the Mini being part sponsored by Dominoes, the net funds raised are then shared between CLAN Cancer Support, which receives the majority of the funds, and the Rotary Clubs who in turn use their share to help a variety of smaller charities in the area.
Alastair Brookes, Head of Fundraising at CLAN Cancer Support, said:
"To be able to give someone the news that they have won a brand-new car on Christmas Eve is very special, and even more so when it is someone who has first-hand experience of the services and support CLAN provides.
"We hope Karl, Susan and her family enjoy their new car and we'd like to wish them happy travels in the years ahead.
"The raffle is a hugely important part of our fundraising and I would like to thank each of the Rotary clubs which help us so much with it each year. Their dedication and kindness really does make all the difference. We would also like to thank everyone who supported us by buying a raffle ticket."
Alan Pirie, of the Aberdeen and North East Rotary Clubs, said:
"We were delighted to partner with CLAN Cancer Support again and would like to extend our congratulations to Karl on winning the Mini raffle.
"Our members sold raffle tickets at various events across the north-east throughout the year and it is lovely to see the Mini go to a family who will be able to make good use of the car."
CLAN Cancer Support is an independent charity which provides comfort, support and information, free of charge, for anyone, of any age, affected by any type of cancer. CLAN aims to support people to reduce anxiety, stress and to increase their ability to cope with the effects of a serious illness.
Based in Aberdeen, the charity covers the whole of north-east Scotland, Moray, Orkney and Shetland. CLAN has a presence in Ballater, Banchory, Elgin, Buckie, Inverurie, Fraserburgh, Lossiemouth, Peterhead, Stonehaven, Turriff, Kirkwall and Lerwick.
For more information about CLAN Cancer Support, please call (01224) 647 000 or visit www.clanhouse.org
Comments enabled – see comments box below. Note, all comments will be moderated.