With thanks to Eoin Smith, Senior Account Executive, Tricker PR.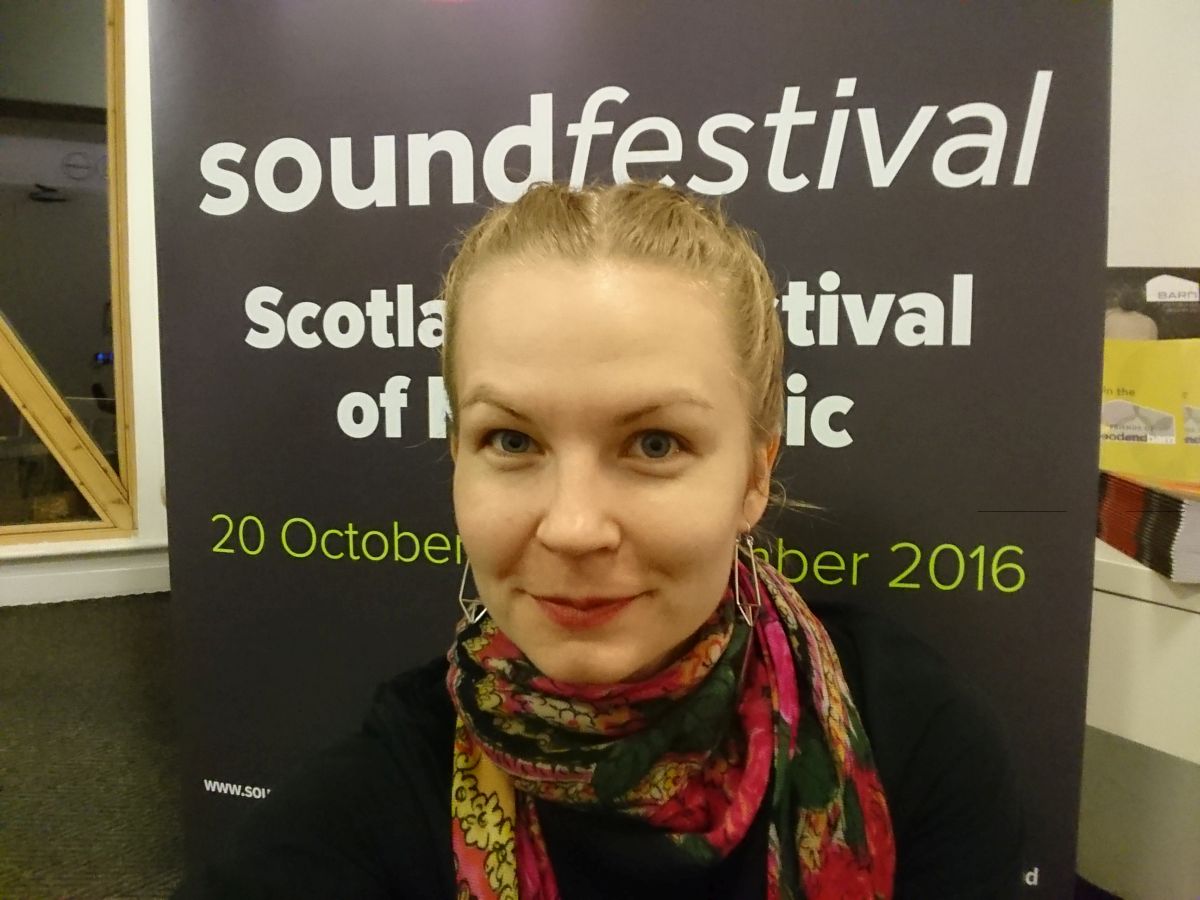 It's not often that someone lands their ideal job, but for Kadri Soerunurk her dream of being part of a major cultural festival has become a reality.
Rising through the ranks of the Sound Festival, which finished it's 2016 programme in early November, Kadri began her journey as a volunteer and is now an integral part of the team that organises the festival every year.
And after enjoying the success of this year's festival, Kadri has even more cause for celebration – her stellar efforts have been recognised with a nomination in the Regional Rising Star category of the 2016 Aberdeen City and Shire Tourism Awards.
Moving to Aberdeen from her home in Estonia in 2010, Kadri enrolled at Robert Gordon University to study Events Management. As part of her degree, she had to gain at least 100 hours of work experience in events each year – a challenge which she completed in part by working at the Belmont Filmhouse.
But it was a chance encounter with a Sound Festival brochure in a coffee shop that led her onto the path to her dream career.
Kadri (29) says,
"I saw a flyer for the Sound Festival in 2010 and instantly knew it was something I wanted to get involved in. Even if I hadn't needed to gain experience for my course, I would still have applied to be a volunteer. I got in touch and was offered a front of house role for the 2011 festival, taking tickets and handing out programmes.
"I missed the 2012 festival as I was studying overseas in Limerick, but in 2013 I came back and became more involved with the running of some of the festival events. Every year from then on, my duties increased and I became more involved in the organisation of the festival until I was offered a full-time position on the team."
The only full-time member of staff on the four-strong Sound Festival team, the position of festival co-ordinator was created when the organisation restructured and Kadri jumped at the chance to embrace this new opportunity.
Kadri explains,
"My work is very varied and no two days are the same, which is perfect for me. Sometimes I'm updating the website and social media, and then the next day I'll be co-ordinating school workshops which run throughout the year outside of the festival weeks.
"Throughout the festival, I liaise with all the artists and ensure they have everything they need, co-ordinate the logistics of all the rehearsal space required, and make sure everything is where it needs to be in the venues. I also look after the volunteers – having started as one myself, I know how important it is to keep them up to speed."
Throughout her time with the Sound Festival, Kadri has had many amazing experiences. Her highlight of 2016 was the Freedom o(r) Speech event at ACT Aberdeen which saw musicians from Scotland, Belgium and Norway come together – along with actor Simon Callow – to create a unique performance. Seeing it all come together, she says, was a proud moment.
But one of Kadri's greatest adventures with the Sound Festival allowed her to travel across the globe. She explains,
"Sound commissioned an opera in 2012 – The Garden – which had toured a bit in London and Berlin. Last summer, it was performed as part of the Edinburgh Fringe Made in Scotland programme, and after seeing the show a promoter from Shanghai wanted to bring it to China in 2016.
"It was a fantastic experience, and a major operation to get everyone there. I had to organised travel, visas and rehearsals for all the performers. The production was presented as a kind of dinner-theatre in Shanghai, which also brought some additional challenges, but it was a great success and an amazing opportunity to visit a country I might not have had the chance to otherwise."
Festival director Fiona Robertson, who nominated Kadri, says that she has quickly become an invaluable member of the team. She adds,
"As festival co-ordinator, Kadri is part of the external face of the Sound Festival, and she is already hugely respected and trusted by our partners and stakeholders.
"I have rarely worked with someone who is so young, so hardworking and so talented. She contributes more than her weight in gold both in her day-to-day job, and holds her weight against us more experienced staff members in ideas for the future strategic development of the organisation."
Kadri will face competition from Gemma Cruickshank (VisitAberdeenshire) and Craig Rochester (Eat on the Green) in the Regional Rising Star category of the 2016 Aberdeen City and Shire Tourism Awards. The award celebrates individuals under the age of 30 who have shown initiative and excelled in their tourism organisations.
The winners of each category category will be announced at an awards ceremony and gala dinner on November 25, 2016 at Ardoe House Hotel and Spa, and many will then go on to represent the region at the national Thistle Awards.
For more information about the Aberdeen City and Shire Tourism Awards, visit www.acsta.co.uk
Follow the awards on Twitter @ACSTourismAward or on Facebook at www.facebook.com/acstourismawards
Comments enabled – see comments box below. Note, all comments will be moderated.