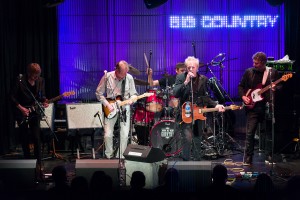 With thanks to Suzanne Kelly
Big Country return to Aberdeen's Lemon Tree to mark a very special anniversary.
Following the incredible success of their 30th Anniversary 'Steeltown' Tour, BIG COUNTRY now celebrate the 30th Anniversary of the album that followed that release – 'The Seer'.
Famously, the album included an appearance by Kate Bush, joining the late Stuart Adamson on the title track and the single 'Look Away' was the group's biggest UK single, reaching Number 7 in the charts.
The album itself reached Number 2 here, with Rolling Stone reflecting: "'One Great Thing', 'I Walk the Hill' and 'Eiledon' are stirring expressions of the desire for individual integrity and a future filled with peace"… a timely sentiment.
The band will perform the album in its entirety, as well as visiting their stunning catalogue of songs, taken from their multi-million selling and Number 1 hit albums.
Their classic hits and live favourites include Harvest Home – Fields of Fire – In A Big Country (which sold 2 million copies) – Chance – Wonderland – Look Away – The Teacher – East of Eden' from such massive albums such as the triple Grammy –nominated, 'The Crossing,' 'Steeltown' and 'Peace In Our Time'. BIG COUNTRY continue to look beyond the next horizon.
Big Country is BRUCE WATSON (guitars/vocals); MARK BRZEZICKI (drums, vocals); JAMIE WATSON (guitars/vocals).  They will be augmented on stage by SIMON HOUGH and bassist, SCOTT WHITLEY.
Further tour dates and more information can be found here: www.bigcountry.co.uk