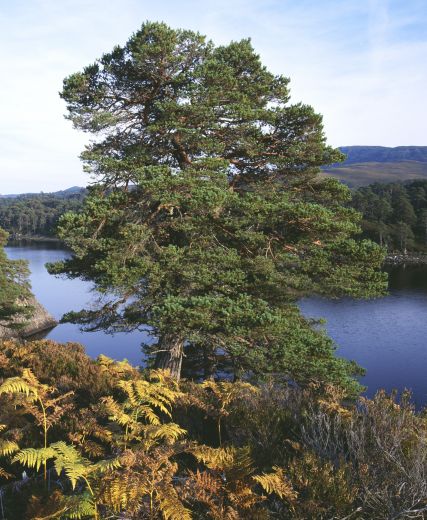 With thanks to Richard Bunting, Director, Richard Bunting PR
A quarter century of volunteering conservation action in the Highlands is being marked by Trees for Life this month, with a new initiative aiming to expand Scotland's Caledonian Forest from Glen Affric towards the west coast.
The bid to restore life to deforested parts of the famous glen comes as the award-winning charity next week marks the 25th anniversary of its acclaimed Conservation Weeks, in which volunteers from around the world carry out practical conservation action to protect Scotland's natural environment.
Trees for Life's Back to Our Roots appeal is seeking to raise £18,000 for a new phase of tree planting by volunteers in Glen Affric this year – extending the endangered Caledonian Forest westwards of the area planted by the charity's first Conservation Weeks 25 years ago, and creating vital habitats for wildlife.
"Back to Our Roots is an important new phase of our work in partnership with Forest Enterprise Scotland in Glen Affric. It will extend the native woodland beyond its current stronghold in the east of the glen towards Scotland's west coast, creating a continuous corridor of forest across this part of the Highlands," said Alan Watson Featherstone, Trees for Life's Founder.
"Helping a new generation of young trees to take root further west in Glen Affric will create an important addition to what is the largest extent of least disturbed forest in the country. This will provide habitats for a host of species – including some, such as the red squirrel, that have been lost from these deforested landscapes for far too long."
The Caledonian Forest is an internationally-important forest ecosystem, providing a home for spectacular wildlife. But today the forest occupies a tiny fraction of its former extent and – decimated by centuries of exploitation and overgrazing – it consists of small and isolated fragments, mainly old trees nearing the end of their lives.
Over the past 25 years, however, Trees for Life's volunteers have helped to plant more than one million trees at dozens of locations across the Highlands. The first of those trees – 5,800 Scots pines – were planted in Glen Affric in April 1991, including during the charity's first ever Conservation Week, which was based at Athnamulloch bothy and began on 20 April.
Since then, through the work of Forest Enterprise Scotland and Trees for Life, a remarkable transformation has taken place in parts of Glen Affric, with a new generation of trees creating a reforested landscape – in turn offering much-needed habitat that now supports a flourishing population of plants, insects, birds and wildlife, including the rare black grouse.
Through Back to Our Roots, Trees for Life aims to build on this success story, and to help achieve its ambition to establish one million more trees by planting and natural regeneration across the Highlands by 2018.
For more information, see www.treesforlife.org.uk or call 01309 691292.
Comments enabled – see comments box below. Note, all comments will be moderated.