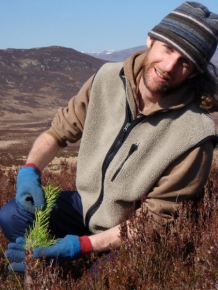 With thanks to
Richard Bunting.
The conservation charity Trees for Life has announced details of its Conservation Weeks for 2013, the Year of Natural Scotland.
It is offering people the opportunity to make a positive difference to the environment, whilst experiencing an unforgettable visit to the Scottish Highlands.
Alan Watson Featherstone, who is Trees for Life Executive Director, said:
"The Year of Natural Scotland is the perfect time to enjoy Nature and wild Scotland, and to take action to restore the Caledonian Forest and its unique wildlife. Our 2013 Conservation Weeks offer an inspiring 'hands on' conservation experience in breathtaking Highlands scenery of mountains, forest and rivers."
Trees for Life is restoring the Caledonian Forest to a spectacular wilderness region of 1,000 square miles in the Highlands, west of Loch Ness and Inverness.
The award-winning weeks will allow people from all sorts of backgrounds to help in the restoration of Scotland's equivalent of a rainforest. There are Conservation Weeks at eight locations in the Highlands between mid-March and November.
To mark the Year of Natural Scotland, Trees for Life is introducing new Wildlife Weeks for conservation volunteers who also want to spend extra time learning about and observing the Caledonian Forest's outstanding wildlife.
These specially-designed Weeks include day trips to the Isle of Skye to see white-tailed eagles, the third largest eagle in the world; to Aigas Field Centre at Beauly, Inverness-shire to see the beavers living on the loch; and the opportunity to feed wild boar at Trees for Life's Dundreggan Estate in Glen Moriston, to the west of Loch Ness.
The Conservation Weeks suit all abilities and anyone over eighteen can take part. There's no upper age limit, but the work can be physically demanding, so volunteers need a reasonable level of fitness. Special weeks concentrating on work in the charity's tree nursery at its Dundreggan Estate offer a gentler but equally important option.
Sarah Macavoy, who volunteered with Trees for Life at Corrimony, said:
"The week inspired me in that, even though there are a lot of problems in the world, people can make a difference. Volunteering is about getting out there and doing something to make a positive impact with other like-minded people."
Natalie Allain, who volunteered in Glen Affric, said:
"My experience volunteering with Trees for Life was nothing but positive. I came away with a new love for the Scottish Highlands, a heightened respect for the majesty of trees and some great new friends!"
The charity has just produced a new film that shows what its volunteers have achieved, and how the long decline of the Caledonian Forest is being reversed through their work.
Although only a fraction of the former Caledonian Forest now survives, volunteers with Trees for Life have helped to plant more than one million trees at dozens of locations, and to create 10,000 acres of new forest.
"We have pledged to establish one million more trees by planting and natural regeneration within the next five years. Every volunteer who takes part in our Conservation Weeks will be helping to achieve something very special," said Alan Watson Featherstone.
BBC Wildlife Magazine has voted Trees for Life's Conservation Weeks as one of the Top 10 Conservation Holidays in the World.
For more details, see www.treesforlife.org.uk or call 0845 458 3505.
Further information
Since planting its first trees in 1991 in Glen Affric, Trees for Life has planted over one million trees and has created 10,000 acres of new Caledonian Forest. Its awards include 1991 UK Conservation Project of the Year, Millennium Marque in 2000, Top 10 Conservation Holidays worldwide in 2009, and 2012 Glenfiddich Spirit of Scotland Environment Award.
Comments enabled – see comments box below. Note, all comments will be moderated.