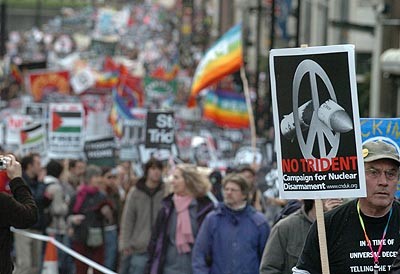 By Jonathan Russell, Chair Aberdeen and District CND
On 27th February the Campaign for Nuclear Disarmament (CND) is calling a massive demonstration in London to protest against the renewal of Britain's nuclear weapons system: Trident. Join us to say No to government plans to buy a new system at a cost of £100 to 150 billion.
Parliament will be voting on this in 2016. So this is urgent – we can't delay. Be part of history and join the Demonstration.
The majority of people in Scotland oppose nuclear weapons. They are weapons of mass destruction that can kill millions.
They don't keep us safe and they divert resources from essential spending. And they are based here in Scotland.
Let's get the message out loud and clear: let's have a large Scottish block on the march to say Scrap Trident.
We leave Glasgow (George Square) at 2100hrs on the Friday then onto Edinburgh (approx. 1hr 15mins later) then down to London. This will have us arriving early morning (so that the driver gets a rest).
We leave London at 1800hrs on 27th February .Accommodation available in Edinburgh if needed.
Tickets are £40 and £20. If you can't come but want to help you can give a DONATION  via Eventbrite to help subsidise the cost.
The EventBrite link is now open:
Bus from Scotland to CND Stop Trident Demo in London 27 Feb
Comments enabled – see comments box below. Note, all comments will be moderated.