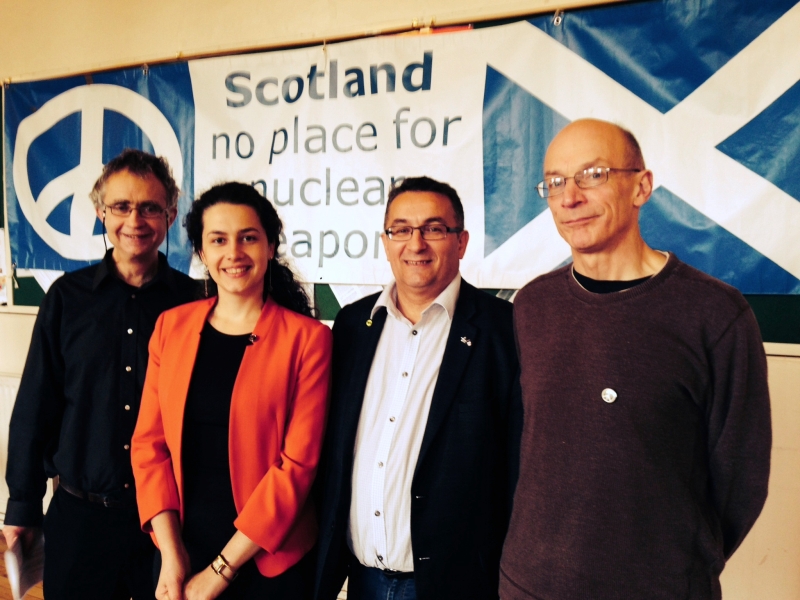 With thanks to Gavin Mowat, Constituency Assistant to Christian Allard MSP.
Christian Allard, MSP for North East Scotland, has signed an appeal for a nuclear weapons ban along with hundreds of Parliamentarians around the world and called on the UK Government to immediately halt its commitment to renew the Trident nuclear weapons system.
The appeal – coordinated by the International Campaign to Abolish Nuclear Weapons (ICAN) – aims to build global support for a treaty banning nuclear weapons. The call for such a treaty has been endorsed by more than 150 governments, the United Nations Secretary-General, and the Red Cross and Red Crescent movement. The SNP MSP commented:
"Banning nuclear weapons is a crucial step on the road to building global peace and security and I am delighted to add my name to the growing list of Parliamentarians that want to see a worldwide ban.
"These dangerous and costly weapons of mass destruction have no place in Scotland or anywhere in the world and I would encourage fellow Parliamentarians at Westminster to sign the ICAN appeal."
Mr Allard is a member of the international group Parliamentarians for Nuclear Non-proliferation and Disarmament (PNND) that has more than 800 members across 80 nations, and he is also a member of Scottish Campaign for Nuclear Disarmament (SCND). Jonathan Russell, Chair of Aberdeen District Campaign for Nuclear Disarmament added:
"Aberdeen and District Campaign for Nuclear Disarmament are delighted that North East MSP Christian Allard has signed the ICAN declaration.
"We consider that governments around the world need to be working together to get rid of nuclear weapons which are a permanent threat to global security and the future of our planet."
UK Defence Secretary Philip Hammond outlined the Westminster Government's determination to carry on with the plan to renew the Trident nuclear weapons system in 'The United Kingdom's Future Nuclear Deterrent 2013 Update to Parliament', which was released yesterday. The plans detail the UK Government's commitment to pushing ahead with a full scale replacement of Trident at a cost of billions of pounds. Commenting on this latest commitment to Trident by the UK Government, Mr Allard said:
"This is further proof that Westminster has a callous disregard for the communities, institutions and politicians across Scotland that have all opposed the renewal of Trident.
"Having nuclear weapons based near Scotland's largest city is completely unacceptable and I call for Westminster to halt spending on the renewal of the UK's nuclear deterrent until after the outcome of the independence referendum on the 18th of September 2014.
"The only way to guarantee that Scotland will be nuclear weapons free is to vote Yes in the independence referendum."
The French-born MSP encouraged people to join the campaign for nuclear disarmament saying:
"Anyone who wants to support the campaign for nuclear disarmament can join the SCND at their Annual General Meeting in Aberdeen next February."
Scottish Campaign for Nuclear Disarmament will hold their Annual General Meeting on February 10, 2014 at the Belmont Picturehouse, Aberdeen where Flavia Tudoreanu, Assistant Coordinator of SCND will be speaking. More Info:
Link to the UK's Future Nuclear Deterrent; 2013 Update to Parliament SCND facebook Link to ICAN website
Comments enabled – see comments box below. Note, all comments will be moderated.