Mental Health Aberdeen (MHA) has forged a link with an innovative charity which offers a therapeutic animal service. With thanks to Jessica Murphy, Senior Account Executive, Citrus:Mix.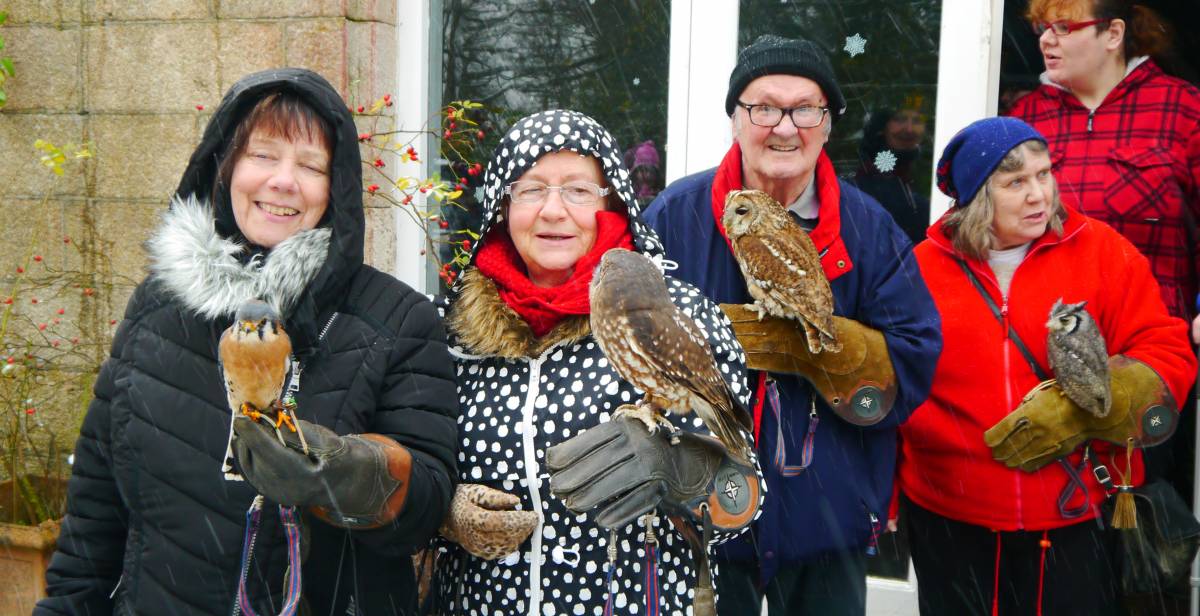 The leading north-east charity recently visited The Owl and The Pussycat Centre in Maud, which gives people the chance to have a positive experience with birds of prey, including the owl stars of Harry Potter, Eral and
Hedwig.
Service users in MHA's Companions Befriending Service and their companions had a magical time on the visit, which was used as an opportunity to get out and about in the community, have fun and build relationships with peers.
Flora Todd, manager of MHA Companions Befriending, is currently looking for volunteers to take on a befriending role within the charity.
She said:
"Our service users and their companions thoroughly enjoyed themselves at The Owl and The Pussycat Centre, and we would like to thank everyone there for making us so welcome. We would love to repeat visits like this as they are so beneficial in helping our service users combat feelings of isolation and embrace day to day life. Interaction with animals and birds is a great tool for improving a person's wellbeing.
"Companionship can make an incredible difference to a person's wellbeing and it was fantastic to see our befrienders and service users interacting with the owls and having such a good time. We are currently on the look-out for volunteers to join our pool of befrienders in Peterhead, Fraserburgh, Banff, Turriff and surrounding rural areas. It is a fantastically rewarding role to take on and while it has its challenges, the transformation it can bring about to someone's life is incredible.
"Volunteers befrienders can help in so many different ways, from going out for coffee, helping build their self-confidence and learning new skills to attending local activities such as exercise classes and arts or cultural groups. They are also very much a listening ear. We would urge anyone interested to get in touch with us and find out more about becoming a befriender."
A committed network of befriending volunteers has served the north-east through MHA for a number of years but the charity is working to expand the service.
Full training is provided to all volunteers, who must be aged 18 and over, and the charity has an experienced team leading the programme. All out of pocket expenses are reimbursed and the next induction training course will begin in February.
MHA was founded in 1950 and provides support services, counselling and advice to people affected by challenges related to mental health and wellbeing. Services are available for children from the age of 12 and adults. The organisation was among the first to provide community care – with its first residential project, a group home for discharged psychiatric patients, opened more than 35 years ago. MHA has also been providing day services continuously for over 60 years.
For more information on the befriending scheme and volunteering opportunities contact Flora Todd on 01779 470122 or visit www.mha.uk.net.
For more information on The Owl and Pussycat Centre visit www.owlandpussycatcentre.co.uk
Comments enabled – see comments box below. Note, all comments will be moderated.