Koozie Johns has a musical career spanning decades and genres; he's worked with a wide spectrum of the UK's top talents. His latest offering is the recently released Folk Grinder album, 'The Devil's Mariner' produced by Kirk Brandon. A second single, 'Captain Johnny Clash' is set for release shortly. Koozie talks to Aberdeen Voice's Suzanne Kelly about music, muses, outlaws, his personal battle with Fibromyalgia and more.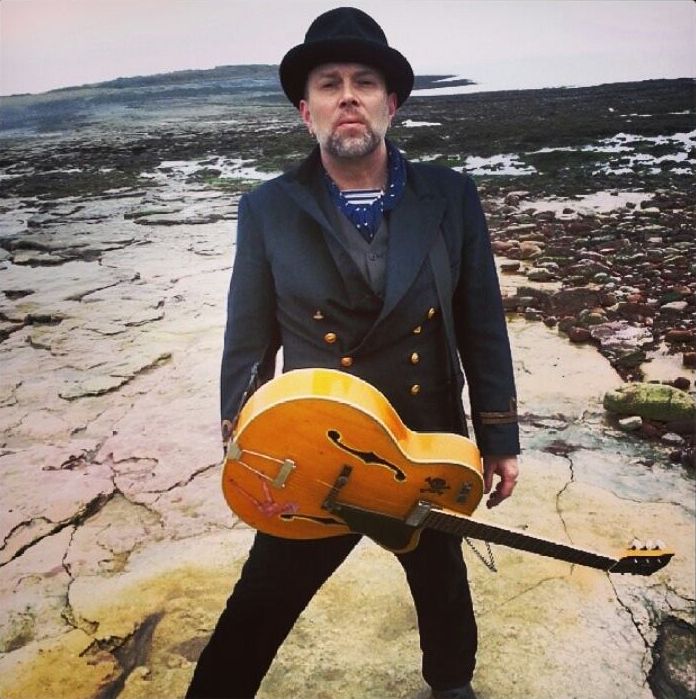 Koozie Johns sounds pretty happy and relaxed when I phone. What I thought would be the 15 minute interview I normally do turned into 40 minutes, and could have gone on longer if not for my having another appointment. Johns has been in and out of various bands and musical projects for many years.
How do you get from a childhood near the Forest of Dean to creating punk rock songs of the sea for the 21st century?
Folk Grinder's website http://www.folkgrinder.com/ describes the music:
"There are songs about pain and addiction, love and loss, songs that will embrace you with nautical tales of the sea and far away shores, sailor dives and dancing girls. Songs to redeem your soul to, to start over to, Songs for fallen comrades and long lost loved ones, songs to drink and be merry to or drown your sorrows to, you choose in fact there's a song for everyone.
"A blend of upbeat shanty rhythms, punk folk, skiffle rock'n'roll, shades of rockabilly and Americana tremolo.'Skulls and bones stitched and sewn all by the hand of a drunken sailor'. HEAVE HO!!!"
The recent material seen in the two Folk Grinder albums is where a traditional sea shanty gets into bed with punk, folk, rock, cabaret and a bit of country. But how/why/how did this unique genre spring to life?
Koozie, how did sea shanties come to inspire your writing?
"Some years ago from 2005-07, I was living in Los Angeles – a place called Redondo Beach – in a lovely old 1920s wooden beach house. From the porch I could see the ocean and I used to sit there, play guitar and I'd drift off into a fantasy world of 18th century sailors, to the time of sail and tall ships.
"I wrote a batch of shanty-esque style songs like 'England Dreaming' which is on the first Folk Grinder album, a song I wrote about missing home my beloved, and dear old Blighty. Before I knew it I'd ended up writing an album's worth of shanties and songs of the sea . I was inspired, living within the sound and sight of the ocean. 
"In some ways the life of a musician is not that dissimilar to being a sailor I guess, with regards to being away from home a lot, missing one's loved ones or sometimes not….. looking for the unexpected or escapism and I'd say drinking certainly plays a part at some point. Every voyage, tour and show an adventure that holds something new just like a sailors tour of duty.
"When I was 17 I worked as a house painter with a former WW2 naval veteran a character by the name of Blondey Jackson a cockney that spoke old school rhyming slang which I had to learn fast in order to keep up with conversation. Every lunch time he'd tell me sailor stories of shore leave adventures, show me the faded tattoos on his arms and old faded war time photos, I look back on that time very fondly I learnt a lot from him and remember the stories well."
The album is mainly songs of lost and found loves, and Johns' personal experiences seem to inform most of it. I mention this and comment 'you must have been busy.
"I've had quite a colourful life. With every relationship I have I do on average get about three songs out of them. [ We have a laugh over that].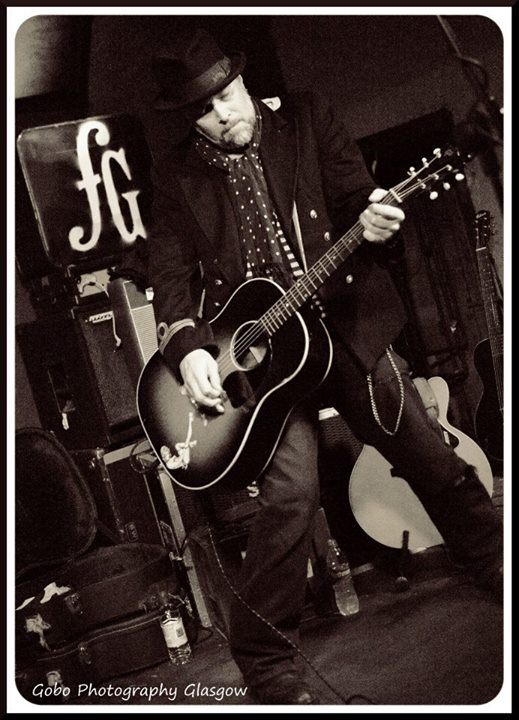 "It's not what I wanted. I wanted to meet the right girl and be with the right girl, but it's never worked out for me for whatever reason.
"It's hard having relationships being a musician and I guess I ain't that good at them or easy to live with [laughs].
"I'm better off with a dog I think, if only human beings had the hearts of dogs …..  forever pleased to see you, loyal and total unconditional love …… maybe the next album will be an album of sea-dog songs.
"When you're in a band and in that world you're in a bubble – your own universe – sometimes it can be very hard on your partner as well as hard on yourself stepping in and out of two worlds so to speak.
"The trick is to find the right balance and the right girl I suppose ….. but not all the songs are about a failed love life ….. there's other types of songs to drown your sorrows or rip it up to like the new single release 'Captain Johnny Clash' which is an upbeat folk punk shanty dedicated to Joe Strummer and other artists I've been inspired by that used to dress in black a lot."
 I ask him about Folk Grinder's live line up
"We're a trio at the moment but the fG crew changes about sometimes pending on the type of voyage and who's available at time of enlistment. On skiffle snare, percussion and bv's there's my old friend Chris Musto; who I've played with in a number of bands, working with him before with former Sex Pistol, Glen Matlock in a band called The Philistines as well as in past bands Shot and Sinnerstar.
"Chris is a very talented musician, drummer, artist in his own right. He's played with Joe Strummer, Kim Wilde and Johnny Thunders to name a few and currently plays with The Bermondsey Joyriders who I really like. The man's even been blessed by the Rock'n'Roll legend 'Little Richard' now how cool is that?
"On accordion, trumpet and bv's is Helen Kane – who has recently come on board taking over accordion live duties from Folk Grinder's Miro Snejdr. Helen was a former Marilyn Monroe cabaret performer/singer and session player a very talented lady indeed. Then of course myself on acoustic guitars and lead vocals.
When I saw Folk Grinder play in May, it was something of a first – a girl singing backing vocals and playing accordion with a three-piece doing updated sea shanties. "There's definitely something special about her," I suggest, "well, with the whole act." Koozie agrees:
"Yes, we all have a good chemistry together that works very well. On both Folk Grinder albums produced by the legendary Kirk Brandon of Spear of Destiny/Theatre of Hate fame, the albums feature female backing vocals on many songs.
"Kirk introduced me to the idea of having female backing vocals on the recordings and so a trio of talented sirens were brought on board in the form of singer Tracie Hunter (daughter of Mott the Hoople front man Ian Hunter) Former Westworld singer Elizabeth Westwood and singer songwriter and gospel singer Phoebe White collectively known as The Rebelles.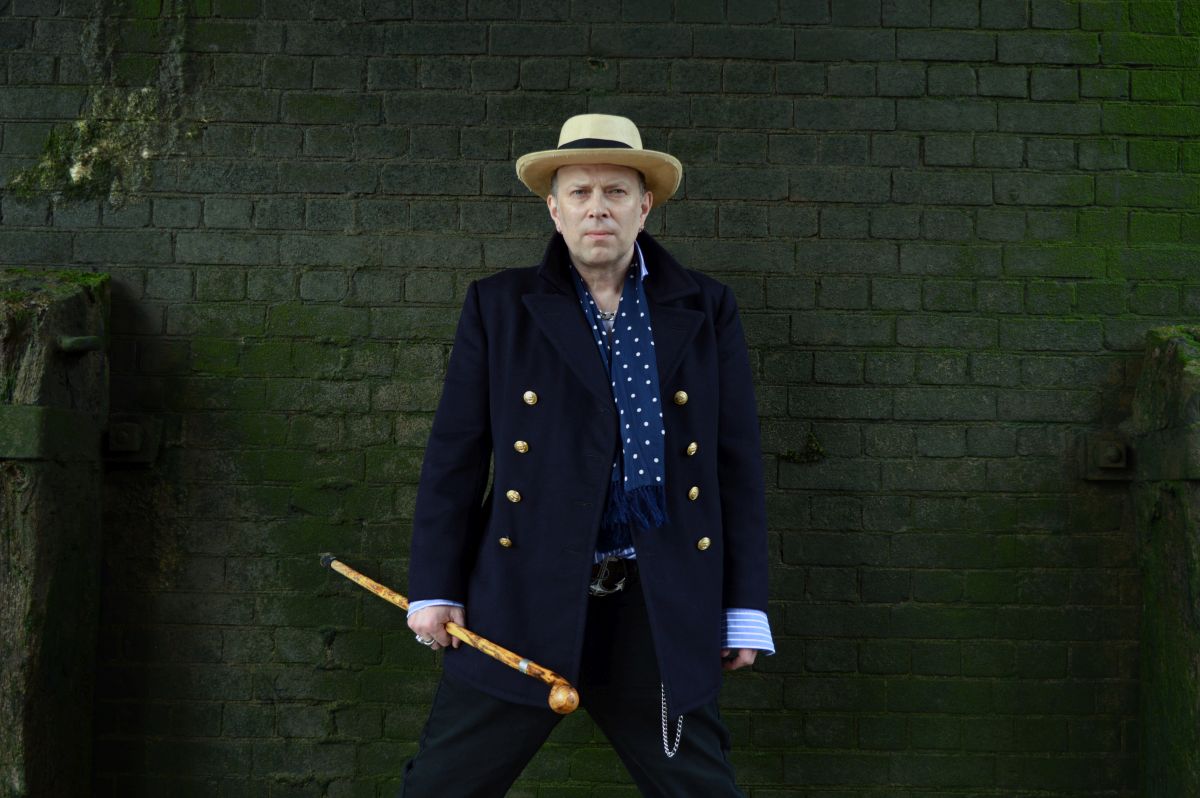 "The female backing vocals and harmonies really added and complimented to the fG skiffle stripped back sound , they did a fantastic job on the recordings. So when the delightful Helen Kane came on board to play accordion and showed off her vocal talents it was a perfect addition for the live shows with having the female backing vocals in place.
"We all vibe off each other very well, which is especially important with a small live line-up."
Fibromyalgia, the incurable nerve disease with uncertain cause and unpredictable symptoms hit Koozie Johns not long ago. Inevitably it has impacted every aspect of his life including his music. I offer to leave the subject out of our talk, but he had quite a bit to say on the matter. It seems to me that his comments are useful to sufferers and their friends and families.
"I recently played a charity event to help raise awareness and research funding for The Fibromyalgia Association, where I chose to speak publicly for the first time about my dealings with the illness. I got diagnosed at the end of 2009 and I hadn't heard of it before. I knew nothing about it, so it's been a bit of a journey. It's a very debilitating illness with no cure and I'd wish it upon no one it's life changing and robs you of so much. Doctors tell me it's a mystery as to the cause. Apparently something traumatic or an intensive stress situation can trigger it.
"Fibromyalgia is basically chronic widespread pain with chronic fatigue, my everyday normal is like waking up with the aches and fatigue of a heavy bout of flu only it's not flu, you don't get better. The nervous system constantly misfires wrong messages around the body to and from the brain causing horrendous levels of pain in joints, muscles and nerve endings and if that isn't bad enough there are up to 200 other symptoms on top. 
"Every day is a roll of the dice to see how well you can be. You caught me on a good day; it can affect my speech, my walking, balance and concentration a thing that's called brain fog as well as there are severe sensory overload problems. I probably get around 60 other symptoms on top of chronic widespread pain and fatigue.
"My exhaustion rate is five times that higher than a normal person. It's a very difficult illness to cope with; very tough. I'm learning about it more everyday and one thing I've learnt is how important it is to have a focus and to try and keep a positive drive is essential for survival. No matter how hard never give up.
"I'm in and out of pain clinics trying various treatments and learning how to manage an adapted life whilst in constant severe pain 24/7 – 365 days a year. In 2011 I woke up one morning and my legs wouldn't work properly and for a while wasn't able to stand, I then lost the ability to play guitar which was even more devastating and sent me off somewhere very dark. I thought my career was done and finished I thought I was finished too. 
"I figured I could either lay there cry and give up or fight back and so i fought back and relearned to play guitar. I did it a chord a day then a few chords building it up slowly until I could play a verse then a chorus and then eventually a whole song it took me eight months until I could manage around ten songs and slowly I improved from there.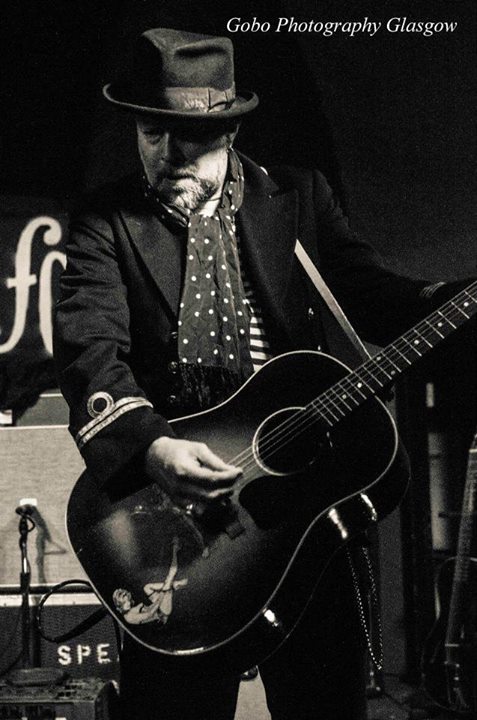 "My hands can sometimes feel swollen or even be swollen they can feel like they've been hit with hammers sometimes it feels like I have gloves on so the touch sensation has changed for me, as well as having stiffness and pain in all joints in my fingers and wrists and hands.
"Same went for singing I had to totally relearn breathing control whilst singing, because when you're in pain all the time you breathe differently, you tend to hold breath a bit and of course your fighting fatigue too. I decided to book two shows to work towards for the autumn of 2011. One in London and in one in my home town of Gloucester, thinking at the time they could possibly be my last shows. 
"The first show was at the world famous 12 Bar club formally on Denmark Street London WC2H.
[I sigh; it's about 10 days since I saw the bulldozed space where one of my favourite London venues used to be near Tottenham Court Road tube. A few chain restaurants and stores will take its place. Just what we need]
"After the London show my friend and peer Kirk Brandon who was in attendance came up to me and said 'I love your songs Kooz and want to produce you'. 
"I was gob smacked and totally honoured. He was unaware of my health condition at the time and the journey I had just undertaken. 
"He told me about when Mick Jones of The Clash approached him back in 80/81 and produced Theatre of Hate (achieving the hit single 'Do you believe in the Westworld') Kirk spoke of how that had helped and enabled him to have an ongoing career that led on to Spear of Destiny. Kirk said he'd reached a point in his life where he wanted to return the favour, I was so taken aback.
"He said to me 'You've played with lots of artists, but you deserve to be out there in your own right doing your own stuff, and I want to help you'. We've now done two fantastic albums together and he's taught me alot. He threw a lifeline to me when I really needed it for which I am eternally grateful. I am lucky to have some good people around me – lovely, lovely people – and very talented friends and guests feature on both Folk Grinder albums."
On the new Folk Grinder album 'The Devil's Mariner', singer, song writer Koozie Johns' lead vocals, acoustic guitar and tremolo guitars are joined by:
Guest backing vocals – Tracie Hunter, Phoebe White and Elizabeth Westwood collectively known as The Rebelles.
Guest guitar – Will Crewdson (Adam Ant/Rachel Stamp/Scant Regard).
Skiffle snare and percussion – Chris Musto (The Bermondsey Joyriders/Joe Strummer/Johnny Thunders/The Philistines) and shipmates Darrin Stevens and Igor Marjanovic.
Double bass – Kurt Barnes (King Kurt/The Grit).
Guest harmonica and Gothic saw – Jules Lawrence (Fat 45's)
Violin – Sharon Forbes.
Accordion and piano is performed by fG shipmate Miro Snejdr. 
"I've discovered Playing music actually lowers my pain levels by about 40%: the adrenalin and serotonin levels go up as I play– it actually helps; it's something that keeps me going but I do have to pace myself and be careful as there can be quite a physical payback afterwards.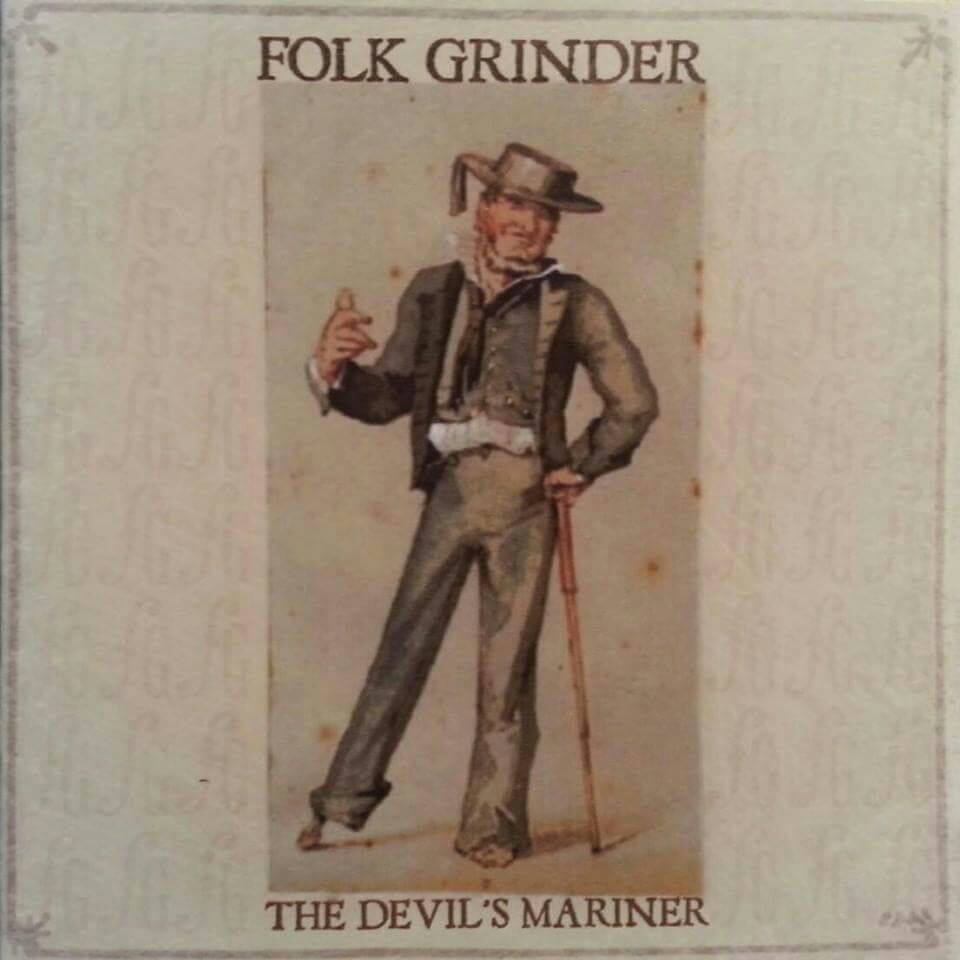 "Having the focus of music enables me to battle the illness a lot better than without. I had to learn to adapt because I became unable to work with loud guitars and loud drums due to the severe sensory overload problems I get with the Fibromyalgia. In order to continue playing music I went for the skiffle stripped back acoustic approach I have with folk Grinder which I really love, I adore the simplicity of it.
"It's been a difficult decision whether to open up or not publicly about my illness but the stress of trying to pretend and hide it all the time was making me more ill, especially when I started to use a waking cane due to having daily falls.
"People were thinking I was wasted all the time and drunk. Awareness is really needed, educate yourselves, educate others, anyone that will listen a cure needs to be found.
"I attended a seminar two years ago. A Fibromyalgia specialist Dr from Canada came over to talk; he discovered from his research that 70% of the deaths of Fibromyalgia patients was from suicide and that horrified me – absolutely horrified me. I understand the dark places you go to sometimes from the amount of pain you get.
"But when I found that out – about people killing themselves because of too much pain – I was just so upset I thought I have to do something very positive and show people with chronic pain and other chronic illnesses which are affectively invisible illnesses what can be achieved by having some kind of focus.
I'm stunned by these revelations, and while I had heard Johns had an illness of some sort, I'd no idea it was Fibromyalgia or much of an idea what the issues were. His descriptions of what it is like for him – and the importance of his focus – his music- to him in dealing with the disease provide an insight into this disease I hadn't heard of before.
The talk turns to music again; We talk about the 12 Bar, and the diminishing number of live music venues. The 12 Bar on Denmark Street in London was a historic, centuries old forge turned into intimate music venue. A petition signed by tens of thousands failed to save this club – but has saved nearby buildings.
"I had a close connection with the 12 Bar club years before it opened as a club. The actual forge (that was the live room) dated back to the mid 1600's was a store room/workshop, for the famous Andy's guitar shop that was once next door and who had originally leased it. When playing in bands with former employees of Andy's i used it as an occasional store room for the odd amplifier and speaker cabinet.
"I remember going in for the first time and thinking – 'wow what a great little club this would make'. That was in the late'80s and by the '90s it had become a little club that started off as a former gin alley back street word of mouth club and the actual bar was only probably about a metre long.
Koozie talks of old line-ups at the 12 Bar and tunnels underneath.
"[The tunnels] were used during the plague; they were transporting plague victims so as not to alarm people above; and buried plague victims in the area. At one time I was assistant manager there for a while and one day after lock up, we thought we'd have a look. We went down into the kitchen where in a store cupboard there was a piece of timber on the side wall; we pulled that off and behind that was an entrance to the tunnels.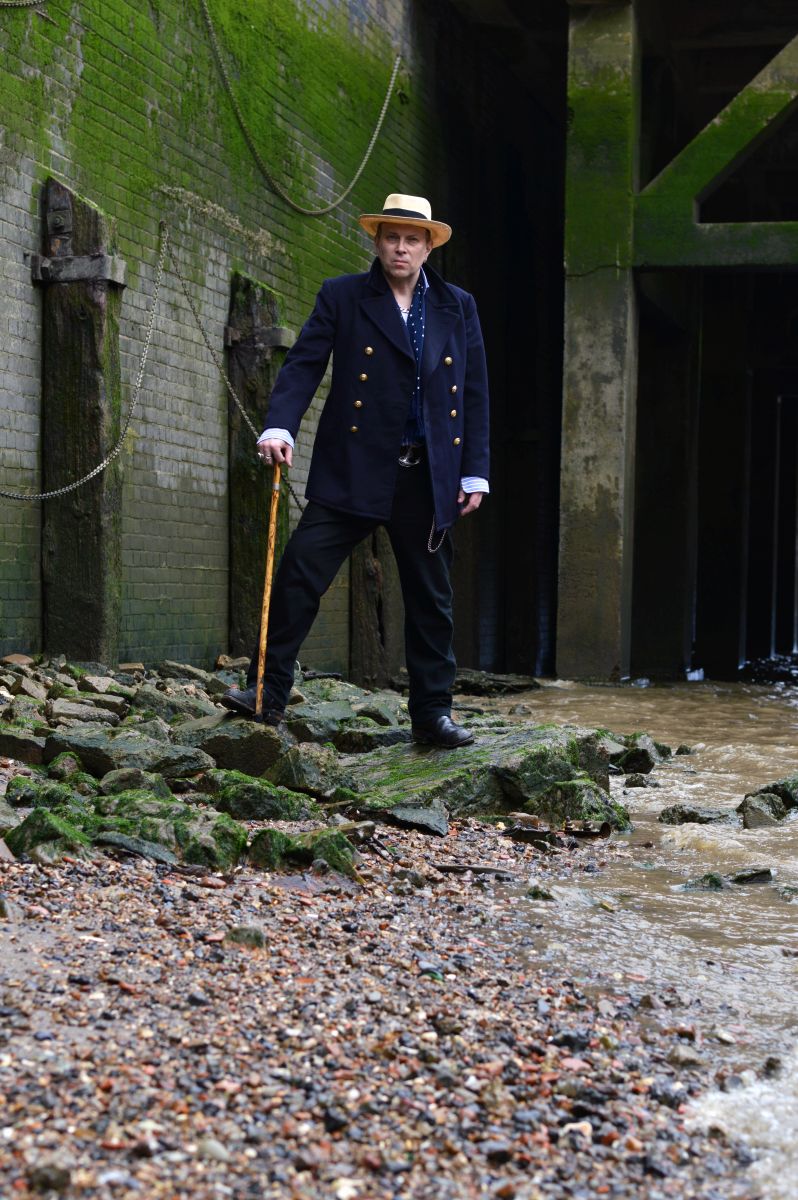 "Part of it was bricked up and filled with rusty old fridges and stuff, but you could get quite a sense of what it was like.
"I had friends visit me this afternoon who made the documentary 'The demise of Denmark Street' and we were talking about the destruction of peoples communities that's on the increase from all the redevelopments going on in London and one thing people don't realise is there was a huge community that had its heart ripped out by the loss of the original 12 Bar Club and the music studios that once stood behind in Denmark Place.
"For myself and many others it was like a home from home and a bit of a safe house.
"Like many I miss it very much but have such great memories and a wealth of good friendships from it.
I realise too late I've not spent enough time talking about the new album. I think a second interview will be called for in the near future. We discuss some of the songs, and I mention the song from the new Folk Grinder album 'Ballad of The Black Eyed Man'.
" Ballad of The Black Eyed Man is a true story about a Texas outlaw by the name of William Longley. A friend of mine [Derry from EMF] his father Dick Brownson had studied and researched this Texas outlaw since the 70's making several trips over to Texas talking with Longley descendants and then finally wrote this book about him called 'Wild Bill Longley Texas Gun slinger'.
"He was responsible for getting a plaque put up for this outlaw finding his unmarked grave. William Longley came from a good family but after the Civil War like with so many, he couldn't settle back into a normal kind of life. He killed a lot of people but in his words they were all bad people. Eventually he got caught, was imprisoned and sentenced to be hung.
"He was a very tall man with jet black eyes and a gallows sense of humour, he joked before he was hung saying to those stood to watch 'Yes I deserve to die today for what I've done, but I am not a bad guy: I never stole a man's horse'. I got really inspired by what I read and wrote the song which musically lends itself to an Americana genre. There's been talk of it being made into a Hollywood movie.
The new Folk Grinder album 'The Devil's Mariner' produced by Kirk Brandon is OUT NOW!!
Order your copy now exclusively from www.folkgrinder.com
I have to go; I hope I'm not too fast in closing out our call. If I didn't have something else to get to – and if I wasn't worried about taking up too much of his time – I'd have kept talking. I'll make a point of doing so again sometime soon.
"No probs Suzanne hope this is okay for you and for the readers. I do hope not bland and that its an interesting enough article to read, a bit diverse in topics but hey that's how life is for me.
I thank you again for your time and support I truly appreciate you listening.
Kind regards and a big Heeeeeeeeeeeave Ho!!!
Koozie x"