With thanks to Martyn Smith.
Enthusiasts will soon be heading to Aberdeenshire for the annual SpeedFest, ready to be thrilled by the largest gathering of rare supercars, exciting performance cars, and historic racing cars in the North East of Scotland.
The Organisers are delighted to welcome back Park's Motor Group of Hamilton who will be showcasing another iconic collection of McLaren, Bentley and Maserati sports cars.
They also wish to welcome back Town and County Porsche who are returning with a very exciting stand for 2015.
Additionally, the Organisers are thrilled to welcome The Leven Car Company (Aston Martin & Rolls Royce), Murray Motor Company (Lotus) and Sytners (Lamborghini and Ferrari) to the event for the first time.
SpeedFest is an established flagship event organised and hosted by Black Dog Events and held at the Grampian Transport Museum in Alford. SpeedFest always generates a huge amount of excitement and this year will showcase over 100 specially selected and invited cars to make up what the Organisers believe will be the best entry list ever seen in the North East.
All cars participating in the event shall be made as accessible as possible to the public.
The hub of the event is the short oval road circuit, which will play host to the famous 'Alford Pursuit' along with a new event for 2015, the Kinghorn Bodyshop-sponsored 'Alford Drag'. As well as seeing the cars being put through their paces, spectators will have the opportunity to experience the thrill of on-track action for themselves by riding 'shotgun' in some fast car rides (available for the first 150 'Early Birds' through the gate before the event gets fully underway).
However you can ensure you get an Early Bird Fast Car ride by purchasing a advanced ticket via our website www.alfordspeedfest.co.uk.
Organisers James Parker and Tony Yule comment that Alford SpeedFest15 is ready but are keeping their lips (mostly) sealed regarding what spectators can hope to see at the event:
"It's going to be a pretty full programme of on-track activities," says James. "We will be featuring some old favourites such as the Drifters, the dragsters and the aerobatic display, but we will also have some new and exciting things to showcase too – such as karting and mini-moto demonstrations along with a rather special finale – a specially designed rally super special stage featuring some very impressive rally cars!"
"We don't want to give too much away," adds Tony, "we have to keep our powder dry a bit… But we are just so excited by this year as it should be one to remember – we have gathered together a fantastic range of manufacturers to display their current models, along with some interesting and exciting trade stands…. Not to mention all of the on-track stuff which has taken months to organise and arrange. We've ordered good weather for the event!"
Colin Millar from 'Flyin Fyfer Drag Racing Team' will be on hand to demonstrate his 1150bhp nitrous powered 'Outlaw Anglia' dragster in an ear splitting, earth shaking and tyre burning display of POWER!! The Anglia can cover the fabled quarter mile sprint in an amazing 7 seconds.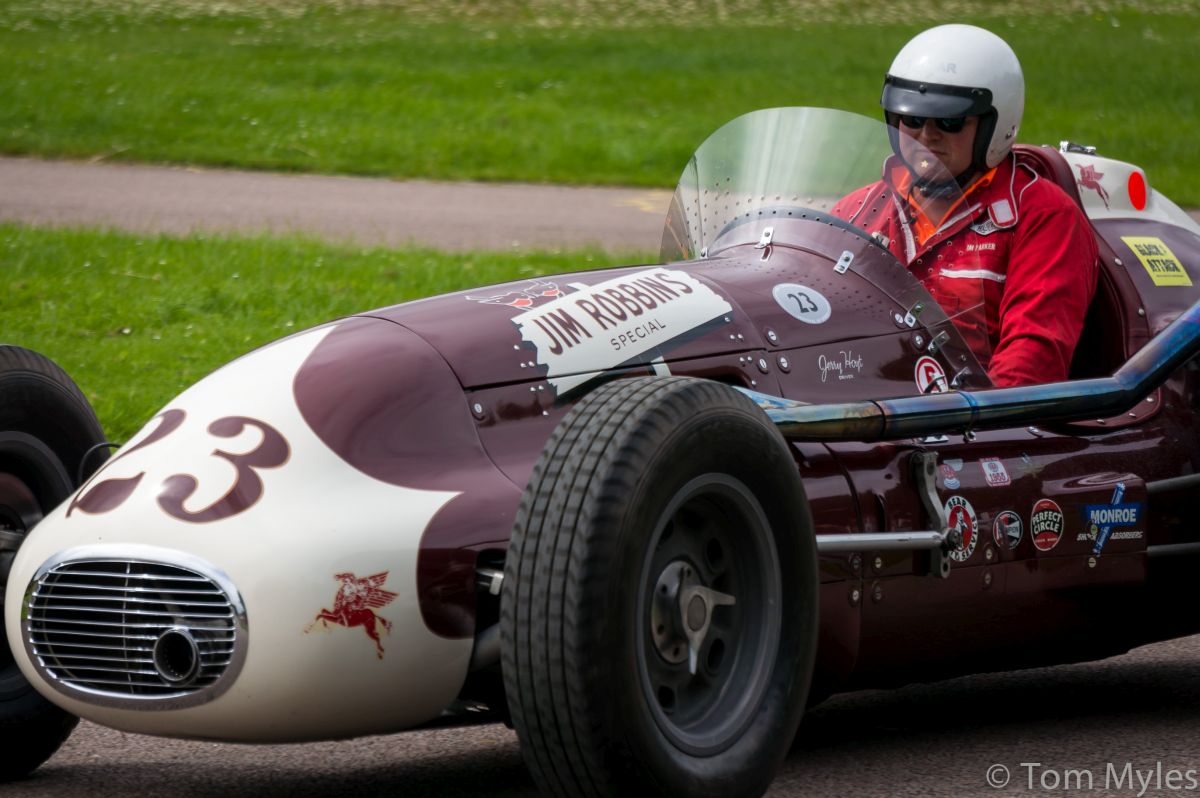 SpeedFest15 will also play host to 2 returning cars loaned to the event by Mr E. Dean Butler: the 'Jim Robbins Special' Indycar which took pole at the 1955 Indianapolis 500 and the 'Charles Bang Special' slingshot dragster powered by a flathead Ford V8 with Offenhauser heads which set the US 'D' class quarter miles record at 10.32 seconds in 1966.
Historic racer Chris Williams returns to SpeedFest15 with another unique and powerful Bentley.
Fresh from his demonstration of the 'Packard Bentley' in 2014; Chris will unleash the might of his 'Napier Bentley' vintage racing car.
The Napier is a one-off special built on the chassis of a 1929 Bentley. It features a 24-litre Napier Sea Lion W12 boat engine that develops approximately 550bhp through the rear wheels (which are almost constantly smoking!!) whilst the stubby exhausts emit sparks, flames and smoke! The sound of this car is not to missed – having been likened to a World War I bi-plane or a cluster of mortar bombs being detonated!!
Both James and Tony promise a great day for enthusiasts and families with exciting non-stop action on the circuit, and a range of side stands and activities for families.
Local and national companies are providing support for the event, including Park's Motor Group, Sytners (Edinburgh), The Leven Car Company, Town and County Porsche (Aberdeen), Murray Motor Company, Kinghorn Bodyshop, Glack Attack mud run, EDB Racing, Autoglym, Quantum Remapping, Aberdeen Alarm Company, AM Details, Fennel Media and Terraclean.
Alford SpeedFest15
Sun 5 July 2015:  11:00am- 5:00pm
Grampian Transport Museum, Alford, Aberdeenshire AB33 8AE
Adult £10, Child £5, OAP £7, Family £25