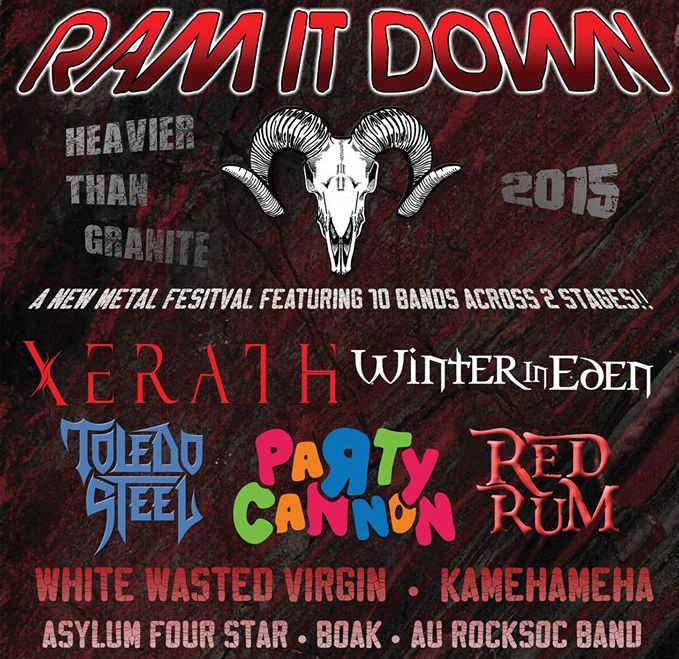 With thanks to Mark Chalmers.
Fans of heavy metal in Aberdeen are set to have their own music festival. RAM It Down is Aberdeen's only dedicated heavy metal festival, with 10 bands playing across two indoor stages.
The event will take place on Saturday 23rd May in The Garage Aberdeen and is the result of hard work from a group of volunteers in Aberdeen University Rock and Metal Society.
Five touring heavy metal bands from across the UK are set to play alongside five local bands. The bands have been chosen from a diverse range of metal sub-genres.
Headlining the main stage is groove-metal band, Xerath, who are increasingly gaining recognition for their extraordinary musicianship and intense technical metal sound.
Vocalist of Xerath, Rich, commented,
"Xerath are hugely excited to play this year's RAM It Down Festival. We've always had an absolute blast in Scotland and it's about time we ventured further north to Aberdeen! We cannot wait to see you all there at what promises to be a really special show!"
Joining Xerath on the main stage is female-fronted symphonic metal band Winter in Eden, who are travelling up from Durham especially for RAM It Down Festival. Winter in Eden have worked with some of the big names in their style. Their most recent album was produced by Ruud Jolie, guitar player of Within Temptation.
Steve Hauxwell, who plays drums for Winter in Eden had this to say,
"I'm really fired up about appearing at 'RAM It Down'. I've never been to Aberdeen before and yet have heard so many great things from other acts that have performed at The Garage, so I already know it's going to be an event to remember. There's a good variety of styles on the bill too, personally I'm looking forward to seeing Red Rum deliver some good 'ol Pirate Metal."
Travelling yet further, is Nottingham-based Red Rum, who last year played Garage Aberdeen supporting fellow pirate-metal band Alestorm. Red Rum feature a range of traditional instruments, including Flute, Bouzouki and Mandolin, which they used to add a folk dimension to their pirate-themed heavy metal.
Commenting on their return to The Garage, bass player, Steven Ryan said,
"After pillaging Aberdeen for the first time with the mighty Alestorm we are thrilled to pillage again! No body will stop us on our quest as we sail to the finest shores of Scotland to play a rum-tastic show. We are excited and honoured to bombard Aberdeen with our pirate-shantees once more!"
One of the exciting names in Scottish heavy metal at the moment, are undoubtedly Fife-based Party Cannon. Their brightly-coloured logo may resemble that of a well-known mutli-national toy shop, but this ironically contrasts with the style of their music, which is extremely heavy. Party Cannon are influenced by bands such as Napalm Death and Cannibal Corpse, but do this in an entertaining way, often lightening the mood by bringing novelty items, such as balloons to their gigs.
Chris Ryan, who plays bass in Party Cannon, commented,
"We are super excited to bring our unique mix of atmospheric black metal and Euro mega trance to this year's RAM It Down Festival. Join us at our alter of flesh, fog will rise and gabba will live in Aberdeen this May."
Opening the main stage, are Aberdeen-based, White Wasted Virgin. They have a psychedelic-infused metal sound, which they claim is influenced by 'everything heavy'. They have a comparatively energetic take on a style often described as 'doom metal'. They will be opening the show at 5pm.
Headlining the second stage, is Toledo Steel, a band who are not just resurrecting the sound of early 80's British metal, but also the direct approach to bringing music to their fans through intense touring commitment all over the UK. Toledo Steel are travelling all the way from Southampton to play a 3-date mini tour across the main Scottish cities.
Tom Potter, guitar player of Toledo Steel said,
"We've always found our Scottish fans to be some of the most dedicated and loyal metalheads. RAM It Down will be our first gig in Aberdeen and it's a great honour to headline the second stage."
Supporting Toledo Steel on the second stage are four local bands. These include, Asylum Four Star, who, like Toledo Steel, are resurrecting the sound of 80's heavy metal, complete with powerful lead vocals, epic guitar solos and a strong rhythmic backing. Contrasing in style, are local band Boak, named after a colloquial word for vomit. Boak's style fuses some of the heaviest punk and metal influences into their own sound.
Heavy metal has from its creation has been a style that demands intense musicianship, Aberdeen-based Kamehameha play a 'tech-metal' type style where the talent in the ranks of the band is displayed through intense grooves and instrumental parts.
Opening the main stage are a jam-band drawn from the ranks of the organisation hosting RAM It Down Festival. Aberdeen Uni Rocksoc band will be playing songs from across the spectrum of rock and metal.
RAM It Down Festival 2015
Sat 23 May, Garage, Aberdeen.
Doors 4.30pm (bands from 5pm)
Tickets are £10 and are available from Seratique, Belmont Street, Aberdeen and Campus Bar, Windmill Brae, Aberdeen.
E-Tickets are also available through Skiddle.