Jonny Paterson is a Scottish film producer working in Hollywood, going from strength to strength. His talents and potential are acknowledged by the Bafta Newcomers programme Paterson's producing 'Halfway', a greatly-anticipated film starring Quinton Arron, and has a few other irons in the fire. I have to remind myself he's 27. Aberdeen Voice catches up with him following our interview one year ago to find out what's next for him. By Suzanne Kelly.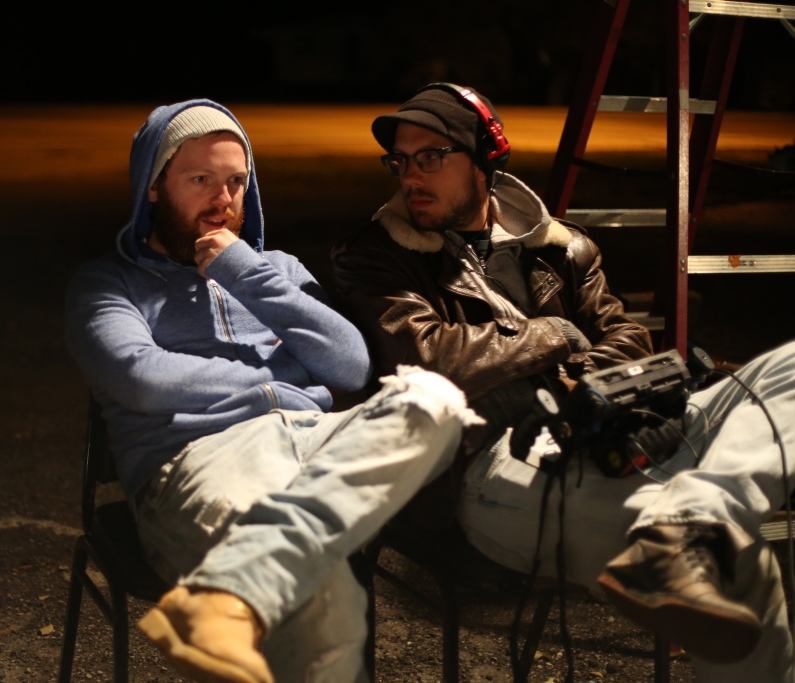 Scotland's mutual love affair with Hollywood shows no signs of abating, and there is every sign that the next generation of creatives are emerging to carry on this tradition. James McAvoy, Declan Laird, Aberdeen's own Rose Leslie.. the list of Scots talent in front of the camera is impressive.
On the other side, young producers like Jonny are likewise making huge strides forward.
Paterson's in the midst of several important projects when we speak. I somehow missed his email asking if we could reschedule; he doesn't even mention this when I phone. 
Aside from the crucial and deadline-sensitive work in which I find him embroiled, he and his girlfriend have just recently moved home.
Moving house is acknowledged as one of the top ten most stressful things people do; how you do that in a foreign country while producing films in a super-competitive environment as a twenty-something  astonishing to me. But here he is on the phone, managing it all and sounding enthused yet relaxed.
Jonny, where are you and what are you doing this week?
"I'm in West Hollywood; I'm the producer of Halfway and I have been working on a cut of the film. We have a team of executive producers guiding us through the post-production process, and we hope to show them something by the end of this week. Whenever you have a deadline you're right up against it – but Halfway is coming along nicely.
"We filmed the movie in October 2014, and went straight into the editing room and we are still editing the film. It's typical that that might take 6 months.  We're now 5 months into it, and are close to a picture lock. A picture lock is when the team decides the visual film is there the next bit is sound design, then colour grade, then music."
It seems to me that the themes which I understand Halfway will deal with are extremely timely given social problems America is wrestling with; please tell me more about the issues.
"Halfway commentates on many problems, in particular the huge socio-economic issue created by recidivism. The term defines the ongoing conveyor belt of young men and women who come out of prison and then find themselves without opportunities. They wind up back inside. Research shows that within 3 years of being released 66% are re-arrested for a similar crime, then in another 5 years 75% are rearrested. 
"Within Afro-American communities the figures are frightening, accounting for a significant social disparity. Of the 2.4m incarcerated Americans (largest number of any democratic country in the world), 2/3 of them are made up of Afro-Americans and Hispanics, while they only account for around 28% of the population at large."
(I know that the privatised American prison system, longstanding prejudices, the gap between haves and have-nots, and the extreme difficulty of people with a criminal record are the fuel for this problem – but I had no idea the figures were this high.  The  current events in Baltimore for me make this subject even more timely and important.)  Tell me more about the story line please.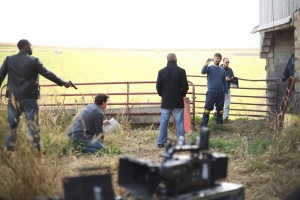 "'Halfway' is about a recently released convict who upon being released from prison, finds himself trapped between his urban criminal past and his new life on probation as the only black man in a conservative white Wisconsin farming town.  'Halfway' in essence attempts to show an American Dream story of social movement and rejection of his past transgresses through physical hard work in this new and alien environment, where the outsider element at the core of the film is race."
"I find perception and discrimination due to race fascinating. Clearly the United States still has a problem with race relations in many parts of the country, and whilst I cannot try and tackle everything in this film, I certainly wish to pose some poignant social questions.
"Should our past actions allow for prejudice against us? Can we expect to be absolved of all blame simply because we have served our punishment? Is a small, largely ignorant microsociety incapable of change? Can people prove to others who are pre-programmed against them that their views are misguided?"
For a guy who's got a crucial pressing deadline, and who's just moved house, Paterson's voice is calm, enthusiastic, and words come to him without any hesitation.
Jonny, how was working with Quinton?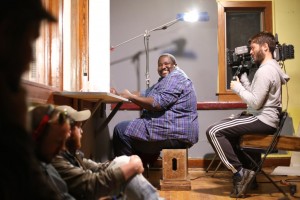 Quinton Aaron is from a modest background, he grew up in the Bronx area of New York – he's  a very interesting guy. He had an interesting childhood – he was bullied for being big – a lot of that stuff makes him a very compassionate man. He got involved with this project because he believes in this film's message.  Quinton's a massive asset to us, first and foremost Quinton's a very gifted actor, and his performance is very strong. It will be instrumental in leading the film to any commercial/critical acclaim.
"His involvement during this stage is limited, he has to wait like everyone else, but he's ready to spring back into action when we need him for marketing."
I suggest that someone like Paterson is already looking to his next fence in terms of projects.  In point of fact, one reason I'm keen to talk to him again is that there has been a sudden surge in the popularity of the interview we did a year ago.  Then again, I simply want to know how his many plans are coming along.
Jonny, what are some of your future projects and plans?
"We just internationally announced that we're making a film in Ireland, 'The Scavengers'. It is a project that I've actually been working on for longer than I have on 'Halfway', which is pretty par for the course with filmmaking as I'm finding out! That's going to probably be the next project for me; everyone involved is passionate about it. 
"With my experiences on Halfway now banked and stored for life, I feel in a much better position to move forward with my next project. I somewhat know what I'm actually doing now!  It's been a productive time for me, being able to leverage my experience on 'Halfway' on this new project"
I wonder whether he'll have time to continue his involvement in Football Aid, an established charity his father established over ten years ago, so I ask about it.
"Football Aid is still an important part of my life and the big news in the last few months is that my dad the chairman stepped down from his role after 12 years. Daniel Geey replace him he's a London based lawyer and a wonderful guy. Dad felt Football Aid was in need of fresh blood; and it's taking its natural course in that respect.
"We had our first event in Italy last year; we've got bigger and more Italian clubs are involved. We're expanding into Europe to summarise.
"I'm still a director and board member, but I think aligning with my own current interests there's discussion as to how to get into the USA. We have connections with L.A. Galaxy. It's too early to say we're in the US, but we are expanding in Europe"
Jonny, what have you been doing lately aside from your work?
"I just moved into a new apartment with my girlfriend. On a personal level, I've had a very productive six months. I'm just settling in here. I don't have any plans to get to Scotland soon, but I will be back in the UK by the end of the year."
It certainly sounds like a productive six months to me. It's at this point that my computer advises me I've new email – it's Jonny's message saying he's kind of busy and would I perhaps like to reschedule. With or without my seeing that message, I'd come to the conclusion that Paterson's very busy indeed.
I draw our conversation to a close soon after, but I am certain that when we next speak, that he'll have been just as busy, that he'll have a few sensational successes under his belt and that he will have further exciting new projects on his to do list.