With thanks to Gavin Mowat, Constituency Assistant to Christian Allard MSP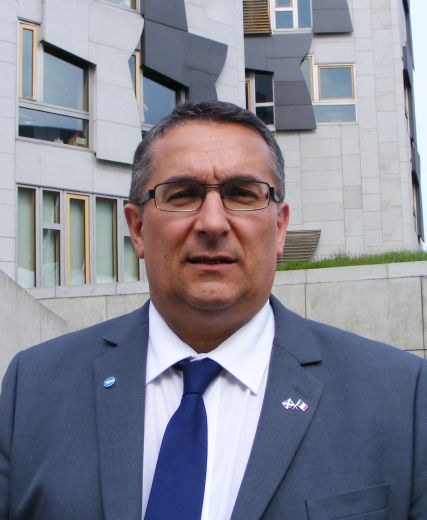 SNP MSP Christian Allard has said Scottish Labour must come clean over Trident after Scottish Labour's Neil Findlay MSP claimed that his party would not toe the Westminster line on the issue under his leadership.
Speaking on the BBC's Andrew Marr programme, Mr Findlay claimed that there was no issue with different parts of the UK Labour party having different policy positions – and claimed that the Labour Party in Scotland had opposed the renewal of Trident 'for some time'.
On 6th August 2014, Neil Findlay and Labour voted against a Scottish Parliamentary motion calling for the calling for the 'speediest safe withdrawal of nuclear weapons', and failed to propose any amendment.
At SNP Conference this weekend, SNP Leader Nicola Sturgeon said that any Labour Westminster Government that had to depend on SNP votes would have to "think again" about putting a new generation of nuclear weapons in Scottish waters.
Commenting, North East MSP Christian Allard said:
"Neil Findlay's latest remarks are yet another example of shambolic to-ing and fro-ing from the Labour 'branch office' in attempt to redress their continued free-fall in the polls.
"Mr Findlay voted against a Parliamentary motion supporting the 'speediest safe withdrawal of nuclear weapons' before the referendum, and is now trying to pull the wool over people's eyes by saying 'it's already Labour Party policy in Scotland to oppose the renewal of Trident.'
"Yet Mr Findlay's colleagues, including Jim Murphy, have spoken against the party becoming unilateralist and getting rid of Trident – Labour must come clean on their position.
"Both Holyrood and London Labour have toed the Westminster line and voted for renewal time and again.
"By contrast, as Nicola Sturgeon pointed out at SNP conference, a Westminster Labour Government forced to rely on SNP votes would have to think again on Trident renewal."
Comments enabled – see comments box below. Note, all comments will be moderated.
[Aberdeen Voice accepts and welcomes contributions from all sides/angles pertaining to any issue. Views and opinions expressed in any article are entirely those of the writer/contributor, and inclusion in our publication does not constitute support or endorsement of these by Aberdeen Voice as an organisation or any of its team members.]