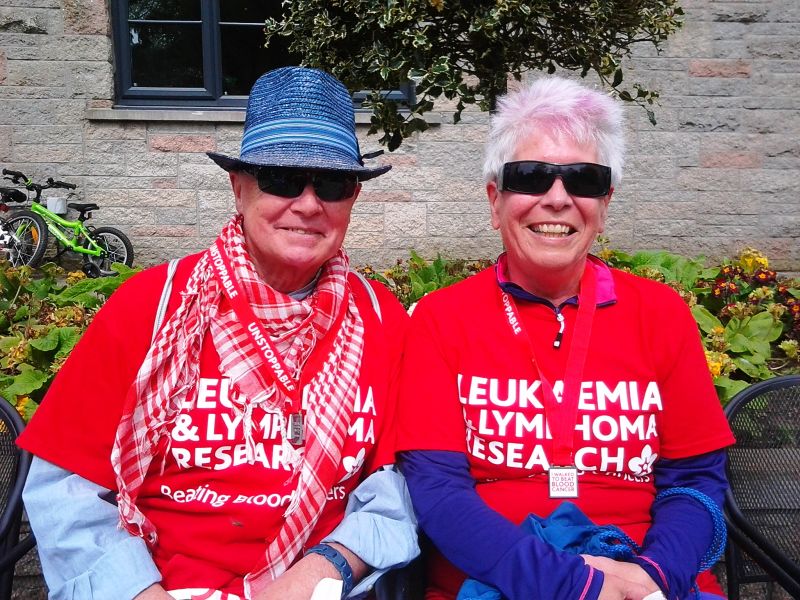 By Suzanne Kelly.
Over 70 people and their pet pooches set out on a pleasant sponsored walk in Hazelhead Park on Sunday 18 May.
When they completed their 5km journey, they had raised some £5,500 for Leukaemia & Lymphoma Research.
Pauline MacRonald, one of the organisers commented:
"The Aberdeen Fundraising Group is a new branch of LLR in the North East, and this was our first major event. We got a really great turn out, and it was fantastic to see so many two legged and four legged supporters for the charity.  Our main aim is to raise as much awareness as possible, so we'll definitely be doing it again."
Walkers were sponsored by friends, relatives and co-workers to complete the 5km walk through Hazelhead Park. The gentle exercise culminated with participants receiving a medal and goodie bag, and relaxing at the park's cafe with cold drinks.
One man, Neil, had only been out of stem cell and chemotherapy treatment for 6 weeks when he went on the walk; his story and his effort inspired many of us. The dogs were all well behaved, with the exception of one adorable but cheeky golden retriever, Whisky, which jumped in every muddy puddle it could find.
Another of the organisers, Emma Boffey commented:
"I would just like to thank everyone who took part to raise vital funds to beat blood cancers. It was a great day, superb weather and the dogs for our paws to beat blood cancer also had a splendid time! At Leukaemia & Lymphoma Research we believe that life is a gift to be used wisely and lived fiercely and we won't stop until we have beaten blood cancer."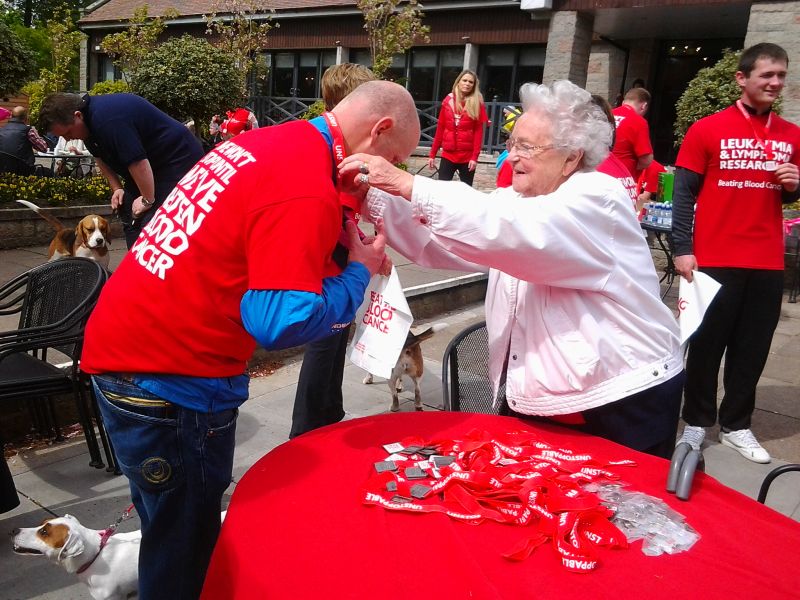 Some people spent weeks raising funds; some heard about the event and just came along.
One woman named Frances was visiting the area and only heard of the walk on the day; she said how much she enjoyed this kind of community event.
Walkers James and Anne Yule (pictured top right) enjoyed a well-deserved sit down after completing the walk.
James said:
"I thoroughly enjoyed it; it's a great cause and I hope they raise heaps and heaps of money."   
For a first event for this new local group, the day was a huge success.
Join the Leukaemia & Lymphoma Research community Leukaemia & Lymphoma Research is the only UK charity solely dedicated to research into blood cancers, including leukaemia, lymphoma and myeloma. Your contribution really will make a difference to the lives of the 30,000 people diagnosed every year with a blood cancer. beatingbloodcancers.org.uk
Read more:
Leukaemia & Lymphoma Research is the only UK charity solely dedicated to research into blood cancers, including leukaemia, lymphoma and myeloma. Your contribution really will make a difference to the lives of the 30,000 people diagnosed every year with a blood cancer. beatingbloodcancers.org.uk www.beatingbloodcancers.org.uk info@beatingbloodcancers.org.uk
 Comments enabled – see comments box below. Note, all comments will be moderated