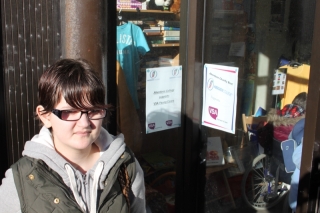 With thanks to
Claire McBain.
Last week Learning Opportunities students at Aberdeen College, some of whom are also young carers, raised more than £1,100 when they hosted a pop-up charity shop. The funds will benefit young carer services run by the local charity Voluntary Service Aberdeen (VSA).
The Aberdeen College charity shop will continue to fundraise for young carers until the end of this week, Friday 8th March.
Chris Sojka, Senior Carers' Support and Development Worker with VSA, said:
 "I'm overwhelmed with the success of just one week in the charity shop. It's fantastic. The money will go towards a school holiday respite programme, which gives young carers a much-needed break during their time off school. It will also help fund our education support for young carers. This ranges from helping them catch up with homework, to studying for exams, to making sure they get to College if that's their goal. It's all about fulfilling aspirations." 
There are an estimated 2,240 young carers in Aberdeen, and far more that we don't know about, who try to look after a sick or disabled relative without help.
Fiona Duff, lecturer in the Learning Opportunities department at AberdeenCollege, nominated the cause:
"Some of our students are young carers. I'm overwhelmed with what they do to help their families. It can take a lot for them to get to and stay in College. For students who don't have direct caring experience, they can easily relate. They may have a friend who cares for someone. If not, they could imagine the situation. It could be them. It could be their brother, sister or cousin."
"It went very well. We're delighted with the amount raised: it would take us many weeks to raise that in the College charity shop. The students really enjoyed it and we got a lot of positive customer comments. Considering it's something we've never done before, it went very smoothly."
Chris added:
"We love to hear about people getting behind our young carers, especially people directly associated with the cause.  We're so thankful to Aberdeen College for thinking of us."
"Young carers are a phenomenal group of people, with some as young as five and others juggling Standard Grade study, who experience the struggles of growing up and their caring role. It might feel normal for them but they actually make a very special contribution to the community and their family. VSA's Chill Out Zone gives them much-needed support, whether it's respite, help with homework or a chance to have fun and just be a child."
For more information about VSA's Carers Services, visit their headquarters at 38 Castle Street, call 01224 212021 or visit the website at www.vsa.org.uk.