With thanks to Aimee Dominick.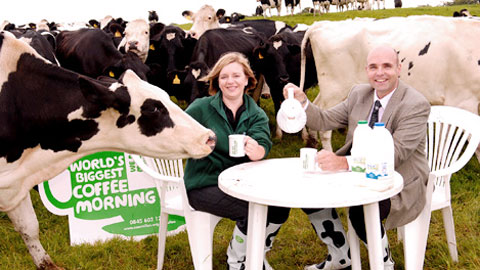 An Aberdeen pharmacy is set to embrace the spirit of the Great British Bake Off in support of a national cancer charity. Clear Pharmacy on Alford Place is taking part in the World's Biggest Coffee Morning to raise funds for Macmillan Cancer Support on Friday 27 September.
In exchange for a small donation customers can enjoy hot and cold drinks and delicious baked goods which will be served from 8am to 6pm. The pharmacy will also be offering free blood pressure testing and diabetes checks throughout the day, as well as all regular pharmacy services.
Local businesses including Chalmers Bakery and The Eatery will donate a selection of cakes and tray bakes which have been well tested by the pharmacy staff in the past! Ruth Milne, a dispenser at Clear Pharmacy, said:
"We're all looking forward to turning the pharmacy into a café for the day, and getting to know our customers a bit better while raising money for a good cause."
One in three people will be diagnosed with cancer. Macmillan Cancer Support improves the lives of people with cancer, providing medical, emotional, practical and financial support to those affected by the disease to help them have the strength and energy to fight it.
The World's Biggest Coffee Morning, an annual event taking place since 1990, has grown to be one of the charity's biggest fundraisers, taking in £15 million last year.
Donating to Macmillan will allow the charity to help the two million people living with cancer in the UK today. £25 pays for a Macmillan nurse to help a family affected by cancer for 1 hour, allowing them to fight for the best care for their patient.
Pharmacist Kelly MacDonald said:
"We'll be accepting donations throughout the day and have also set up a JustGiving page to try and raise as much money as possible. We have already raised £280, and hope to raise even more on Friday.
"Everyone is welcome to join us for some cake and coffee in support of Macmillan."
Clear Pharmacy is based on Alford Place and will be hosting the World's Biggest Coffee Morning from 8am-6pm on Friday 27 September. Donations can be made in store or online at www.justgiving.com/clearpharmacyaberdeen.