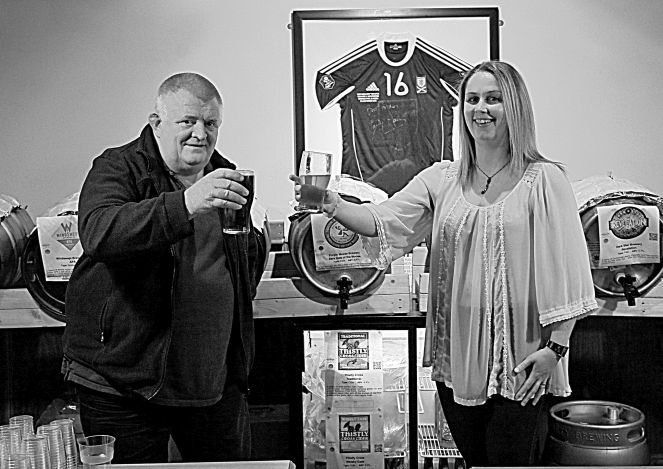 By Duncan Harley.
The 2013 Garioch Real Ale Festival raised over £700 for the Cystic Fibrosis Trust. This year the Inverurie Community Music Festival will be the main recipient.
During the past 60 years the prognosis for cystic fibrosis has improved dramatically due to early diagnosis, better treatment and good access to health care.
In the 1950's the median age of survival of children with cystic fibrosis in the UK was about six months. In 2008 survival averaged over 30 years.
Cystic Fibrosis is a genetic disorder that affects most critically the lungs, pancreas, liver and intestine. Characterized by abnormal transport of chloride and sodium across an epithelium, leading to thick, viscous secretions the disease sounds nasty and indeed it is. Sufferers typically have shortened lives and parents are left scarred by the knowledge that genetic issues have led to their offspring inheriting the disease.
The guilt often leads to failed relationships and ruined lives.
The main signs and symptoms of cystic fibrosis are a salty tasting skin, poor growth and poor weight gain despite normal food intake, accumulation of thick, sticky mucus, frequent chest infections and shortness of breath.
Males can be infertile due to congenital absence of the vas deferens. Symptoms often appear in infancy and although technically a rare disease, cystic fibrosis is often ranked as one of the most widespread life-shortening genetic diseases. It is most common among nations in the Western world. An exception is Finland, where only one in 80 people carry a CF mutation.
The Garioch Real Ale Festival was set up by Mike Stuart, co-owner of the Black Bull Inn in Inverurie. A film maker at heart Mike wanted to promote not only local musicians and actors but also to test the market as far as fund raising for good causes was concerned.
"There are lots of good causes" he said "and I am really committed to the arts in Inverurie and of course music, which is my first love."
"When Cameron told me about his son's experience however, I was humbled and right then I decided to find ways to raise money for good causes."
"The Inverurie Community Music Festival needs a kick off micro funding wise" said Mike. "I am confident that the charity fund raising of the past years can be built on, to make this happen."
As well as Cystic Fybrosis the Garioch Festival has supported the local theatre and film group 'Right Here Productions' who were targeting the Edinburgh Festival.
Over £250 was raised and the 'Right Here Productions' Edinburgh show was a tremendous success.
In 2013 June Ross, Regional Cystic Fibrosis Trust Fundraising Manager in Scotland came to Inverurie to receive a cheque for £700.
The 2014 Garioch Festival will be supporting the Inverurie Community Music Festival and it is hoped that well over £1000 can be achieved given last years effort.
The music line up for the Ale Festival is – Fri – Cyrus Rose with Support, Saturday – C-Red, Sunday – Dave Scott, Stuart Hossack and introducing Kyle MacRitchie.
Dates are 7th – 11th May 2014.
More info:
The Inverurie Community Music Festival event was started by local quartet Duncan Peter, James Allan, Faye Walker and Mike Stuart and has featured some of the UK's top Tribute acts – Dirty Harry (Blondie) and The Police Academy (Police). Runrig front man and Scottish legend Donnie Munro closed the 2013 event which was hosted in various venues throughout the Garioch Area.
Dates for 2014 are Friday August 29th to Sunday August 31st.
More info:
Inverurie Community Music Festival
About cystic fibrosis
Anyone interested in performing, volunteering or providing a venue for the festival should email icmf@live.com
© Duncan Harley 2014
 All rights reserved
Duncan Harley is a freelance feature writer and photographer.
Comments enabled – see comments box below. Note, all comments will be moderated.