A new music event in Aberdeen aims to rock up support for Aberdeen Royal Infirmary after saving the life of the father of a local musician. With thanks to Eoin Smith.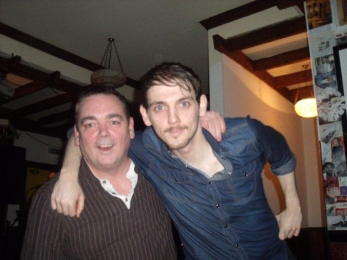 Jimstock, a one-day music festival held in Aberdeen's Beach Ballroom on the 5th of November, is the brainchild of well-known local musician
Jamie Rodden,
27.
With the help of a cast of Aberdeen's most popular bands and singers, he aims to rake in cash for the Aberdeen Royal Infirmary departments that helped his dad Jim Rodden, 55, recover from heart surgery earlier this year.
Jamie states:
"Dad ended up staying in Wards 19, 20 and 21, and struck up a real relationship with the staff there. They got him through a very difficult time. The proceeds from the event will go to those wards as a thank you gesture."
What medics initially thought was a muscle injury turned out to be the start of a terrifying period for the family. Jim, himself a stalwart of the local music scene, who runs the Cellar 35 Open Mic night, said:
"I was complaining of pain for weeks, but the doctor had put it down to muscular pain. One night it got so awful; my chest was thumping, and at one point I felt as though I was nailed to the floor. I thought to myself, 'This is it.' I thought I was going to die."
Jim was admitted to hospital after his heart attack in May and underwent gruelling triple bypass surgery. A further operation was needed when Jim suffered another attack six weeks later.
The dad-of-three said:
 "I met a tremendous group of people at the hospital who made my time there much easier.  I'm still friends with many of them."
The local community has rallied round in support of Jimstock, with Aberdeen City Council and Grampian Police lending their support alongside other Aberdeen organisations.
Local music blog – Hercules Moments is covering Jimstock, while Cinergi – the Aberdeen University Film-Making Society – plans to produce a documentary of the event, which will be screened in the Belmont Cinema in early 2012.
But the crux of Jimstock is the live music. Jamie and his own band Shy James will be taking to the stage alongside Jim and a host of other top local talent including Stanley, country rocker Amy Sawers, The Lorelei and The Tijuana Sun.
Jamie added:
"We have a special guest headliner for the show – a band who are making a great name for themselves at the moment – but I won't reveal who they are until the Monday before the event. The support I've had so far has been fantastic, and I am truly grateful to everyone involved."
Tickets for Jimstock cost £15 and are available from One Up,Belmont Street,Aberdeen.
More information can be found at www.facebook.com/jimstock2011