June is global Motor Neurone Disease awareness month. Aware that we are fast 'running out of June' Duncan Harley is moved to write and spread this awareness into July and hopefully beyond.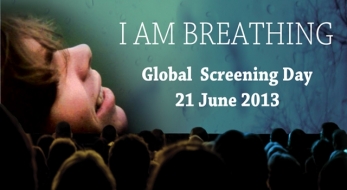 Motor Neurone Disease (MND) is a fatal, rapidly progressive disease that can affect any adult at any time. The disease attacks the nerves that control movement; people can still think and feel but their muscles refuse to work, leaving them unable to move, walk, talk and ultimately breathe.
Five people die every day in the UK from MND and around half of those diagnosed die within 14 months. There is no diagnostic test, no effective treatment and no cure.
To increase awareness of this disease, the Motor Neurone Disease Association hope that as many people as possible will watch the film "I Am Breathing" during June 2013.
Winner of many awards in 2012 and 2013, the film is the hard-hitting true story of Neil Platt, a 33 year old British architect who developed motor neurone disease shortly after the birth of his son. Paralysed from the neck down and with only months to live, he tells his story to help raise awareness of this devastating disease and dedicates the film to his one year old son, Oscar.
Collaborating with filmmakers Emma Davie and Bafta Award winning Morag McKinnon, Neil used his remaining months to communicate about his illness. He also wrote a blog, 'The Plattitude', and committed himself to playing a part in making MND history by inspiring a community of people to spread information and awareness this fatal illness.
Part of this initiative to increase awareness of MND is the option to host an "I am breathing" showing in your own community, home or workplace.
I am breathing film trailer
Neil's Blog "The Plattitude": http://plattitude.co.uk/
You can find out more about the worldwide and local screenings of I am Breathing plus how to host a screen showing for your friends and neighbours at: http://www.mndassociation.org/news-and-events/Awareness+Month+2013/I+am+breathing.htm
Comments enabled – see comments box below. Note, all comments will be moderated.