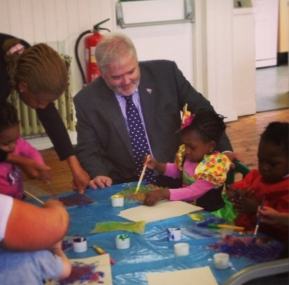 With thanks to
Claire McBain.
Voluntary Services Aberdeen (VSA), the NE's largest charity and the country's biggest city social care charity, has donate £1000 to Old Torry Community Centre to mark a new partnership between the organisations.
This is in line with VSA's strategy of empowering and investing in local communities and Old Torry's quest to raise its cultural and social impact locally.
The donation will contribute to the Centre's funding appeal to get children's community workshops and murder mystery-themed plays off the ground.
Lesley-Anne Mulholland, secretary at the Centre, said:
"'Our dedicated committee will continue regenerating the Old Torry Community Centre, making it a local cultural hotspot focused on education and entertainment. We would like this to be the start of a plethora of cultural events at Old Torry. 
"We recently attracted a Scottish National Theatre production but this project is vital to continue raising our profile and to help encourage other theatre companies, musicians and comedians to follow suit'."
Fiona-Jane Brown, director of Hidden Aberdeen Tours, is leading the project.
"Our first goal for this project is to have a national theatre company perform in October, supplemented by a drama workshop for young adults and a horror make-up class for children. But we need £1000 to bring the theatre company to Old Torry and £1000 for the workshops, which will be led by local experts.
"We're delighted for any contributions and we're incredibly grateful to have an organisation as large and influential as VSA on board. Their support and belief in the project means a huge amount."
Kenneth Simpson, VSA's chief executive, agreed:
"We're passionate about supporting community projects.  We want to work with communities and ask 'if you want to do something, how can we help you succeed?'  This particular project is an ideal fit with VSA's remit of supporting vulnerable communities and promoting education for young people. 
"It's a great opportunity for us too. VSA service users will be able to get involved by attending the workshops and seeing the play. It's a brilliant, mutually-beneficial partnership."
Theatre company Don't Go Into The Cellar's one-man shows, Holmes Alone and Warnings to the Curious are provisionally scheduled for performance on 11 and 12 October at the Old Torry Community Centre. The initiative is a joint project between Hidden Aberdeen Tours, The Cellar Theatre Company and Old Torry Community Centre.