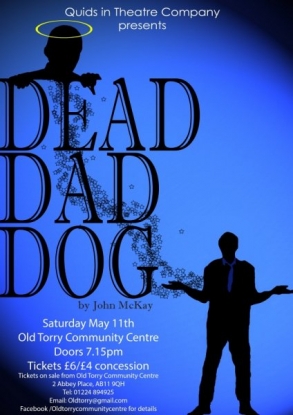 Quids in Theatre Company are back to perform one of their best known productions 'Dead Dad Dog'  by John McKay at Old Torry Community Centre on Saturday 11 May.
We hope you will join us for an evening of superb entertainment followed by a question and answer session by the cast. They will also be launching another fantastic project, Torry Tales.
To find out more please see attached poster. We would love to hear from anyone who would be kind enough to display it or pass it on to anyone who may be interested.
Doors 7.15 pm performance starts 7.30pm. 
Tickets ( £6 / £4 conc. ) on sale at the Old Torry Community Centre on 2 Abbey Place.