Aberdeen Forward… Aberdeen Forward… Aberdeen Forward… Aberdeen Forward…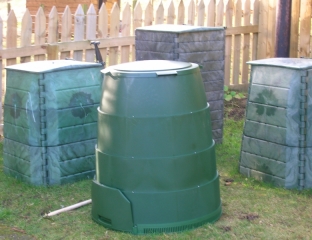 Environmental Charity –
Aberdeen Forward
– has an opportunity for people who live in flats in Torry to get involved in an interesting new initiative. A significant number of people who live in flats are under the impression that they are inherently excluded from composting, however Aberdeen Forward are offering the chance to own a caddy and compost bin, free of charge, that can compost food and garden waste.
Zero Waste Officer Chris Hunt said, "When you put your food waste into your domestic bin it ends up in landfill where it generates methane, a green house gas.  The average family throws away £430 of food each year and it has been shown that when you start composting you become more aware of what you are wasting.  Once you become aware you are more likely to waste less – thus saving money."
If you are interested and want to find out more about the project, Aberdeen Forward will be at the Tullos Community Centre from 11am to 3pm on Tuesday 26th and Thursday 28th October.  For more information phone 01224 560360
Footnotes –
* Composting is nature's process of recycling decomposed organic materials into a rich soil known as compost. Anything that was once living will decompose. Basically, backyard composting is an acceleration of the same process nature uses. By composting your organic waste you are returning nutrients back into the soil in order for the cycle of life to continue. Finished compost looks like soil–dark brown, crumbly and smells like a forest floor.
*Aberdeen Forward is an environmental charity based at 2 Poynernook Road, Aberdeen. AB11 5RW.
*Figure of £430 of food thrown away comes from the national Love Food Hate Waste campaign.