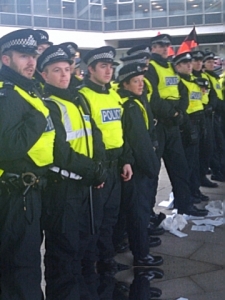 With thanks to
Gordon Maloney.
On the 18th of October, university campuses across the country will be showing 'Just Do It', a truly inspiring film chronicling a year with direct-action environmental activists.
As one of the activists in the film says ""It doesn't matter if it's dodgy, if it's big or small, you've just gotta do it" and while this is perhaps less elegant (or, arguably, more so) than the Suffragettes' "deeds not words", this message is just as pressing now as ever before.
After years of disillusionment over, at best stalled, at worst useless, "official processes" on climate change – as well as almost everything else from poverty to tax havens and employment – activists have learned that if they don't take matters into their own hands, big business will.
What this film is about, more than anything else, is showing that direct action can change the world and that anyone can do it.
It is exciting, it's fun and it's a way to affect change now – and there's nothing to be scared of. Would the fate of Woolworth's have been different if, instead of leaving quietly, sacked workers had occupied their shops up and down the country? Precedent suggests that it may well have been.
What stopped them? Fear? Apathy? Maybe, but far more likely is the concerted campaign run by every organ of capitalism that tells us from birth that we can change nothing. This alienation is the greatest danger our society faces, because it disempowers us more than poverty and discrimination ever could.
Here at the University of Aberdeen, where one of the screenings is taking place, we have seen clearly the dangers of relying on politicians and the good-will of business.
Donald Trump's golf development, on the unique and beautiful Balmedie beach, is a classic example of big money riding rough-shod over local democracy, advice from every reputable environmental organisation that's looked at it and even the local people.
Less well known is Ian Woods' plan to destroy the beautiful, historic Victorian sunken gardens in the centre of Aberdeen City. Again, here, the concerns of local people have been ignored – even though a consultation organised by Woods' backers showed massive opposition to the plan – and we see, once more, the privatisation of public space in the name of profit for the few.
It is becoming clearer every day that asking politely simply doesn't work, and this message is beginning to reverberate in the popular conscious. Mubarak was brought down by massive popular mobilisations and industrial actions, and those occupying Wall Street know that the banks won't be reigned in by a petition.
The right to strike wasn't won at the ballot box, it was won by striking – and people now understand that meaningful action on climate change isn't going to come from nowhere, and it certainly isn't going to come from business. It's going to come from us.
Just Do It will be showing at the University of Aberdeen, MacRobert Building at 6pm in room MR051 on Tuesday the 18th. This is a free showing and students and non-students are more than welcome.