What happens when you give some students 420 trees, spades and a clear bit of ground? Quite a lot actually, and very quickly too – Caspar Lampkin reports on the Climate Change Project's latest planting event.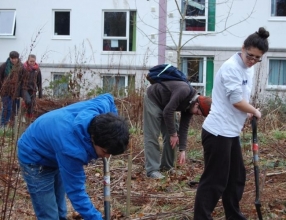 As part of People and Planets 'Go Green Week', the Climate Change Project organised Aberdeen University's second big planting event up at Hillhead on 11 February.
The 420 trees generously donated by the Woodland Trust were all planted within two hours, thanks to all the volunteer help.
Following the success of the first planting event which created two herb gardens, a lot of shrubs and a couple of fruit trees, there was strong demand to get out and do further planting around the campus. The amount of land in the university area, and indeed throughout the city, is huge and holds enormous potential for the creation of 'edible landscapes' to bring free, local, fresh food to the community.
OK, the trees planted in February will not provide fruit for at least a decade but we really should be thinking about this now for the benefit of future generations. The Chinese proverb, 'The best time to plant a tree was twenty years ago, the second best time is now' sums this up perfectly.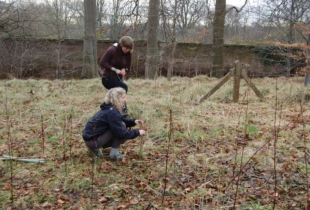 There were six varieties of tree planted, including plums, hazels and crab apples, which will all produce berries and fruits useful in making chutneys, jams and cordials once they reach maturity.
The great thing is that there are already many of these trees around campus which have reached maturity and the Climate Change Project is currently putting together a map of where all these trees are so that we can all benefit from their harvests.
Imagine not having to go to the supermarket to buy overpriced, flavourless apples and plums but picking them for free as you need them on your way to lectures instead.
The Climate Change Project has more planting projects to come. Why not come along next time and learn how to plant a tree yourself? Go to  http://eepurl.com/co4BD to sign up to our weekly newsletter.
Photos by George Chubb.