Julie Thompson continues her series on photographing bands in Aberdeen taking in Malfunction and KWEEF at Downstairs @ The Malt Mill and the Complete Stone Roses supported by Dave Winston Brown at The Lemon Tree.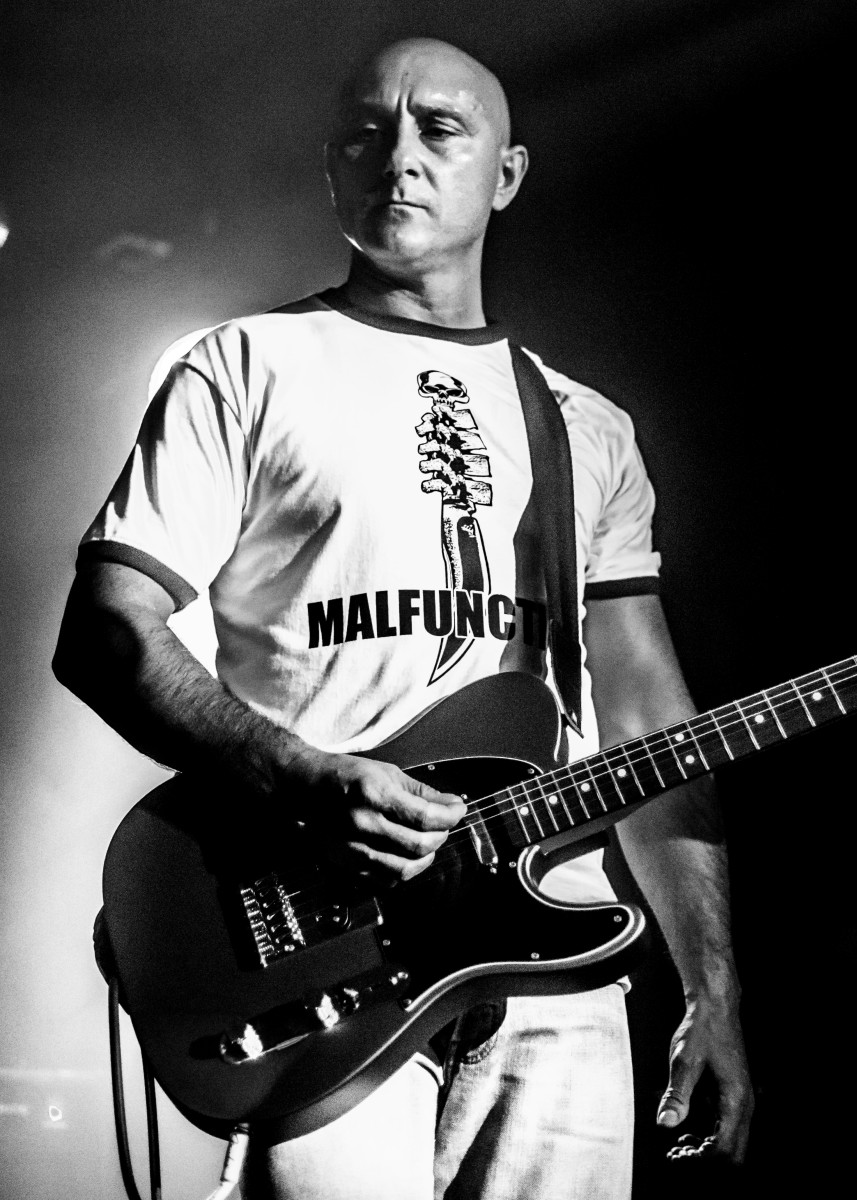 As I sit here typing these words, Christmas is past and a new year is very imminent (in, oh, 25 minutes in fact). Between these two events I have had 3 successive nights at The Lemon Tree – with a quick dash over to an album launch at Downstairs after the first of them.
The first of the 3 Lemon Tree gigs was Big Country, supported by Dave Sharp (formerly of The Alarm).
As this gig has been reviewed by Suzanne Kelly, I won't be saying much about it.
George Mackie was the only other tog there, which surprised me. I would have expected maybe at least one of the local newspaper photographers to have been there.
Once the first 3 songs were over, George Mackie suggested we head over to Downstairs @ the Malt Mill, where there was an album launch gig for a local band, Malfunction. It turned out that he was also going to be shooting the next two nights at the Lemon Tree, so this gave me an excellent opportunity to get to know him a bit better and to get our interview done.
KWEEF, the support band, was just finishing their set when we arrived and Downstairs was looking very atmospheric – the smoke machine had been on overtime by the look of it. There was a decent sized crowd there, which was good to see so close after Christmas.
Using KWEEF for a camera settings check, I found a boost on ISO was needed – up to the scary 5000-6400 level. The images would be noisy but if a focus lock was achievable and a lucky light was shining in the right direction then I should hopefully get some reasonable results.
From a previous visit here, I knew I could get an almost drummers-eye view of the band so I decided to see how it looked from there with a fisheye lens. I think foggy might be the best way to describe it – so much so, the other side of the small stage was impossible to see.
However, it's not often you can get close enough to the drummer for photos so I stuck around waiting for the end of the last number and a flourish from the drummer.
After a short hiatus, it was the turn of Malfunction, who were there to promote their new album.
I have to say, crowd watching is always fun at punk gigs, which is handy when you have tricky shooting conditions – you can, for example, crowd watch when waiting for the smoke to clear or even see possibly shots building up; crowd interaction with the band is often interesting.
A flashgun would maybe have made the shoot easier but, as I'd not originally planned on going to Downstairs and couldn't use one at The Lemon Tree, I had not brought one with me.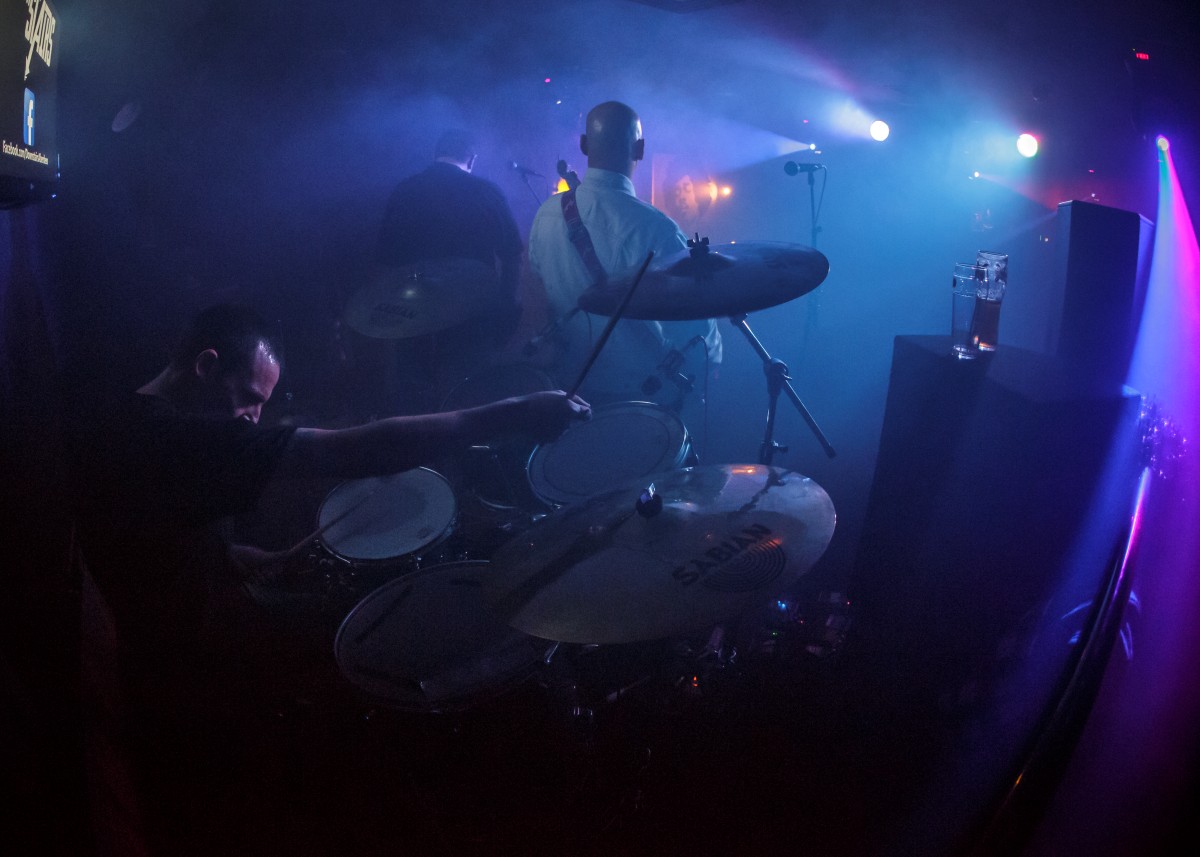 Some planning and patience (and a certain amount of luck) was needed for photographing the band – mostly waiting for one of the lights to swing around for illumination and hoping it coincided with a good shot and a lull in smoke output. Now I have some experience of them, a challenge like this is always good fun – it keeps you on your toes.
Malfunction will be one of 32 bands playing for the chance of a record deal at the Battle of the Bands, organised by Fat Hippy Records.
The first elimination heats kick off from the 10th January at Downstairs. The Facebook link above gives a list of the bands (4 per heat) and dates they're playing so why not go along to provide some support.
On chatting with George Mackie I discover he has been photographing live music for some 3 and a half years now – starting with a standard DSLR & kit lens and on camera flash.
Not knowing any different at the time he took his photos in fully automatic mode. His first foray into the live music world was at a UK Subs gig in Drummonds, on a night when Dod Morrison & Andy Thorne, both established music togs, were there to shoot.
The reason he began shooting gigs? Well, I'll let him tell you in his own words:
"There was a lack of reporting online of smaller gigs in Aberdeen that I'd attended and it annoyed me a bit. Some shows were just great but only attended by thirty people and my friends all said they didn't know it was on blah blah, just one excuse after another. That, and reading then Explodes (now New York Johnny) lengthy write ups on his My Space page of gigs he'd attended made me wonder if we could create something ourselves; like a paper fanzine of old, but online.
"Godzilla Blues is another person who can put his learned thoughts into words and give you a detailed account of a show. Both these people are experienced musos who write as it was, not as `all the roses are blooming` type reporters."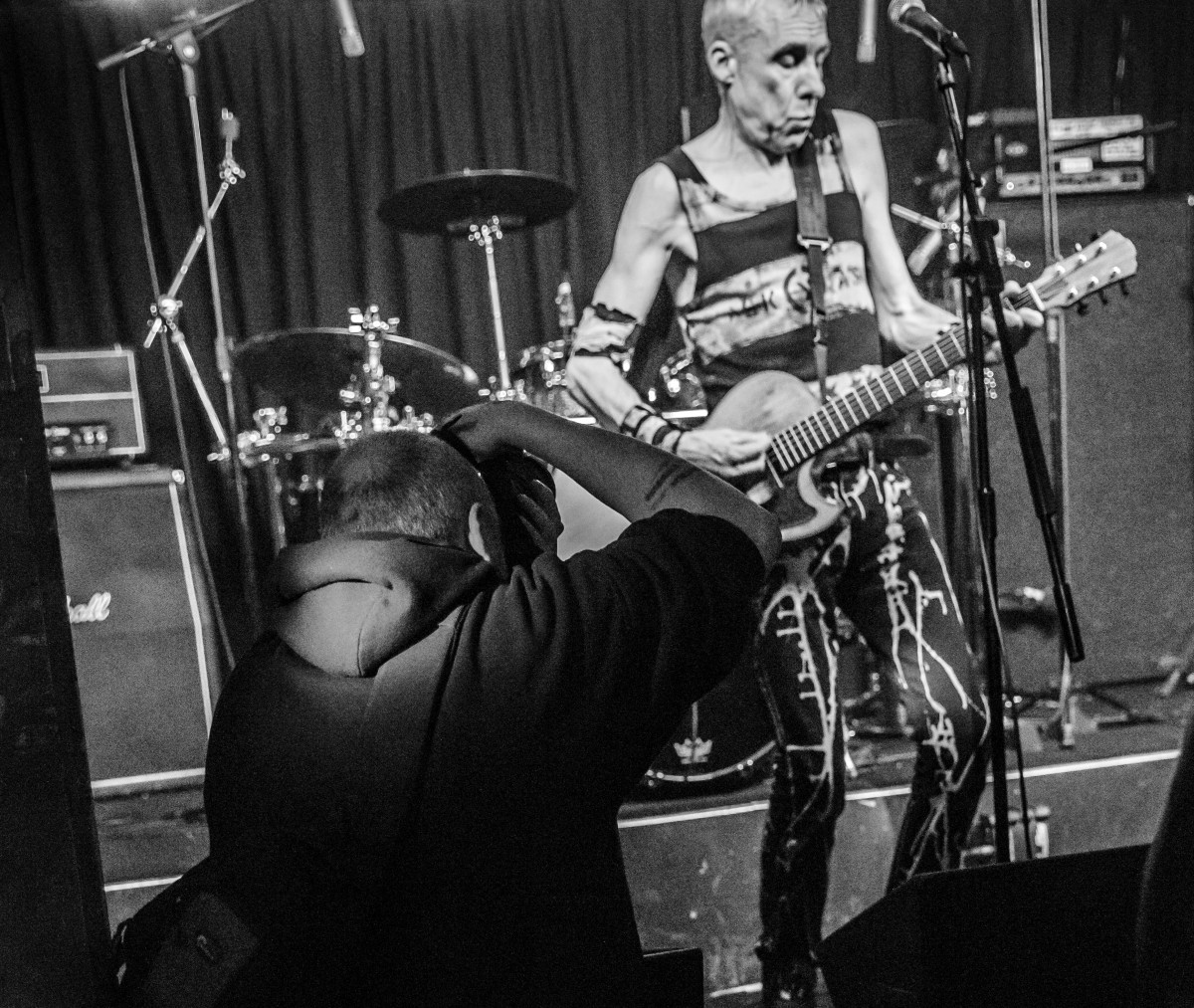 This is what led to the formation of Flares n Seagulls – described as An alternative music magazine for the Kingdom of Aberdonia – where George shoots (sometimes doubling up as reviewer) the images to go with the reviewers words.
I asked him what he found the most difficult in live music photography. Frustration, mostly, when he doesn't nail the shots he was wanting at a gig.
He's very self critical and as a big fan of live music feels the need to justify his place in the pit by getting that 9/10 shot he was after.
One of the things he finds most challenging is when a band or artist looks disinterested:
'Trust me, if you look disinterested on stage then it will show in the photographs. Make an effort, look good, and do those songs you practice justice. You get one chance to capture (or lose) that audience so don't bore us with endless `banter` but lose yourself in the music, whether it be pin drop silence and an acoustic guitar or a 100 mph amp busting set. I know what set of images I'd rather look at.'
One of his early gig shoots (with aforementioned kit camera/lens & flash) was remembered when I asked about one of his more exciting shoots:
"Cancer Bats and Vera Cruz at Drummonds. I've never seen the place rammed like it was that night and the bands and crowd were intense to the max. Loved it."
I'll continue with this interesting interview next time, but for now we go back to The Lemon Tree.
Dave Winston Brown was providing support on my second evening there – local lad, with a pleasant and very gravelly voice, also plays with a local band called The Smokin' Bugler Band. I was actually quite impressed with his performance – an acoustic set which closed with a cover of the T-Rex classic, Get It On.
By this time the place was packed to the brim with Stone Roses fans, some brandishing rubber bats – no, I don't know why, either.
Complete Stone Roses soon had the place bouncing. There is something about the Stone Roses – they have passionate fans and looking into the crowd you could see they knew all the words and were singing along.
The lighting was tricky at the start – red lighting is hard to photograph as it washes out a lot of the detail and makes the photos look mushy. This can be fixed for some images – to a certain extent – in processing.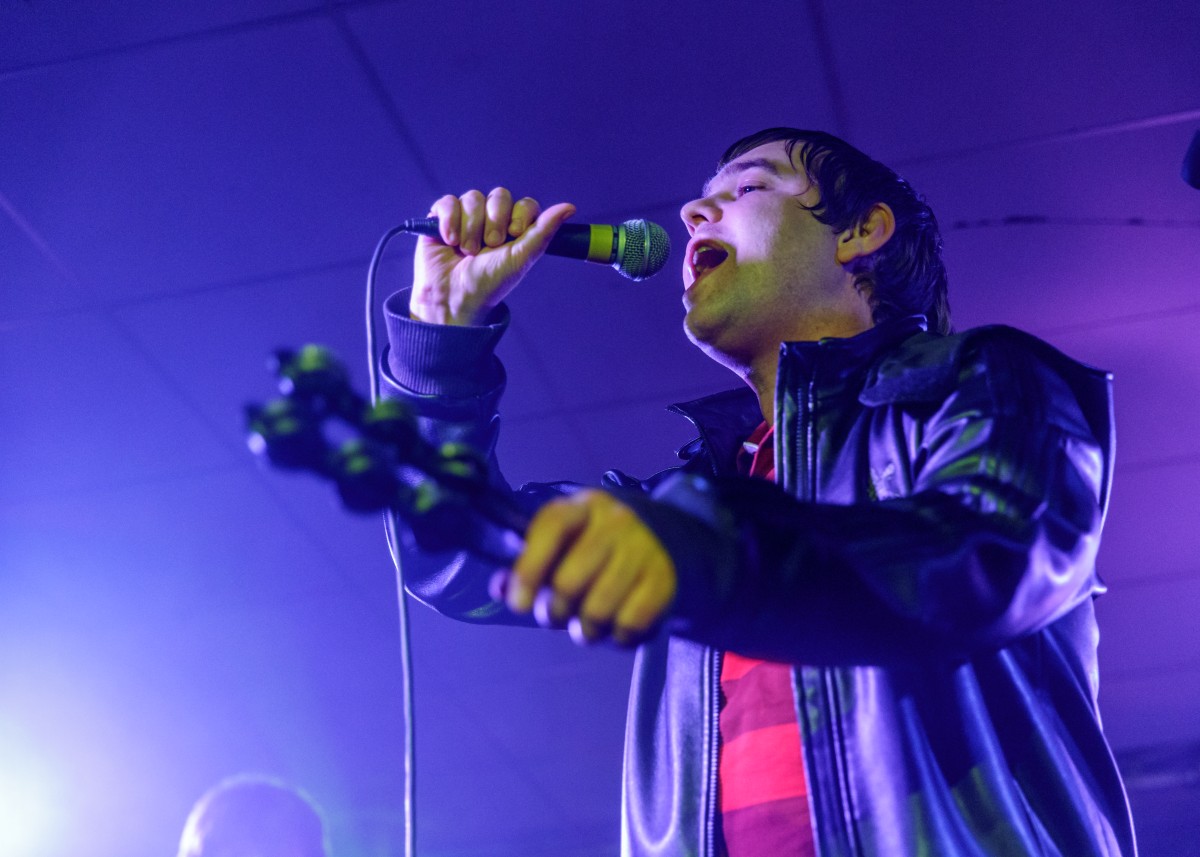 One of the reasons I shoot RAW files is for that added flexibility during processing. It's not ideal though and can make for some time consuming sessions at the computer.
Quite often the only option is conversion to black & white but many people prefer colour images. It's a fine balance to find.
One thing that is not commonly known is that photographers will spend more time working on the photos than actually taking them – a lot more time.
One 3 song shoot (anywhere from 10-25 minutes) of an active band can leave me with some 200 or more photos to pick through.
With experience, the numbers taken do decrease and the hit rate increases. Indeed I have noticed that happening – at the start, my trigger-happy self would come home with 500 or more photos per band (most of them rubbish). It can take hours to go through them all, remove the chaff and pick out the best ones. Then you add on processing time for those you finally pick out.
When our time in the pit was over, it was time to grab a drink, relax a bit and watch the rest of the show – at The Lemon Tree we hang out by the security guy at the pit entrance, where there is usually some space.
It's not the best place for a good view of the band but you can crowd watch and – something that I think is no bad thing – become familiar to (and with) the security people at a venue. It's just good manners after all.
Sadly, the enjoyable evening came to an abrupt end. I noticed the security man, stationed at the other end of the pit, move forward and leap over the pit wall into the crowd. He had spotted that someone was down – a woman appeared to have collapsed or fallen and was not getting up again.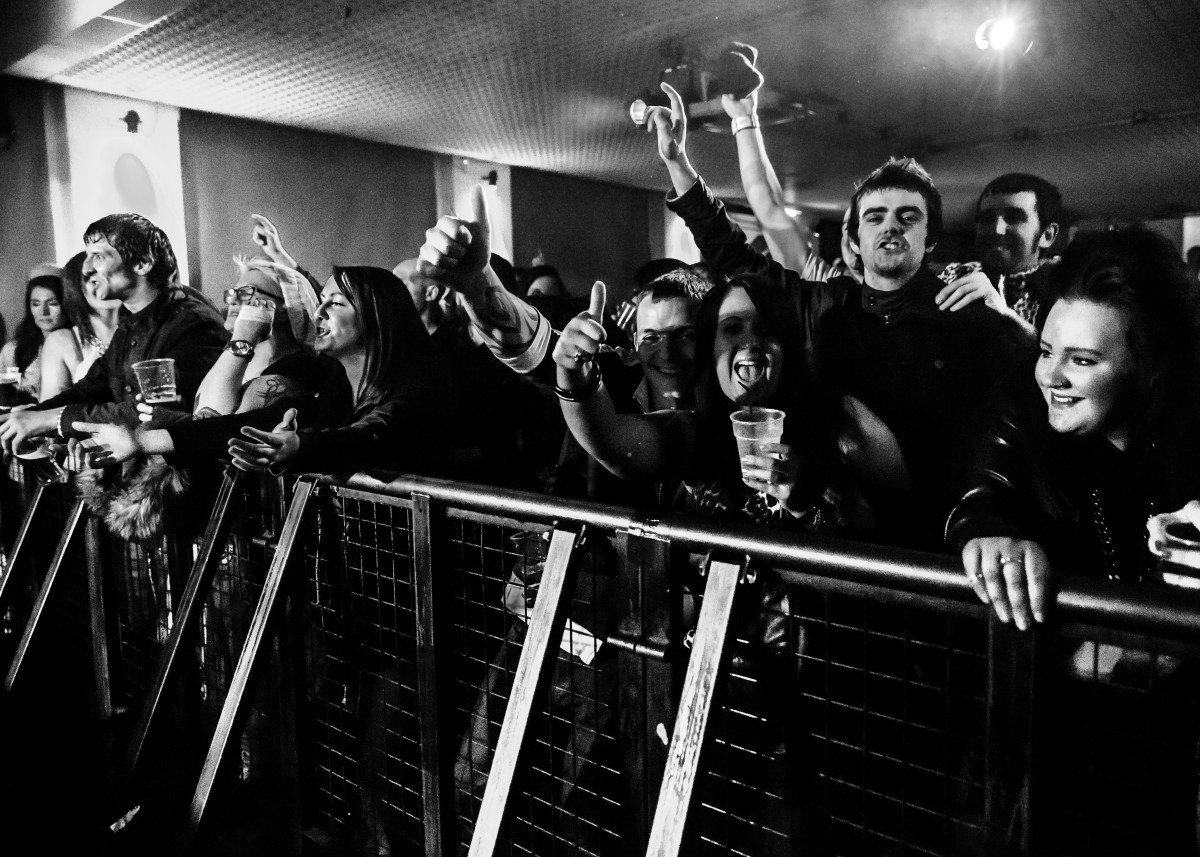 Up on the stage, the lead singer noticed the activity and stopped the band playing, calling for the house light to come up.
After it became apparent this was not going to be a short hiatus, the band said they were leaving the stage, as this had to take priority – full marks to them. 
An ambulance was summoned – it was very quick to arrive – but in the meantime a first-aider from the audience came forward to help and security cleared the immediate area.
It appeared that she may have banged her head when she fell, so she was taken off to the ambulance and, I assume, onward to the hospital to be checked over.
I can't fault the reaction of the band, The Lemon Tree staff, the first-aider and the ambulance service in their response to this. Well done everyone.
The last of the three Lemon Tree events of the weekend was for Terry McDermott & The Bonfires. You can read about this, along with the second instalment of the George Mackie interview, next time.
Earlier, I totalled up the number of gigs I've attended and photographed since mid September. It came to 34 – all on top of my day job. I guess that explains why I was pretty knackered most of the last 3 months. Now I'm on my way up the learning curve I think I can slow down a bit. So far, January is shaping up to be a fairly quiet month, as far as gigs go.
Happy New Year to you all – I hope your 2014 is full of joy and excitement. Oh and feel free to come and say hello if you see me at a gig one day – I don't bite, honest.
 More photos:
Malfunction/Kweef
Complete Stone Roses
Dave Winston Brown
 Comments enabled – see comments box below. Note, all comments will be moderated.