Whilst the result didn't quite turn out as hoped for curiously-optimistic Dons followers last weekend, the capacity crowd who attended dug deep to add a very welcome £343 to the coffers of the AFC Heritage Trust, writes AFCHT Vice-Chairman, David Innes.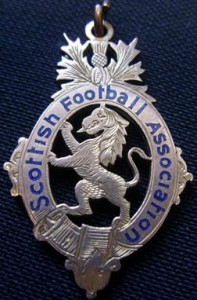 A big crowd does not always guarantee a bumper collection.
In their haste to take their seats, purchase the pie-shaped equivalent of lunch given the early kick-off time and take other necessary comfort after an hour in the Pittodrie Bar, collectors are often fighting a losing battle as the density of the crowd of incoming handsome, fashionable and knowledgeable sages of sport means that individual interaction with donors is compromised.
The total raised is welcome, however, and the Trust extends its thanks to the volunteer collectors who helped us out and to anyone who dropped a few coins in our buckets.
As always, interest in the Trust's work was considerable and the explanatory leaflets snapped up.
Those who had already dipped into the growing and almost-omniscient Dons history and heritage resource that is the Trust website spoke warmly of it for its ability to allow browsers to reminisce, add to their knowledge of our community's leading sporting organisation, or just settle the pub argument about which Dons scored in the 7-2 win over Partick Thistle in 1971 (Harper 3, Willoughby 2, Forrest and The Brush, since you ask).
Whilst the longer term aim in fundraising is to kit out and operate a museum and community learning centre in a new stadium, the day-to-day work of the Trust continues, and incurs running costs.
Whilst all trustees and a team of avid, committed researchers give freely of their time and efforts, adding to the considerable archive of Dons-related material and individual artefacts which enrich our understanding of fitba history in the city, costs money. Only last week, the Trust concluded a deal to buy the winner's medal from the 1947 Scottish Cup final awarded to Willie Waddell, a unique item.
How unique? In those days, there were no substitutes, so eleven medals were struck by the SFA for members of the winning team. The manager also received a memento. That was it. The Trust now has possession of one of only twelve such items in existence.
The 1947 final was memorable for a number of reasons, not only because it was the first time the Dons had won the famous trophy after over 40 years of trying, but because of Waddell's gesture at the final whistle, offering his own medal, the one that is now back at Pittodrie, to full back and popular stalwart servant Willie Cooper who missed the final due to injury.
The club later received SFA permission to strike a medal for the unfortunate Cooper.
It is on such anecdotes, artefacts and memories that the heritage of the Dons is founded. No matter how low spirits may descend during a torrid run, how much flak we each get at work by fans of inferior clubs (that's everyone else) or how often they let us down, we are united by common cause.
The AFC Heritage Trust is determined to ensure that generation can speak to generation through this cause and take pride from a shared history and, with a little fortune, a bright future.
Do you want to know more or help us out? www.afcheritage.org
Stand free.