Thanks to Dr Paul Schlicke who has reminded Voice that local Dickens fans are planning to meet this week.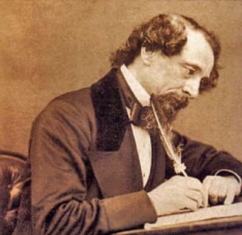 Paul informed Voice,
"As previously intimated, at the next meeting of the Aberdeen branch of the Dickens Fellowship we will discuss Hard Times Part 2, Reaping.
"Feel free to join us, whether or not you managed to attend last month's discussion of Part 1, Sowing.
"We will meet from 7-9 pm on Wednesday 24 April at Grampian Housing Association, 74 Huntly Street, 300 yards up from the Catholic Cathedral, at the corner of Huntly Street and Summer Street. There is free parking adjacent."
The venue's also near enough to Union Street and Rosemount to travel by bus. Last month's meeting had a lower than expected turnout, but the weather, which prevented some from attending, is improving.
Some believe that his writings are as relevant in the current austere age as they have ever been.
If you have read any or no Dickens, or are just curious about the continued interest in an author who was born over 200 years ago, you'll be made welcome.
Comments enabled – see comments box below. Note, all comments will be moderated.