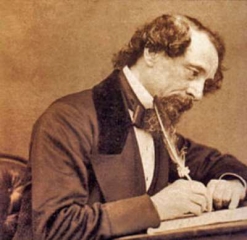 By
David Innes.
Aberdeen's nascent Dickens Fellowship meets again this week. Anyone who has an interest in this literary and journalistic master and his peerless work is welcome to attend and participate.
It's informal, friendly, fun and informative. We cannot guarantee Pickwickian brandy and hot water, but there will be coffee available.
We'll meet on Thursday March 28 at 19:00 and will conclude before 21:00.
Thanks once again to the kind hospitality of Grampian Housing Association, 74 Huntly Street, Aberdeen, we'll be meeting in the centre of town.
The GHA offices are at the crossroads of Huntly Street and Summer Street. There is ample car parking and the venue is only 400 yards from Union Street and regular bus services.
This time, we've decided to discuss Hard Times (1854). Although many will have read the whole novel, our discussions will concentrate on the opening section, Sowing, which comprises chapters   1 – 16, including the wonderful satire of Chapter 2, Murdering The Innocents.
Dr Paul Schlicke will be happy to answer any queries about the group. You can contact him by e-mail at p.schlicke@abdn.ac.uk