By Duncan Harley.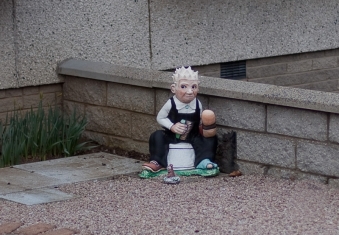 Depending upon your view, this little spiky haired character sitting on his bucket is either a part of our Scottish cultural heritage or the sole reason folk in the USA and elsewhere sometimes imagine that we all live in caves and eat haggis three times a day except on Sundays when we chase sheep around the place just for the devil of it!
"Oor Wullie", for those not in the know, is a Scottish comic strip. It's published in the Sunday Post, a Scottish newspaper printed in Dundee and seemingly somehow associated with journalism.
With an average circulation of 242,555 in 2012, which is just about what the Observer and Sunday Mail record sales wise, the newspaper has significant market penetration although there have been persistent rumours that many readers buy the paper and immediately send it abroad to ex-pats without either reading or indeed censoring the content.
Famed for columns about aches and pains, kilt races and lost pets it could be viewed as a sort of National Enquirer without the blood and murders and seems to satisfy those who don't really want to be bothered overmuch with news or current affairs
The weekly cartoon features a character called Wullie, whose trademarks are spiky hair, dungarees and an upturned bucket, which he often uses as a seat. The artistic style settled down around 1940 and has changed little since. A frequent tagline reads, "Oor Wullie! Your Wullie! A'body's Wullie" with probably no sexual innuendo intended. Mind you, after that Cardinal O'Brien fiasco, Wullie's head might just be on the chopping block next!
The image of us Scots is often defined by such strange quirks of popular culture. Look for instance at that recent Hollywood blockbuster Brave which Visit Scotland no less promoted as an "Oscar-winning animated adventure from Disney, the team responsible for worldwide box office smashes such as Toy Story, Up and Finding Nemo".
The story follows the red haired heroine Merida, a skilled teenage archer battling to change her fate. Toy Story, Finding Nemo and a teenage lady archer? What on earth has that got to do with Scotland?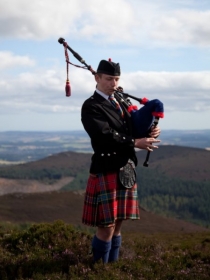 Braveheart was bad enough, being described by Billy Connolly as "a piece of pure Australian shite" and voted number one on the British film magazine Empire's list of "The Top 10 Worst Best Pictures". The plot involves a smattering of history plus a rampant sexual relationship between Mel Gibson and Princess Isabella.
Isabella of course was born in 1295, and Wallace was killed in 1305, making her only ten at the time. Isabella did not have her first child until 1312, which was seven years after Wallace had died. Do the maths!
Such assaults on the Scottish image remind me of that awful Brigadoon musical of the 1950's in which some American tourists stumble upon an enchanted Scottish village called Brigadoon.
Every 100 years seemingly, the people of Brigadoon awaken for 24 hours then go back to sleep for another century. After performing on Broadway and London's West End it was made into a film then a TV series staring Peter Falk of Lieutenant Columbo fame.
With Scottish Independence the horizon it might just be time to have a wee think about how we portray Scotland in the eyes of the world. After all what we put out to the world is what we will reap.
Plus we certainly don't want any more write ups such as this tripe by a man who claims to half Scottish …
 "I am both proud and excited to share with you my most recent addition to the Trump golf portfolio, in The Home of Golf, Scotland. I have been actively looking for links land in Europe for the past few years, and of course my preference was Scotland over any other country because I am half Scottish.
"My Mother, Mary MacLeod is from Stornoway on the Isle of Lewis. She grew up in a simple croft until she landed in Manhattan at the age of 20 and her first language was Gaelic. When I saw this piece of land I was overwhelmed by the imposing dunes and rugged Aberdeenshire coastline. I knew that this was the perfect site for Trump International – Scotland.
"I have never seen such an unspoiled and dramatic sea side landscape and the location makes it perfect for our development. Our site is close to two of the world's most famous courses and is just 25 minutes by car from Aberdeen Airport. As this exciting development comes to fruition, the standards for the golf experience in Scotland will be taken to new levels of excellence by the addition of Trump International Golf Links."
– Donald J. Trump