They're free, they're funny, and they're found monthly at Aberdeen's Belmont Cinema Bar.  They're heading to Glasgow's, 'Round The Clock Comedy Roadshow,' and they are Wildly Unprepared. By Suzanne Kelly.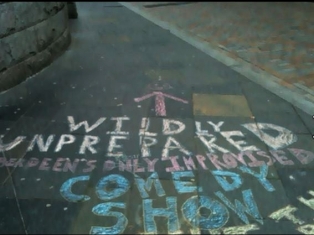 Wildly Unprepared is a troupe of comedians offering up a thoroughly enjoyable blend of comedy improvisation and audience participation.
They recently celebrated a totally unprecedented one-year anniversary of shows in Aberdeen's Belmont cinema, and have watched audience numbers and critical acclaim steadily grow.
'Round The Clock Comedy Roadshow,' which runs from Saturday 30th until Sunday 31st  March this year, is the first ever weekend comedy roadshow during the Glasgow International Comedy Festival.
This comedy roadshow is being done for a good cause, Clyde Cash for Kids, a fantastic charity that helps children in poverty throughout the West of Scotland.   Wildly  Unprepared are pleased to be part of the Round The Clock Comedy Roadshow.
Wildly Unprepared will perform on Sunday 31st March from 3 to 5pm at The Old Hairdressers, Renfield Lane, Glasgow.  See www.stereocafebar.com.
In the run up to the Sunday Show, Wildly Unprepared members Bambi McDee, Tomohawk Paul McGinn, and Robert Starr  will each perform solo on Saturday 30th March.
Robert Starr has a slot between 11am at Eurohostel, Clyde Street.
Tomohawk will be on between 12pm – 2pm at On the Rox at The Roxy 171, Great Western Road, and finally,
Bambi performs 3pm – 5pm at The Admiral Bar, Waterloo Street.
In Aberdeen, the Belmont show is held on the first Friday of each month from 8pm in the basement bar of the Belmont Cinema on Belmont Street – there is no admission charge.
The show is typically in two halves, each comprises several improvisation games, along the format of such shows as 'Whose Line is it Anyway?' and 'Mock the Week.'  Wildly Unprepared  members take turns on timed games, for instance where one comic will be assigned, by the audience, to have a (ludicrous) secret, and other members will have to get it out of them.
Other times, audience members will be asked to pose the team however they wish, as they have to improvise their way through perhaps a rugby game or discussion about anteaters.   Anything could happen, as the audience's ideas are incorporated into whatever sketch or scene the guys are expected to act out.
With the audience participation aspect there is little ability to pre-plan any gags or dialogue – the improvisation is genuine, and genuinely funny.  Each member of Wildly Unprepared brings their own background in acting and/or comedy to bear in the skits, and the interaction between the different personalities makes this group work.
Past sketches include 'Students Come Dine With Me', 'Pee Buddies', and 'Robert Built a House.
COMMENTS ABOUT WILDLY UNPREPARED:
 "Wildly funny!"  – their friend Iain who thinks he's funny
"One of the weirdest things I've ever seen" – a hot girl Bambi tried to pick up
"Everyone should see this" – Pete Wood
"Ai Ai Ai Ai Aiiiiii" – Guitar Wifey
Comments enabled – see comments box below. Note, all comments will be moderated.